UPDATE:  The linked FLICKR album now contains pictures of the 2017 winners.

Here at RSBFS we have certain criteria for what makes a great RSBFS candidate.  But what are the criteria that makes for a great motorcycle event?  How about a concourse-level gathering where you can see some unobtanium up close, such as Britten V1000 or Mondial dustbin racer? Or maybe its a meet with a wide variety of brands and types in different conditions?  What about crowd size – some events can be truly massive and you meet people from all over the world, others are quite small and focused on a particular type of bike.  How about having someone famous attend and speak to the crowd or having good food and/or music, do these impact what makes a great motorcycle event?
Personally I think its a combination of all of these criteria and I am pleased to let our faithful RSBFS readers know that the Quail Motorcycle gathering last weekend met all the above.
The event is held in Carmel California which is about 2 hours south of San Francisco. (Note- for anyone attending next year, bring a good coat, it can be surprisingly cold in California in May). Tickets were $85 online and $95 on site which is pricey but included a really nice lunch and the cost does cut down keep the crowd size down so you can actually interact with the bikes on display. The Quail event has been going on for about 9 years and this year was celebration of Norton. Sadly there was no new Norton V4 but there were lots of other great bikes, good food and Kenny Roberts Sr was onsite for a meet/greet.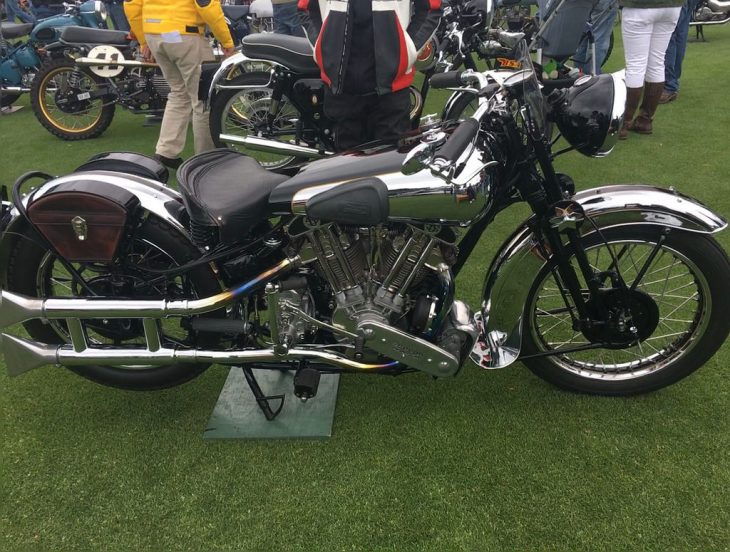 For 2017 there were over 250 entries, ranging from unobtainum like the aforementioned Britten to beautiful restorations such as the Brough Superior pictured above.  There were also regular bikes like a nice Honda 600 F2 and numerous Ducati's.  Sadly there were only two of my beloved Laverda's but I guess that means if I enter one of mine next year I won't have to worry too much about the competition.
Award categories included the following:
Best of Show

– presented to the most significant motorcycle on the field in terms of presentation and historical significance.  Last year this went to a 1925 BMW R37.

Spirit Award

– presented to the motorcycle that best represents the true spirt of motorcycling.  Last year this went to a 1964 MV Agusta.

Industry Award

– presented to a factory produced "groundbreaking" motorcycle.  Last year this went toa 2009 Ducati Monster "Leggero".

Design and Style Award

– presented to the motorcycle based on its industry leading design, concept and style.  Last year this went to a 1960 Velocette.

Innovation Award

– presented to the most innovative motorcycle on the field in terms of technology.  Last year this went to 1973 Vincati 1200cc (a Vincent engine in a Ducati frame!  More info here)

Significance in Racing

– presented to the motorcycle that best exemplified the essence of racing.  Last year tis went to a 1957 Harley Davidson KR.

Historical Vehicle Associate (HVA) Preservation Award

– presented to a historically significant motorcycle.  Has to be scrupulously preserved and be an examply of our cultural past/national heritage.  Last year this went to 1910 Pierce Four
Other award classes included American, British, Italian, Japanese, Other European, Antique, Competiton On-Road, Competition Off Road and Custom/Modified
Here are a few more pics
BSA, beautiful restoration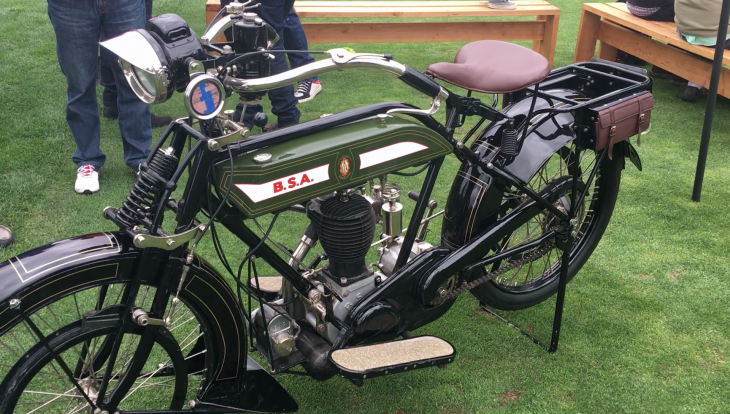 Couple of nice Honda's, including a custom and a garage queen RC30 (tags say registration of 2008)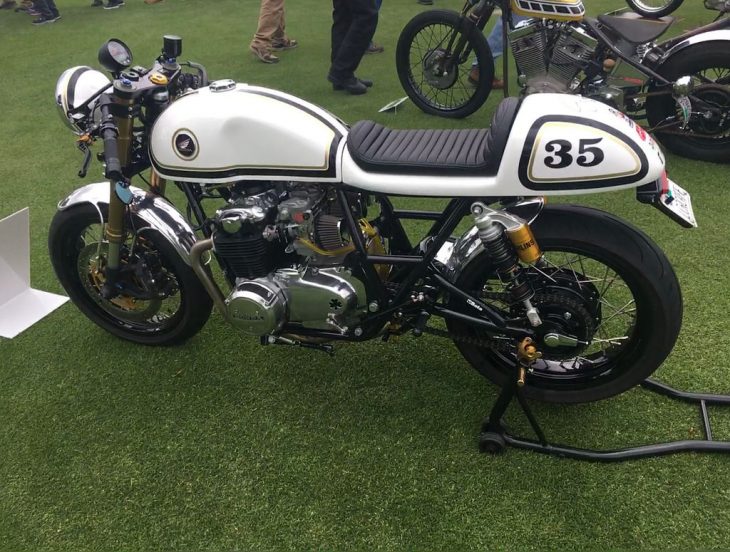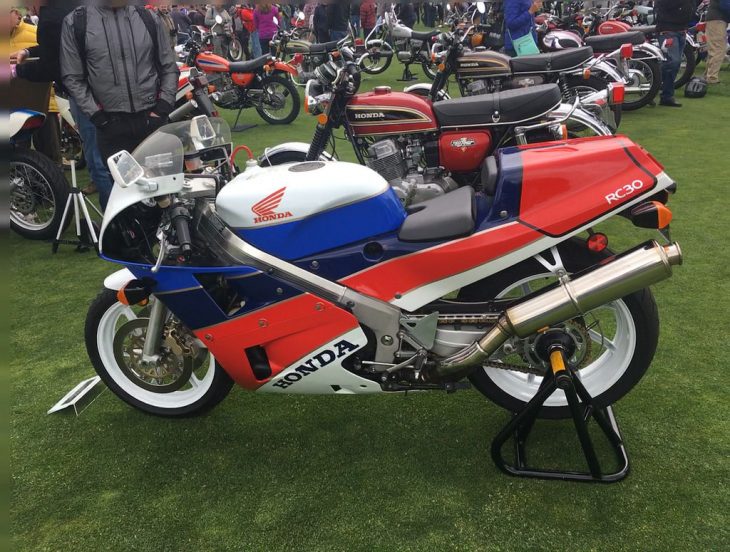 Nice Ducs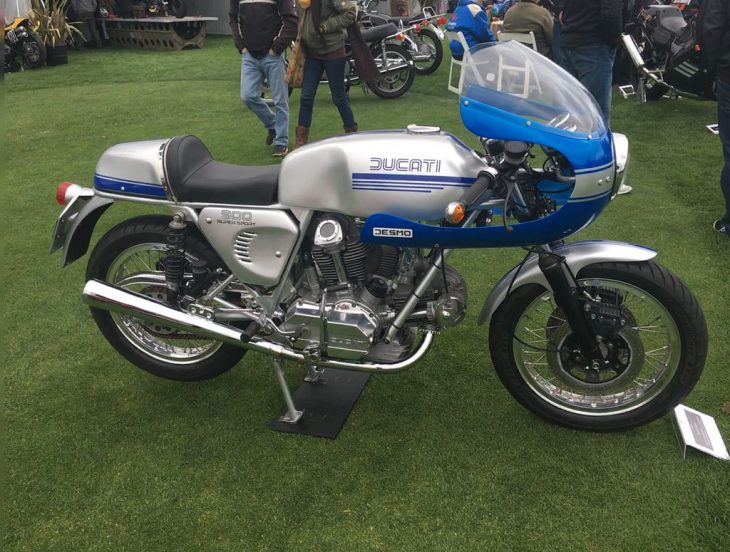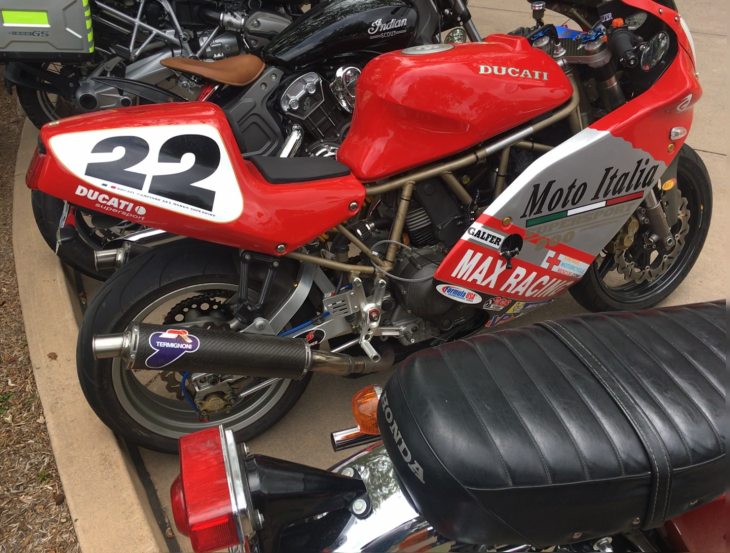 There was really something at the show for everyone.  Oh and did I mention the parking lot?   Walking up to the main entry of the event I saw numerous Ducati 851's and specials (including the one signed by Danny Pedrosa pictured above), Honda Turbo's, a Moto Guzzi Norge, a Ducati Superlight…I could go on and on.  Suffice to say I will definitely be going back again and think this event should be on every motorcycle collectors bucket list.  Main link to the event is here, feel free to ask any questions in the comments and I will try to answer.
Marty/Dallaslavowner