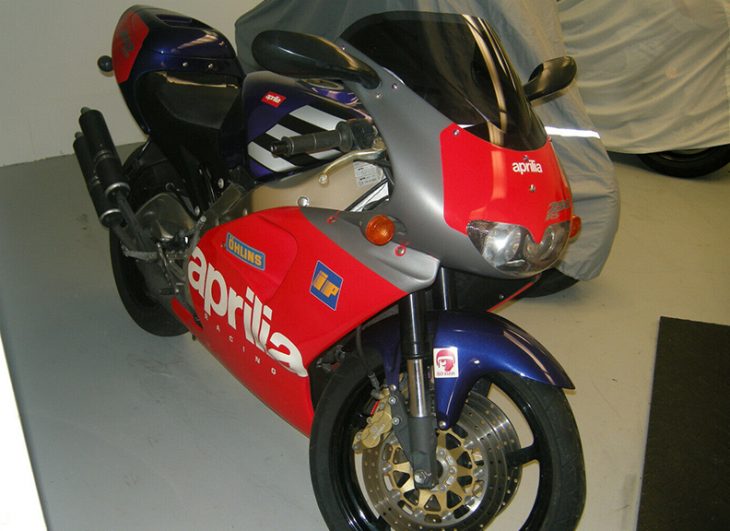 I found this little gem while searching the "Other Makes" section of eBay. I was hoping to find something truly offbeat to share, but a first-generation Aprilia RS250 in this kind of low-mileage condition is always worth a post! If the seller is reading this: I'd recommend you list this under the "Aprilia" category, as you might get a bit more attention over there… "Other Makes" seems like the place where listings go to get lost among weird off-brand scooters and die these days… Anyway, don't let that put you off, as this looks like a very clean machine!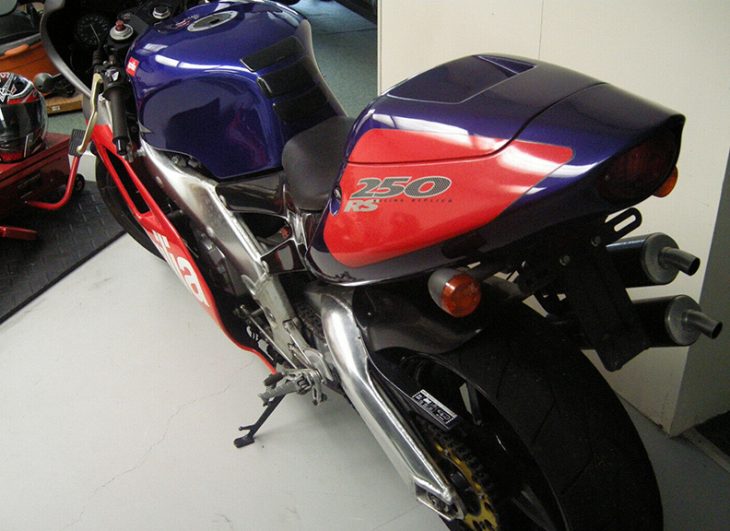 All of the RS250s are slick little sportbike, but I prefer the earlier style bodywork, particularly the more traditional gauge cluster seen here, with surprisingly restrained graphics for a race-replica. It's not quite as distinctive as a Ducati 916 or a Honda RC45, but it somehow embodies all the best styling bits of the 1990s in one little sportbike.
Whichever version you prefer, the bones are basically the same: an utterly gorgeous aluminum and magnesium beam frame with a matching swingarm, wrapped around Suzuki's RGV250 two-stroke and six-speed gearbox. Aprilia made a wise choice here, as the liquid-cooled v-twin is highly tuneable with plenty of power to motivate the lightweight machine.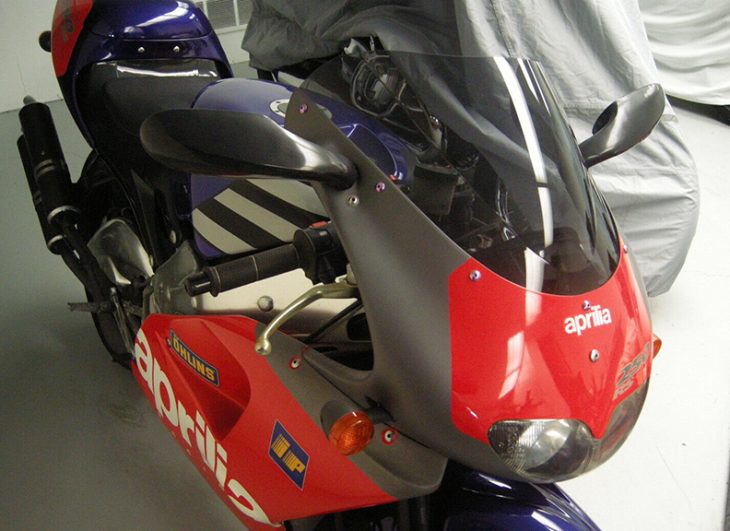 From the original eBay listing: 1996 Aprilia RS250 for Sale
At 75 and primarily due to the passing of a family member, as well as for other reasons, I have begun liquidating my small collection of motorcycles. I'm willing to consider all offers and to work with a capable buyer absent any prolonged negotiating drama. Can provide loading help. Bike is in excellent condition, ran strong when last ridden two years ago. Has always been kept indoors in temp and humidity controlled storage.

No rust or corrosion. Paint and graphics are excellent. No dings/scratches/cracks/chips. Good tires, engine, trans, brakes, clutch, electrical, gauges, etc. She is in excellent all around condition for a 23 year old lady. However, she has been sitting and will need to restart up attention and a new battery.

I just no longer want to play around with doing so, although I would like both buyer and seller to be happy with this sale transaction she is being sold as is, where is, no returns. I'm the second owner. Has a 17 digit VIN number so she can be registered in California for road use. Two-cycle, v-twin, liquid-cooled (70hp?) engine, auto oil injection. Comes with an original, printed out in English, factory-issued workshop edition service manual. Has a clear open title for your use. Your prior inspection is welcome, and your questions are always welcome. Opportunity is knocking. Thank you.
Aside from some scuffing on the end of the brake lever, this looks to be in extremely good condition, with the original exhaust and turn signals, parts that don't often survive on bikes this old. Mileage is listed at 9,033, but the speedometer reads in kph, so I'd assume it has 5,612 actual miles, making this a very low mileage bike for the $9,200 asking price. Move fast as I don't think this one will be around too long.
-tad