Location: Valrico, Florida
Miles: 31,028
Price: Currently $2,475 with reserve in place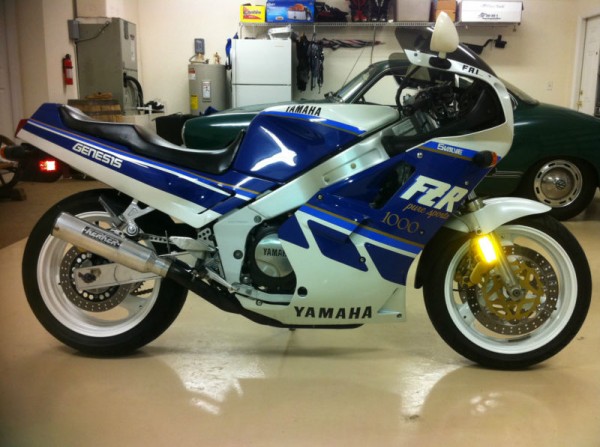 It is no surprise that many called the FZR1000 the bike of the 80's. It was hailed for its amazing power and even more for having a chassis that could channel that power and maximize the performance it had to offer. It was one of the main reasons that the terms "Deltabox" and "Genesis" are so familiar to and 80's and 90's sportbike lover.
Let me just say that this bike does not look like a 31k mile bike. In fact, if you told me it had 3k miles, I would probably believe it from the photos. Talk about clean. It is also a one owner bike, meaning that the seller has looked after it for the past 24 years and it shows. The only non stock items that the seller mentions are a beefier rear tire (up to 180 from the stock 160), 39mm flatside carbs, billet clutch cover, and a Kerker exhaust. The pipe is definitely a nice era-correct mod. Looks like the wind screen is a tinted one as well.
From the seller:
This FZR is in mint condition. I bought this bike new in 1988 (one owner) Never dropped. The bike has a up graded rear wheel with a 180 tire. The engine up grades are as followed, 39 mm Keihin flat slide carbs, Billet clutch basket and Kerker header.

This bike is in pristine condition for a 24 year old sport bike. Bike has been garage kept since new, It is a must see to believe motorcycle with only 31000 miles.
Now I will say that '88 was the year before Yamaha had redesigned the FZR1000 and in comparison, the '89 is a better bike with the EXUP and Deltabox II. But let's face it, finding well cared for bikes like this from the late 80's isn't easy, so this is definitely one to consider if that's what you are looking for. This one looks super clean and would absolutely turn heads to those in the know. Check out the auction here!
-JS