Like so many special bikes, the 2006 SportClassic 1000 had some neat things the first year which were moved into the profit margin going forward.  Beside low miles, this SportClassic has some nice upgrades.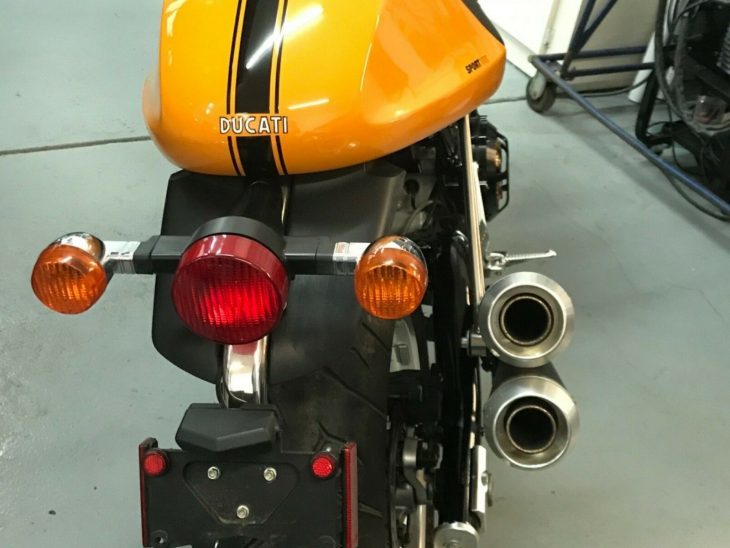 When presented in Japan in late 2003, the Pierre Terblanche retro design injected a touch of excitement into the the 2005-6 model year.  The SportClassic 1000 gleaned 91 hp from the air cooled dual-spark 992, revered now as a classic Ducati powerplant.  The Mods vs. Rockers stance belied the modern 43mm upside-down forks, and curious double-sided swingarm, with single Sachs shock making room for the mufflers on the right.  Initially the SC1000 was a only a single seater, and kept the dry weight under 400 lbs.
From the comments the seller is helping out a friend who is the original owner.  Some nice Rizoma accessories and apparently un-stickered Termi's.  Probably time for new belts and bologna skins before any real rides.  Comments from the eBay auction:
Mint condition, many after market parts. Original stock parts included, runs perfect , sounds awesome, bike has sat In my hanger for 5 years, it's dusty but will clean up as new.

Beautiful and rare. Mono shock, mint condition, 4,492 original miles, runs perfect. Sounds incredible. Stored indoors, many after market upgrades, all original parts included. This bike will not disappoint it's pure art. Needs nothing, no issues. Clean title, all manuals / keys / tools, etc., never laid down.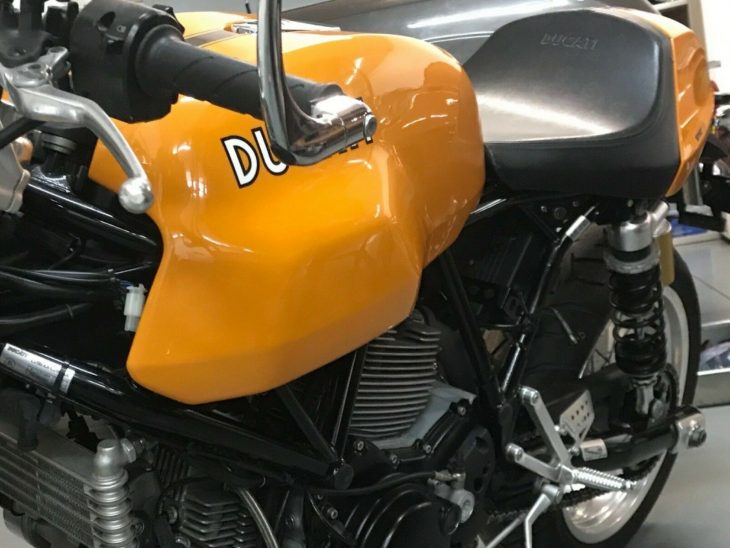 Subsequent years of the SportClassic GT1000 acquired dual seats, and the exotic asymmetrical swingarm went to a dual shock unit.  The leather helmet and goggles vibe took a while to catch on, and SportClassics as a whole were under-appreciated until they left the showroom.  Then prices started to go up !   Bidding is quite active but hasn't met the reserve, with four days to run.
-donn