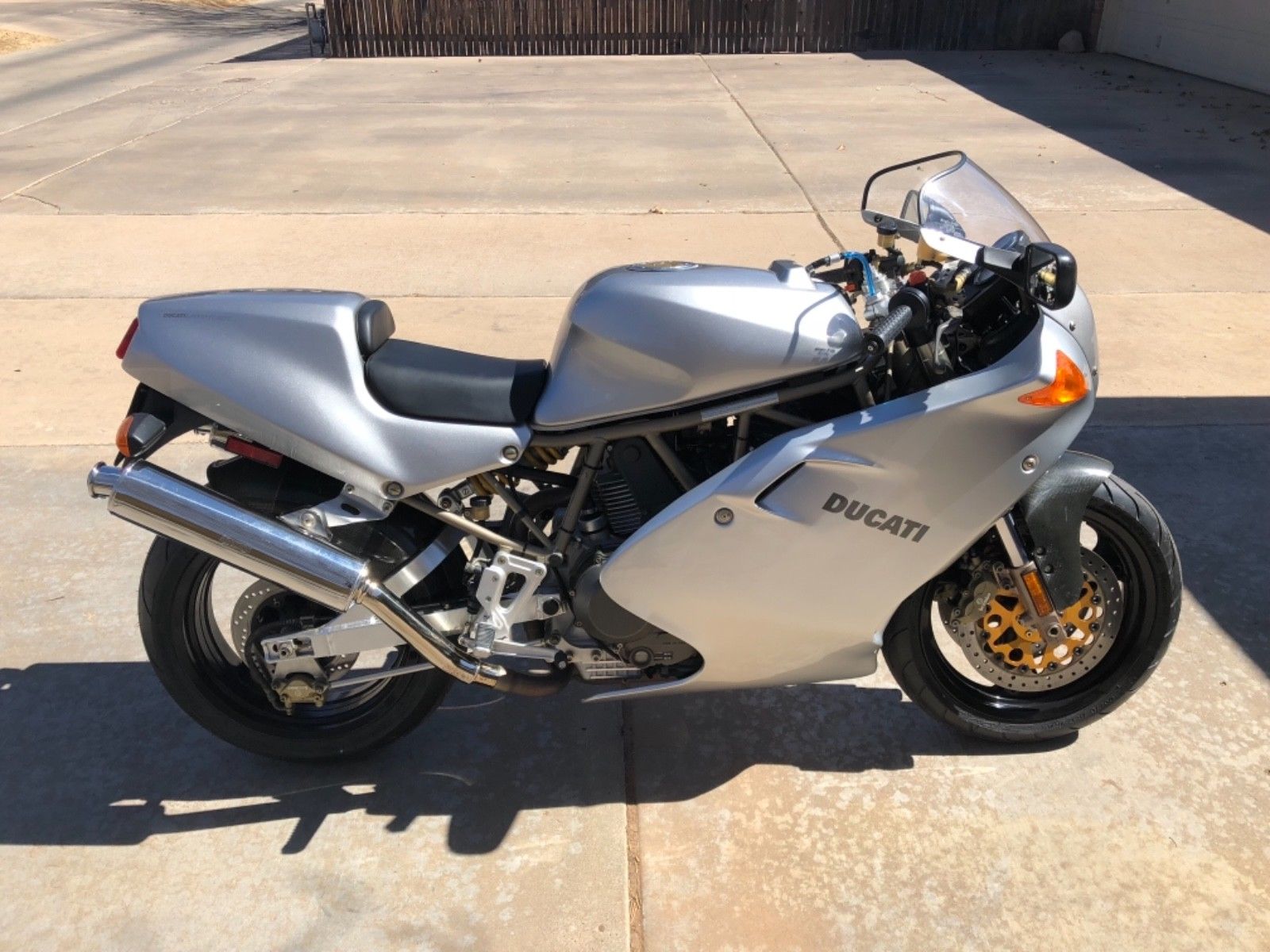 Touted as the end of the SuperSport era, the 900SS Final Edition of the venerable Ducati platform was both a beginning as well as an end. The last released model as designed by Massimo Tamburini, the FE was a numbered and exclusive marketing machine that represented the pinnacle of the air-cooled lineup. The next page of the new chapter of Ducati was written by a new character – the oft derided designer Pierre Terblanche – taking Ducati into new and interesting directions. The real sunset here is not the SuperSport lineup, but rather Tamburini's influence on the design… and ultimately Tamburini's effect on the platform. Today's example is #258 of the purported final 300 bikes targeting North America.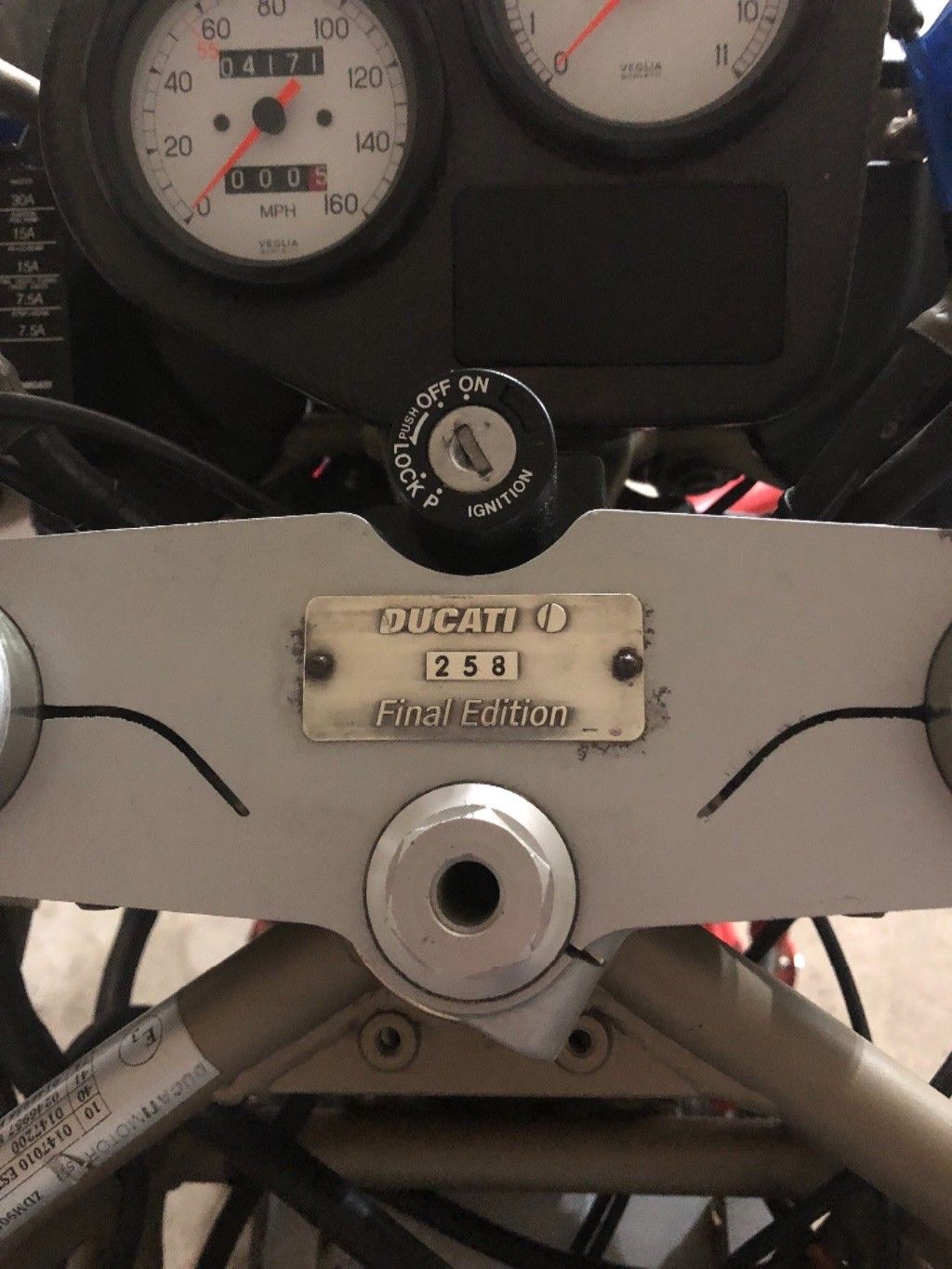 The second generation of the SuperSport platform rolled into the showrooms way back in 1988. With an updated Pantah-based motor, air cooled desmodue twin was a rough gem – it contained all of the basic DNA that you would want in a sport bike, with few of the amenities or polish found in Japanese contemporaries. The SS had style with a trellis frame, basic but good suspension, and a bit of Italian flair that made it unique. Ten years on the platform had aged relatively well, although performance would never be on par with 600s from the East. Carburetors fell by the wayside as fuel injection made an appearance (likely more for EPA reasons than for power or perceived performance). And while 10 years is a lifetime for a model, the bones of the SuperSport were so good that to this day these remain well-sorted motorcycles. Not the fastest, but characteristically Ducati.
From the seller:
have a 1998 Ducati 900SS FE #258 for sale. Bike has 4180 miles on it. Had been in storage for last 11 years. New cam belts, valves checked, oil changed, new air filter, carbs completely rebuilt, new fuel filter, strainer and tank hoses, new Michelin power pilot tires, forks rebuilt with new oil and seals. New brake fluid and clutch slave cylinder rebuilt with new piston assembly. Inside of gas tank is rust free. No cracks in frame or aluminum swing arm. Bike starts and runs good up high but has a hesitation between 2000 and 4000 rpm that I can't figure out. A couple of hours with a Ducati mechanic and it should be good to go. Nearest one to me is 5 hours away so it's not an option otherwise it would be done. Bike did fall over in the garage on left side and has a small ding in front of tank, scuff on lower fairing and small crack in lower fairing where support bar holds it. Also has a section on bottom back of left fairing where battery leaked from the hose and removed the paint, which has been poorly touched up. I believe the fairings were repainted at some point as they appear to be a lighter shade of silver than the headlight surround.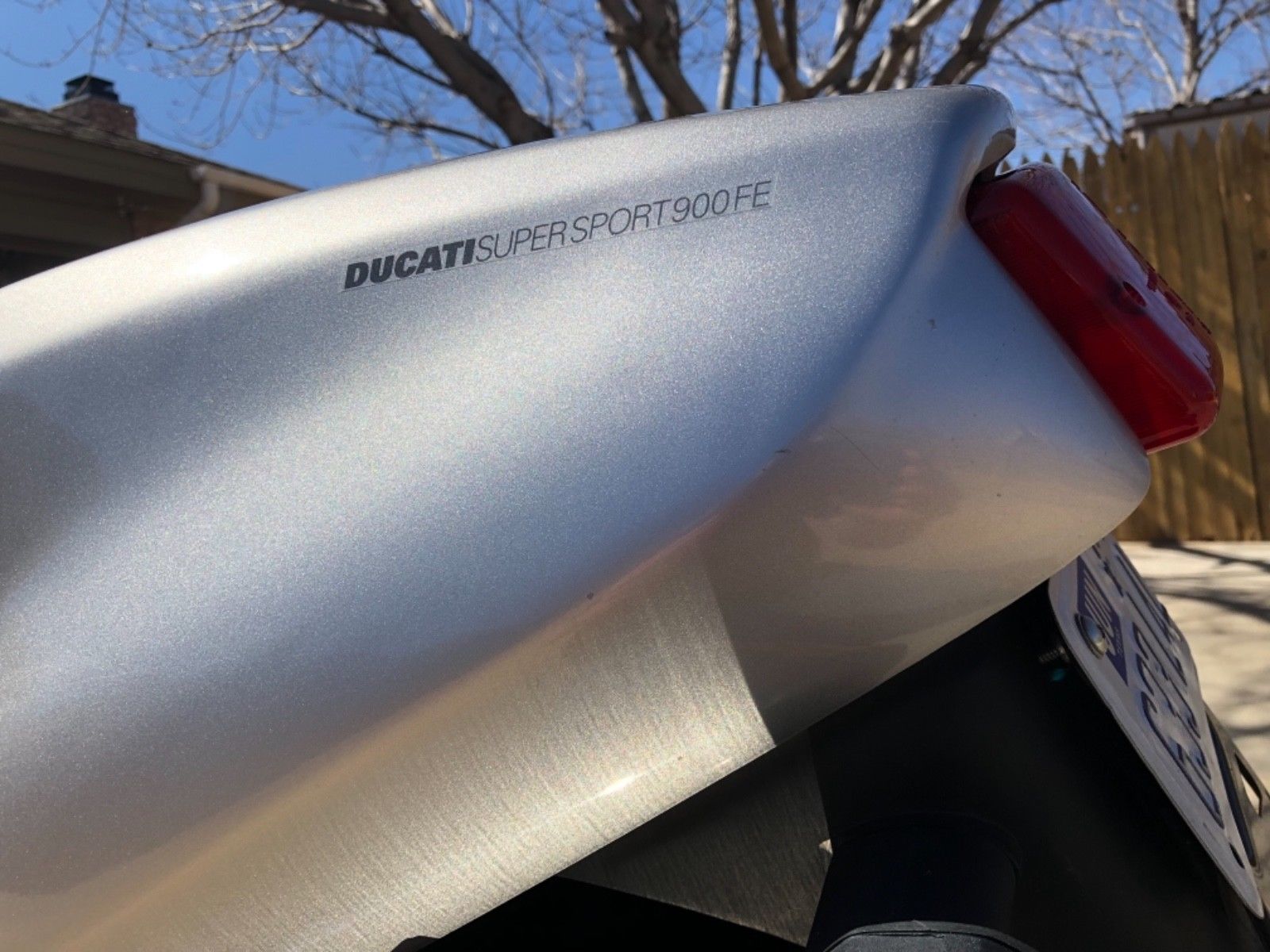 Outside of unique silver paint and a limited edition number riveted to the headstock, there is not too much more to a FE than a one year earlier 900 SuperSport. Still, the Boys from Bologna executed well; the majority of limited edition models pull in higher dollars than standard models at auction. We have seen a few FE models past through these pages, and they always raise some interest. This particular example is not exactly a museum piece, but it looks to be an honest specimen with relatively few miles. It would appear that the owner has done a lot of work on this one, which could be a bonus if all checks out. This buyer is looking for $6,000 in a Buy It Now auction format, which could end up being fair money depending on the ultimate condition of the bike. Check it out here and relive the glory of Tamburini's classic design. Good Luck!!
MI