Warning!
This post is in our archives. Links in this post have been updated to point to similar bikes available to bid on eBay.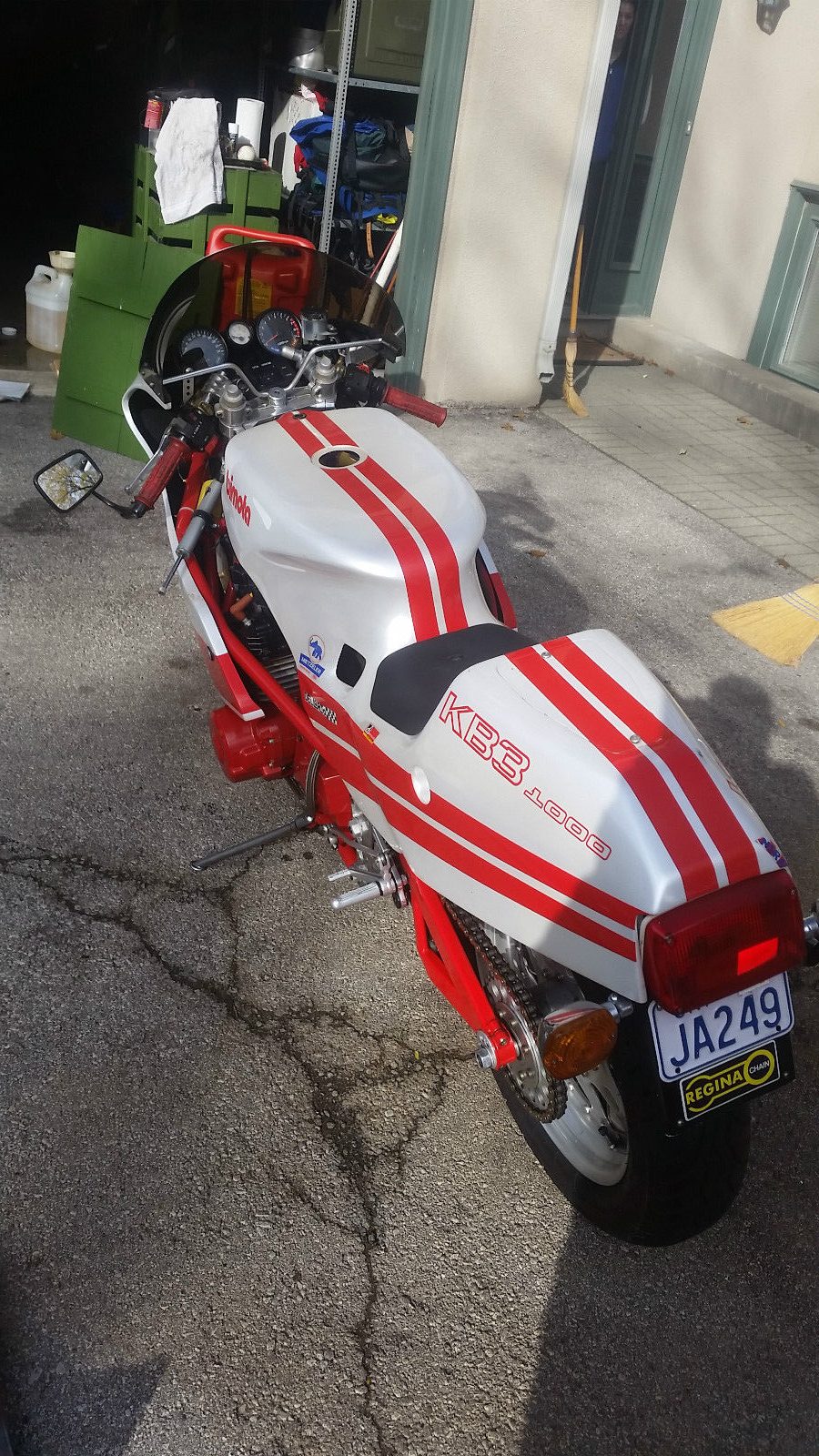 One of the all-time classic marriages of Japanese power plant technology with hand-built racing frame know how all wrapped up together in a tailored Italian suit is the little Rimini company of Bimota. Founded by three like-minded individuals who liked to go fast (and look good doing it), Bimota utilized donor engines and transmissions to power new, hybrid creations. During this time, the Japanese had the best engine technology, but their general frame design had not yet evolved beyond the 1960s. Bimota had exquisite frame building techniques, but were not a full-fledged manufacturer of complete motorcycles; they preferred to concentrate on the chassis and bodywork aspects. It is this approach that defined the KB lineup: Bimota frame and bodywork (and sourced suspension) motivated by a Kawasaki power plant. The KB1 was a Z1000 powered machine, the KB2 relied on the GPz550 motor, and the KB3 opted for the bigger, badder GPz1100 lump.
Today's KB3 is not quite the showroom perfect example one could hope for – it has a highly modified motor and is not entirely in ship-shape condition. Seller notes that it has not been run in a few years, that the rear brake caliper has an issue, and that there are some other bits of concern. Photos are included, but the orientation does not make them easier to decipher the true condition of the bike. Pics have been modified here on RSBFS to help save that crick you get in your neck when trying to view posted photos that are orientated 90 degrees from upright.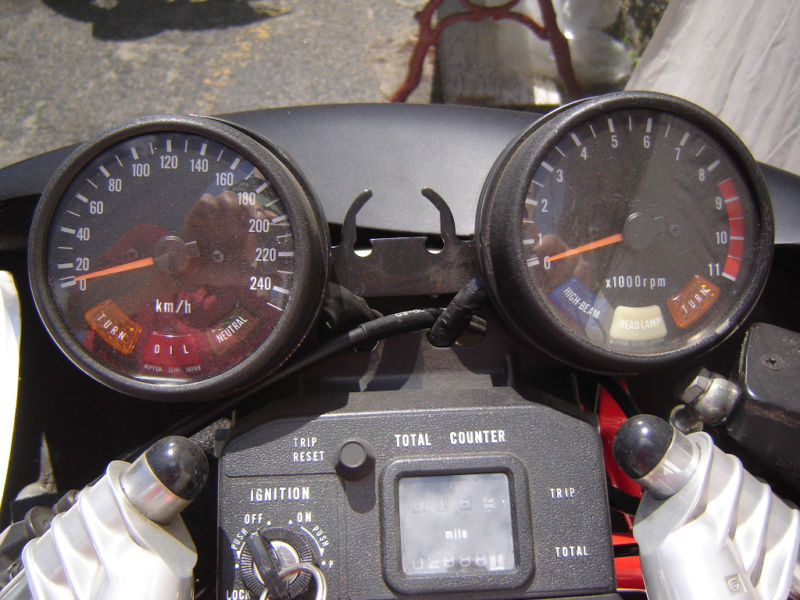 From the seller:
Bike was built with one original Kawasaki GPz1100 motor come with bike but has a 1267cc Wiseco motor in it now. Needs rear Brembo caliper rebuilt master is new NOS part. Bike generally in very good condition has not been run for three years as brakes needed work in rear.Has parts to be offered with bike like carbs as well as general engine parts.

Original owner of one of 112 Bimota KB3's produced with a Kawasaki GPz1100 motor as well as an additional stock mostly complete engine. Needs side case on stattor side as well as small other bits clutch rod etc. Need rear caliper rebuilt, speedo working but mileage indicator not working.
The early KB models are rare, rare, rare. They command big bucks, because there were so few manufactured – only 112 were produced. This was likely a kit-built bike, meaning the original owner build it up from the frame kit and a donor GPz. As such, there will always be some variances between two bikes of the same model, and smaller issues like the odometer not working are really quite common. These early Bimotas are as much about the skill of the assembler as they are the quality of the components.
This bike is located in Ontario, Canada – meaning US buyers will need to deal with importation. This is a Buy It Now listing, with the seller looking for $18,000 USD, or best offer. That is big bucks indeed for a bike that cannot be ridden, yet represents fair (if not a little high) money for a KB3 if the anomalies could be rectified without great expense. Check it out here, and share your thoughts on the early Bimotas, KB bikes in general, or KB3s specifically.
MI