Warning!
This post is in our archives. Links in this post have been updated to point to similar bikes available to bid on eBay.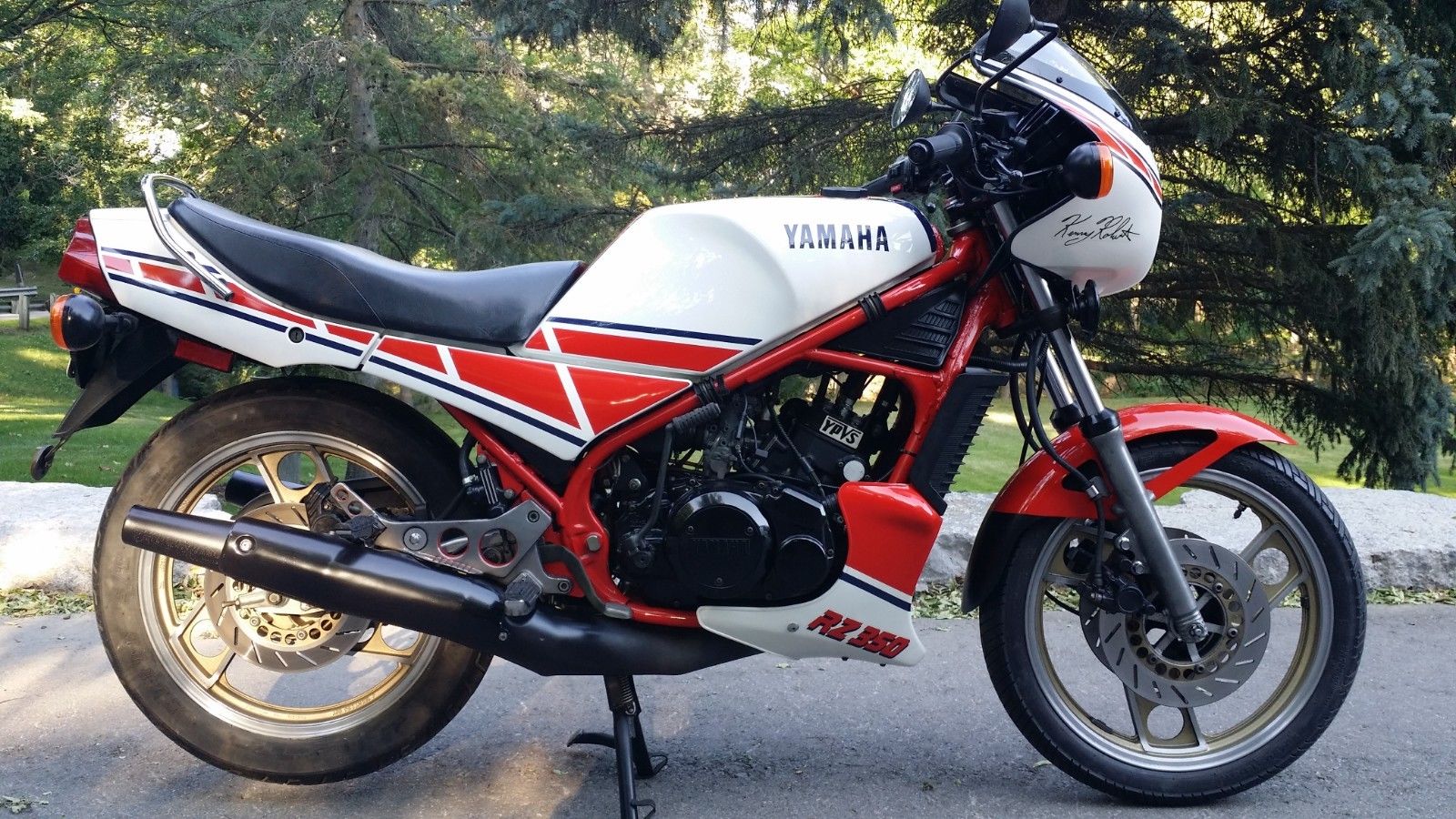 If you are a regular reader of RSBFS (if not, sign up for our email service so you never miss out on a great find), you will know two things: Number one, the RZ350 is a very popular model of semi-rarity her in the United States; and number two, sellers have been classifying "reasonably good" bikes as Museum Quality since the beginning of eBay. That leads to many examples of collectible motorcycles being represented as perhaps slightly better than they are. Even so, we revel in finding the rare and the unusual and try to bring it to your screen with an open view as to what it is and what it is worth. As such, we find this second red/white RZ350 in a week (see the first one here), and are all too happy to share what looks like an original example of the breed.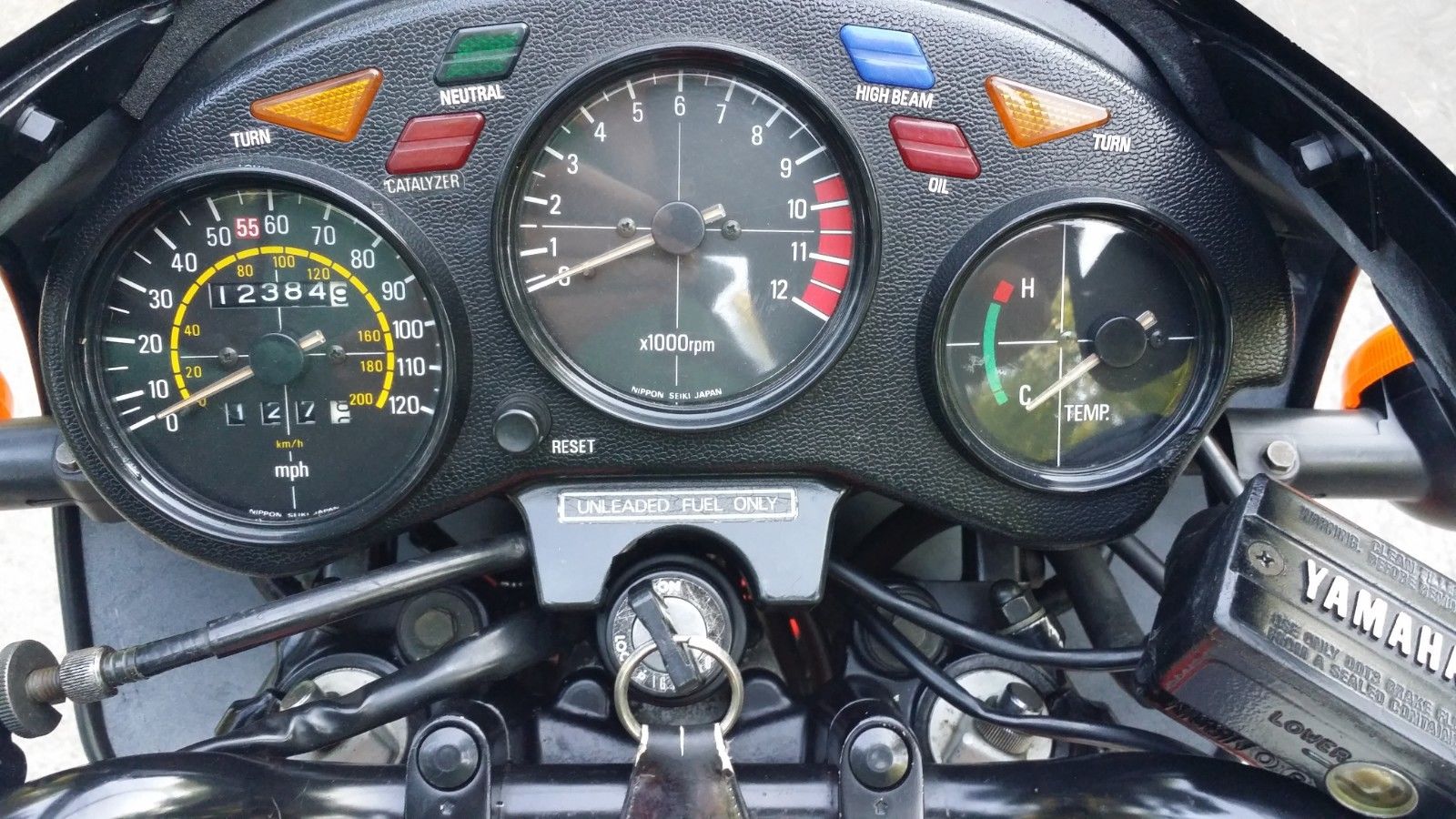 From a collector standpoint, originality counts. And on an RZ, while aftermarket expansion chambers are period correct and aid in addressing two major exhaust faults of the bike (namely weight and performance), they are not original. Original means the basic black – but very trick – two stroke exhaust that incorporate catalytic converters and air injection to ensure as clean a burn as possible. Mr. EPA required said trickery in order to make the RZ an officially imported bike back in 1984 when the model was first brought to our shores. So effective were those cats that the small-but-mighty RZ even made it into California for one year! Today these are very difficult to find, and very expensive to replace. But they make the bike original. Original may not be the fastest configuration, but it is the best bet to earn every dollar possible on the resale of a classic motorcycle. Although not super-rare in the world, the RZ is most certainly a classic sport bike when it comes to American riders. So when you find a classic model in original condition, you have something special.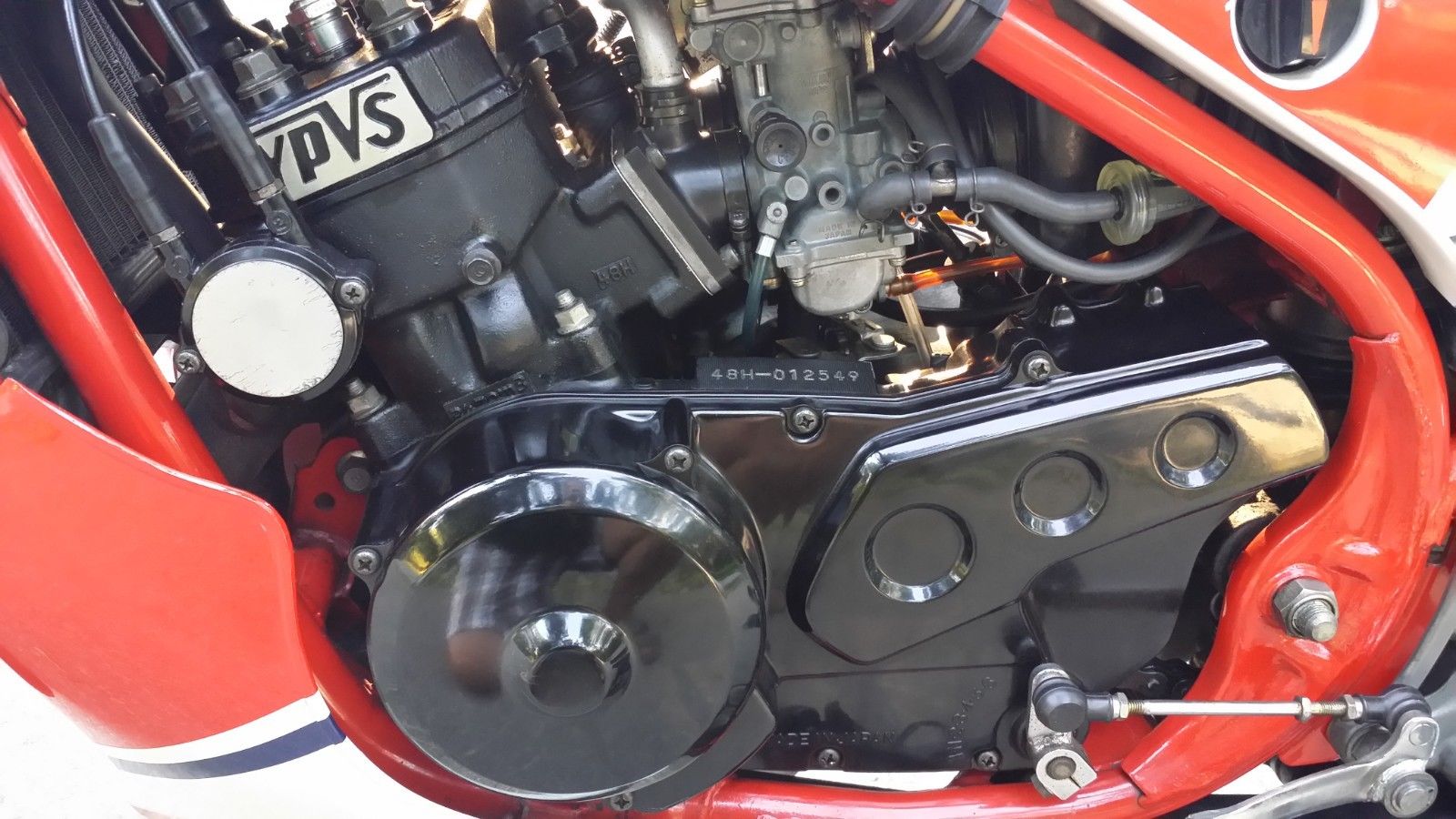 From the seller:
I HAVE HAD THIS BEAUTY IN MY COLLECTION FOR A FEW YEARS NOW AND TIME FOR A NEW PROJECT. IT'S BEEN A GREAT BIKE THAT IS USED REGULARLY AND IS RUNNING EXCELLENT. THIS IS A FINE EXAMPLE OF THE KENNY ROBERTS SPECIAL THAT IS IN VERY NICE UNRESTORED CONDITION RIGHT DOWN TO THE CATALYST CHAMBERS WITH WORKING ALARM.

THE ORIGINAL PAINT AND TANK IS NEAR PERFECT. NO DENTS OR RUST, TANK LOOKS NOS. CARBS HAVE BEEN RECENTLY SONIC CLEANED AND SET. ALL NEW OIL AND FUEL LINES INSTALLED, BRAKES, AND OIL INJECTION TANK FLUSHED. ENGINE IS ORIGINAL NUMBERS MATCHING WITH NO LEAKS. NEW FORK SEALS INCLUDED BUT NEED TO BE INSTALLED….THEY ARE LEAKING A BIT. TIRES ARE A BIT OLD BUT HAVE LOTS OF TREAD AND NO CRACKS. IT LOOKS LIKE THE FRONT COWL MAY HAVE BEEN RESTORED AT SOME POINT BUT I'M NOT SURE.

IF YOU HAVE ANY QUESTIONS OR WANT MORE PICTURES PLEASE DON'T HESITATE TO CONTACT ME. PLEASE VIEW THE PICTURES CLOSELY AS THEY SHALL GIVE YOU A LOT MORE INFORMATION THAN WORDS CAN. I WILL HELP WITH INTERNATIONAL SHIPPING IF NEEDED AT THE NEW OWNERS EXPENSE. DON'T LET THIS ONE GET AWAY YOU WON'T BE DISAPPOINTED!!

BIKE IS IN CANADA, NIAGARA FALLS AREA.
The seller has done a good job describing this particular bike, and provided the video to boot. As a 1985 model, King Kenny's signature adorns the fairing (it was only on the yellow/black models in '84), and said fairing looks good. So does the tank. The aforementioned boat anchor cats are well and truly in place (and operational, according to the over-temp alarm comment), although they *might* have been resprayed by the look of the finish. Of course time and heat cycles might have done that just as easily. There is some evidence of use and wear on the bike, but then again it does have 12,000 miles and change. Corrosion is not the dominant color scheme, which is always a good thing. Overall, this is a solid bike by my eye.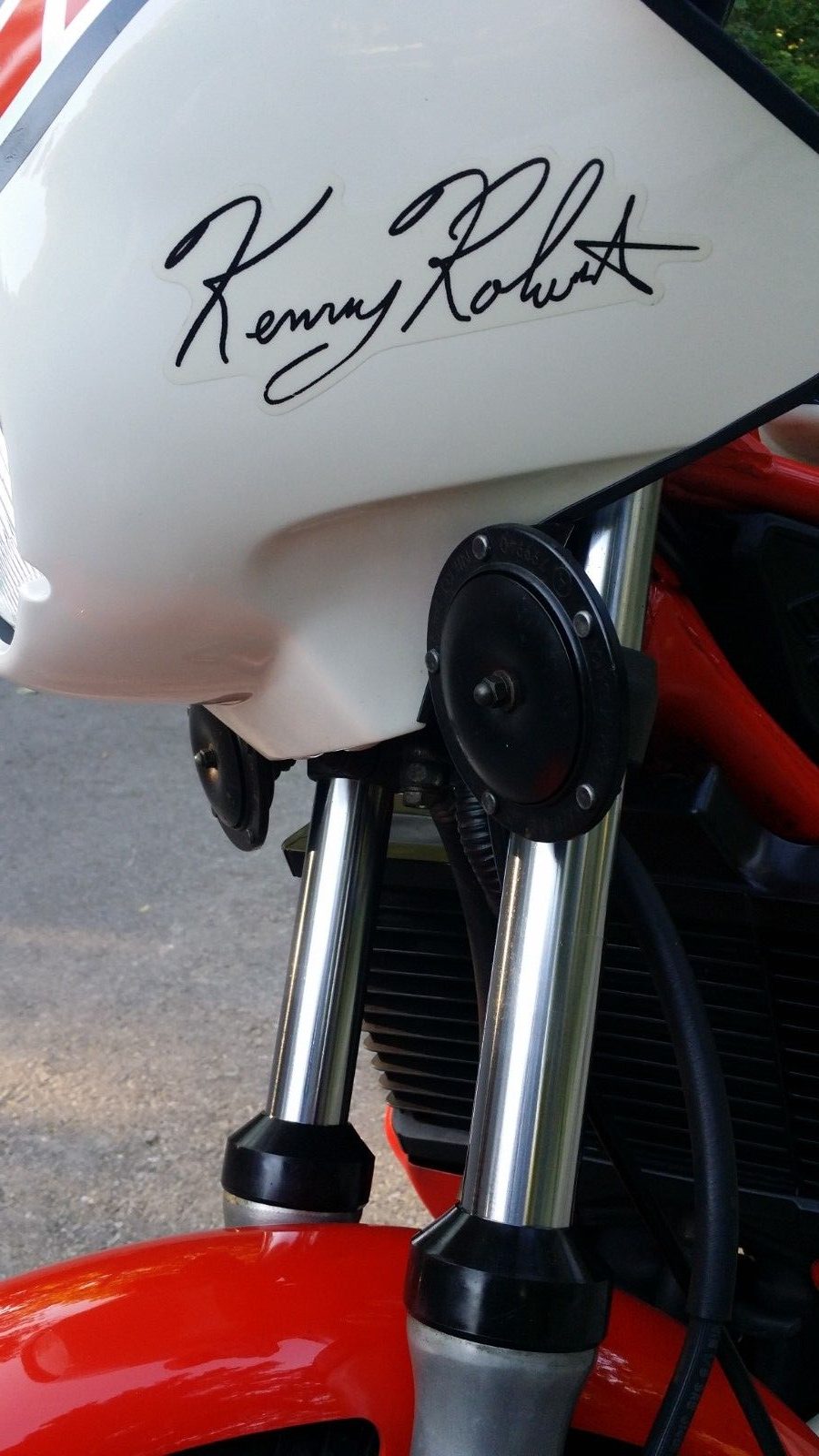 So this is what it comes down to: a rather well kept, reasonably presented, original bike with some of the faults and foibles you would expect from a used bike. And unlike our previously posted RZ, this one comes with a more realistic price tag: $8,995 if you buy it right now. Like the previous post, this seller is also open to offers. The days of the $2,500 RZ are long gone. The days when you thought $7,500 was a stupid-high number for a used bike are also seemingly gone. The RZ350 is popular; it was widespread enough to have parts availability, and it is unlike nearly any other machine offered then or since. There is something about it that tugs at heart strings, even though we know it is not the rarest or the fastest. But regardless of what tugs at your desires, do your homework and find the best possible example before you pull the trigger. Check out this clean example here, and see if you can't snag yourself a little Christmas present before the end of the year. Thumbs Up & Good Luck!!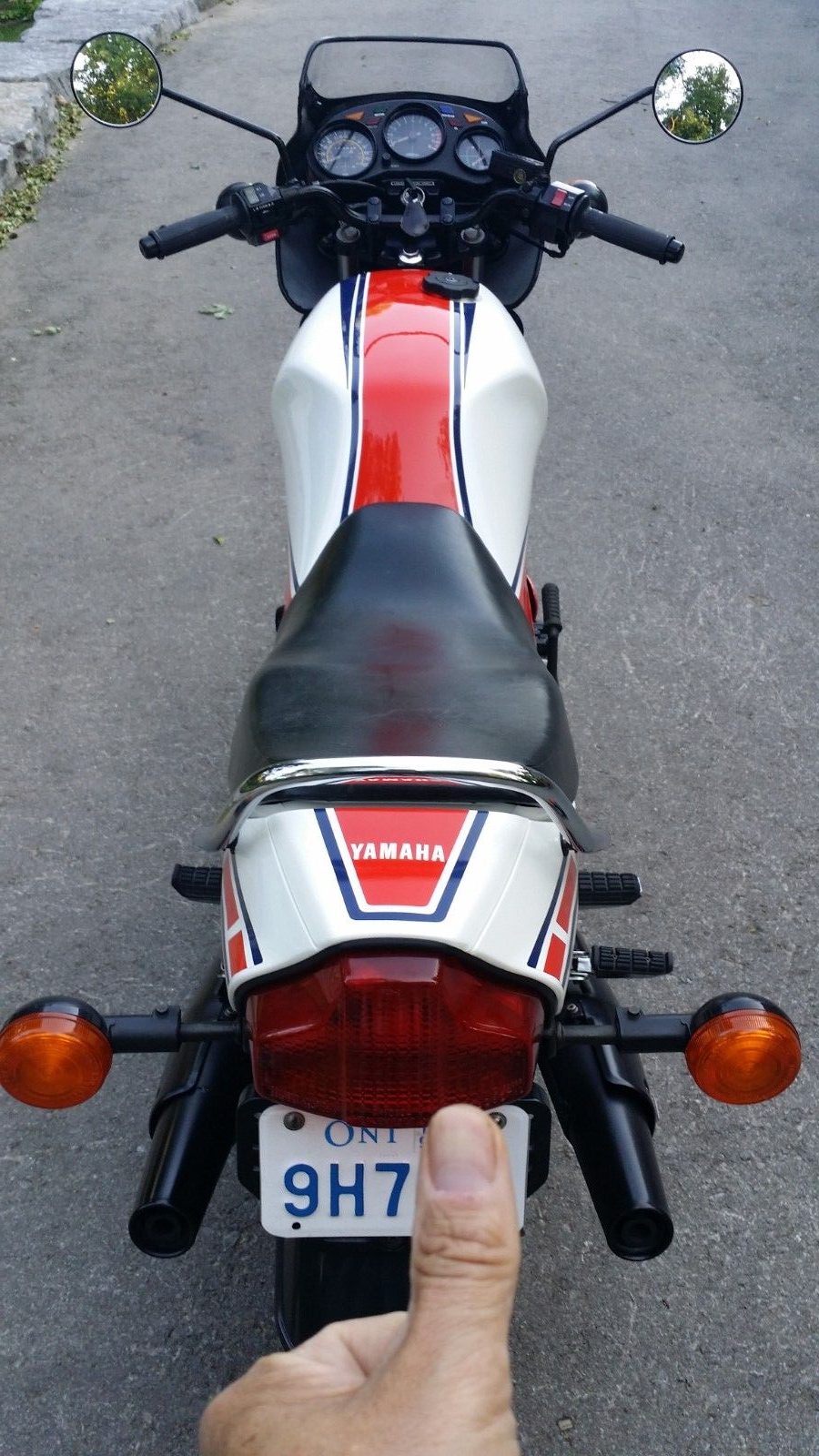 MI