Looking to use Ducati's own rule book, Honda introduced the V-twin RC51 and went superbike racing.  This excellent example shows very little wear for its 8,000 miles, and looks worth its not-insignificant asking price.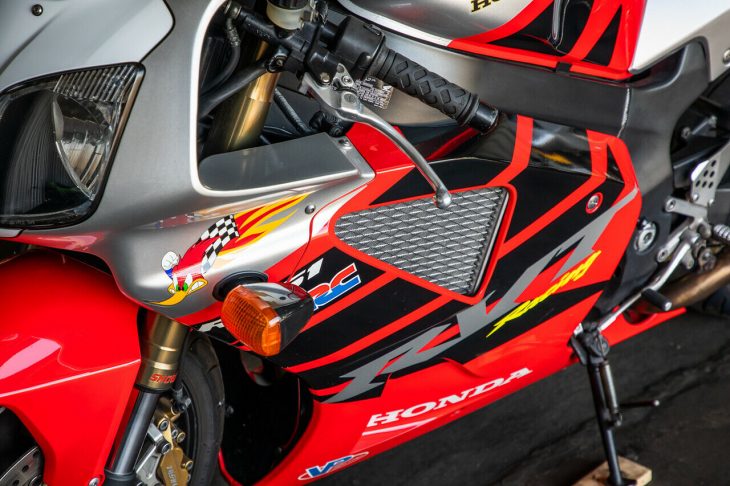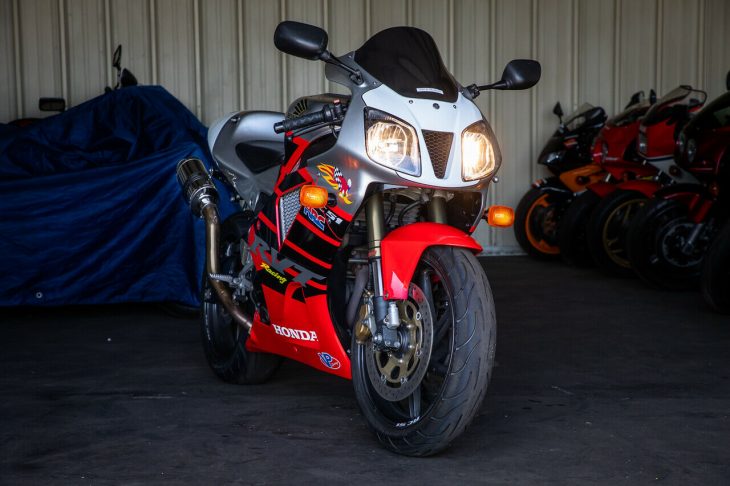 Comparing to the 996S, the Honda's engine is slightly more oversquare, and makes 136 hp at 9,500 rpm.  Up front, the central nostril supplies fresh air to the intakes.  Long gearing requires some clutch slipping down low, but the gear-change reviewed as sublime.  In contrast to the Ducati trellis, the RC51's chassis has huge hollow spars and cast frame connectors, with a heavily fortified swingarm.  Components are excellent with Nissin brakes and adjustable Showa dampers.  Fairings are dominated by the radiator outlets, which attempt to send heat outside of the rider.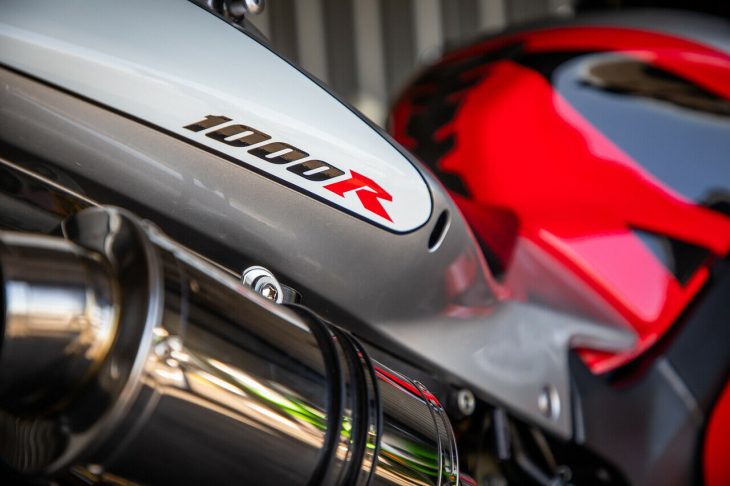 Rather low miles for the year and sparkling condition set this RC51 apart.  Where many have had lots of speed mods, just the Delkevic exhaust ( and accompanying Power Commander ) is found here.  Evidently fairings were swapped with a friend, making this a Nicky Hayden tribute but not exactly the special edition.  A photo of the tank with autograph would have been nice.  From the eBay auction:
Sold between in 2000 and 2006 in two different versions, the RC51 has gone down as one of the most legendary motorcycles to ever come out of Honda, well-deserving of the "RC" designation that's graced other famous Hondas like the RC30, RC40, and RC45. It was Honda's take on the V-Twin replica racer, beating Ducati at it's own game with multiple World Superbike Championships and a AMA Championship.

RC51 enthusiasts will note that Honda did not offer the Nicky Hayden edition in 2001 – the previous owner of this machine liked this look so he ended up swapped out the fairings with a buddy that was going racing as he preferred this combination with the white number plates.

In addition to the updated fairings, this Honda has a tail tidy, RC51 stickers on the wheel rims, and a Delkevic exhaust.

It also has a POWER COMMANDER module and dark tint windscreen. The bike is flawless, and needs nothing but a good new home! I have clear Texas title in hand. I am NOT negotiable on the price, and you can see why by browsing the pictures. This bike is perfect, never raced, or layed down. I am a seasoned 54 year old rider, and have never abused this bike, and maintained it flawlessly. 
Honda traded WSBK championships with Ducati for a few years, then dispersed the factory team to other projects.  Colin Edwards was the rider for both WSBK crowns.  Kentucky Kid Nicky Hayden rode the RC51 to an AMA Superbike Championship in 2002 before beginning his MotoGP career with Honda.  Like so many of the RC series, the big twin has become the stuff of legend, but has the Honda attributes of great balance and around-town manners.  Seems like the ask isn't way out of line for an interesting package with the later fairings and restrained mods.
-donn