Warning!
This post is in our archives. Links in this post have been updated to point to similar bikes available to bid on eBay.

 No Reserve! 1977 Rickman CR Framed  KZ1000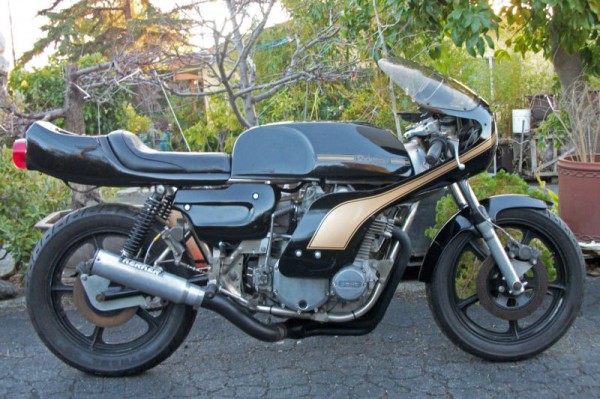 This one is going to a new home one way or the other.  As usual,  with some of the lesser known 70's sport bikes I had to do a little research to be able to write anything coherent about this bike.  What I found was interesting to me.  Rickman was a little like an English version of Bimota.  They were well reguarded frame builders that sourced their engines from several manufacturers.  They started with hare scrambles type bikes and moved onto building  road racing frames.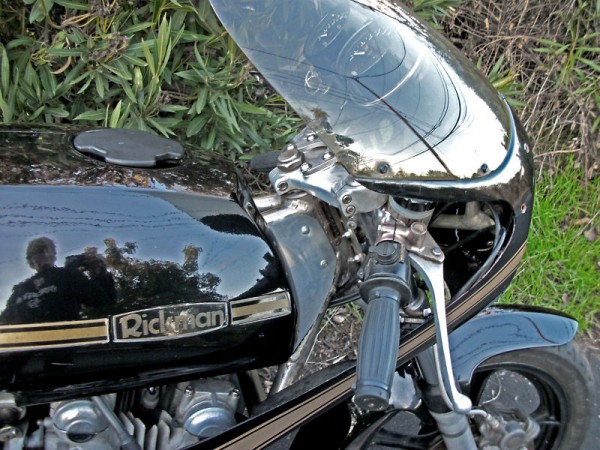 For a time they produced some complete small cc motorcycles but then returned again to frames and "kit" bikes.  They earned a solid reputation for the frames and the nice fiberglass work that came in the kits.  Just from a casual glance I'd say they got the styling correct.  Seems like a good combination: a large, hp loaded Japanese motor in a hand built frame with some modern styling.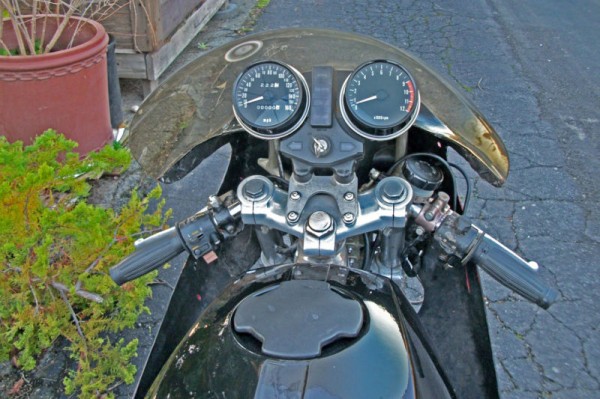 That is a manly man's gas cap there my friends.  It's not museum quality but I can't imagine there are too many out there to choose from and hey, we all know it is a lot more fun when there is no reserve on the auction.  Even though it isn't in pristine condition it only has 6196 miles on it.  Here is the best explainer I could find about the "CR" series of frames.
The details:
 

For sale here is a rare Rickman CR (Competition Replica). The frame was built by Rickman in the UK in 1977. It is constructed from Reynolds 531 tubing, which is beautifully brass-brazed and then nickel plated. It has Betor forks, AP Lockheed brakes, and superb German-made Ronal wheels. It is fitted with a 1977 Kawasaki KZ1000 motor, with Kerker exhaust and K&N Filters.
The bike runs well, but is a bit smoky when cold. Cosmetically it is certainly presentable but not a concours candidate! The bodywork is generally good though the fairing has some stress cracks, etc. The frame is in good condition. A prior owner has fitted frame-neck covers which are just thin pieces of aluminum sheet and seem to serve no real purpose–these can be seen in the pictures.

The speedometer and tachometer are new.

The rear brake master cylinder leaks and needs to be rebuilt.

The bike comes with a selection of eccentric washers for adjusting the chain tension.

There is NO Buy-it-Now and No Reserve either.
Does anyone else see Ducati in those lines?  Does anyone know if the wheels were part of the kit or added by the various owners?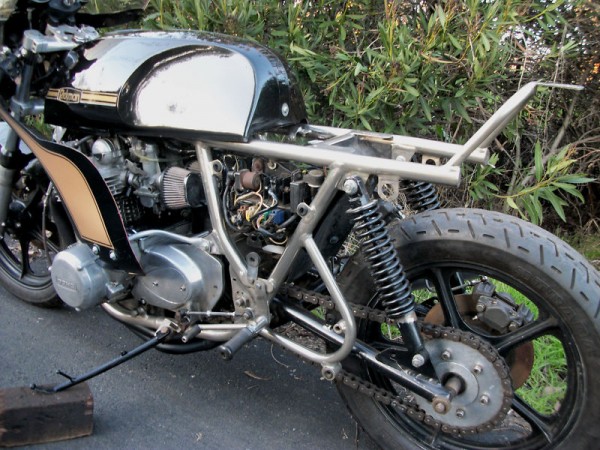 Who says we don't have naked pictures here at RSBFS?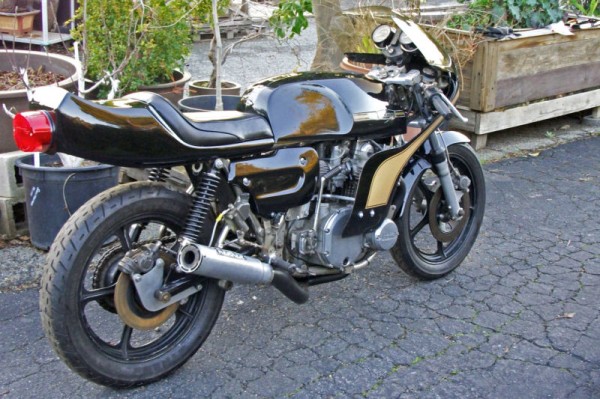 The Italians do it, the British have done it, why can't someone here in America make unique  frames, add them to solid engines and mix in some different styling?  Maybe the latest incarnation of Buell is the answer. 
.
IK