Update 8.4.2021: Previously listed on eBay in early July for $11k, this RWB 900RR is back on eBay and reserve is met. Current bid is $6,375 and reserve is met. Auction ends Friday afternoon. Links updated. -dc
Almost 30 years old and last seen on RSBFS ten years ago, the FireBlade was a revolution when new.  Updated with a 1000 cc engine and recent service, this CBR900RR is a classic sportbike with attitude.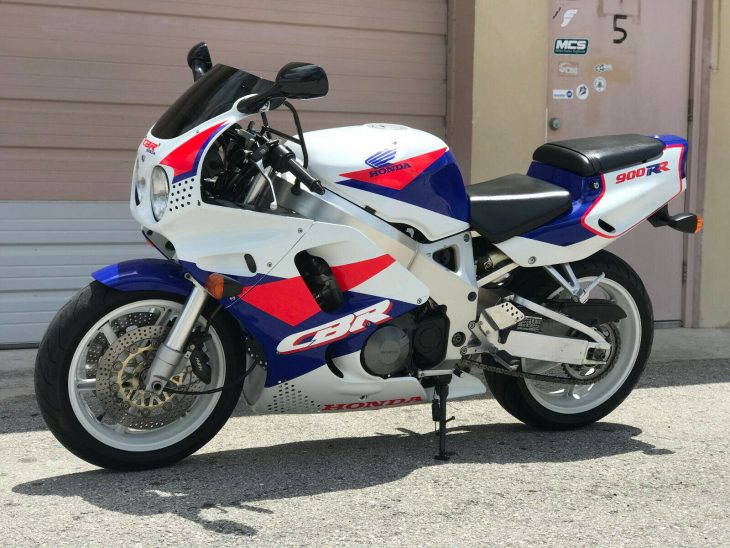 Designer Tadao Baba's path to superbike performance was more along the weight saving route than adding engine displacement.  The all-new 893cc four was nestled in an alloy chassis no larger than its 750cc stablemates.  122 hp were complemented by a lighter and easier to turn 16-inch front wheel, and lighter conventional forks that were finished to look like hipper upside-down jobs.  Brakes for a -90's liter were generally over 300mm, but engineers and reviewers found 296mm adequate for the FireBlade's middling weight.  Even the body moldings are perforated for air flow and less mass.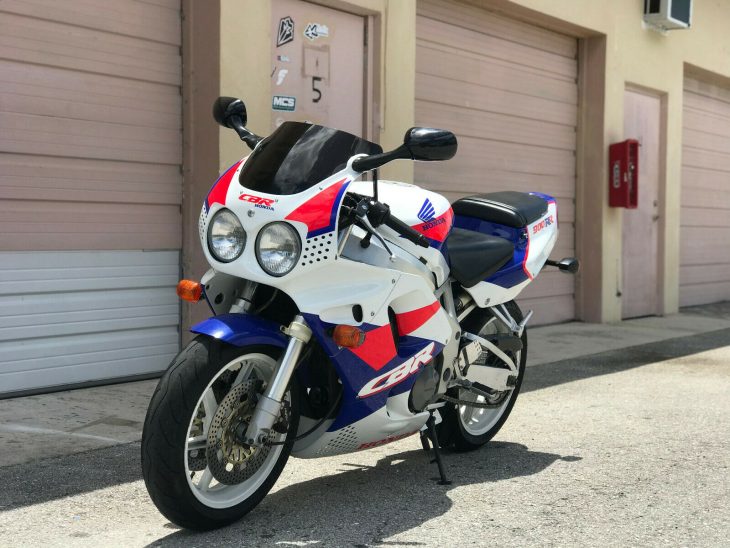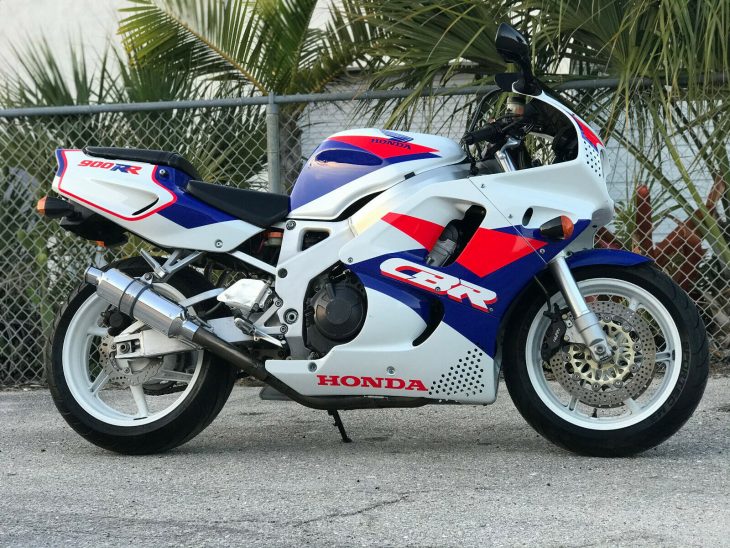 Seeming to be unchanged since our original – review – in 2011, this FireBlade has acquired only a few thousand more miles, and still looks excellent.  Evidently the engine kit, front suspension update, and brake lines were done circa 2003 but still have low miles.  Comments also mostly come from the earlier eBay auction:
The particular bike up for sale here is an interesting one. As if the 900RR in stock trim wasn't fast enough, this bike has been fitted with a Wiseco R997 Big Bore forged piston kit which bumps the displacement up to 997cc and compression to 12:1 (up from 11:1). This engine also features re-sleeved cylinders, new crankshaft, and a ported and flow-benched cylinder head. This rebuilt engine has less than 3,000 miles on it. The bike also happens to be one of the first 100 of the 900RR's produced with VIN ending in 00097 and a manufacture date of 01/92. It also has some updates to the triple clamp to alleviate some of the twitchiness due to its 16" front wheel.

This is one of the most desirable CBR's in the collector bike market, and yes it's a 93', and yes its Red, White and Blue !

This is an early production number, one the first 100
produced, its Number 97.

Excellent condition, Runs Excellent, Very Clean, Very well maintained and serviced, garage kept, never crashed, clean FL title.

30,442 original miles, professionally built 1000cc motor with less than 3000 miles.

Wisceo R997 Big Bore forged piston kit, 1000cc [997cc], re-sleeved cylinders, 12:1 compression [runs on premium pump gas] 74mm bore,
spring steel head gasket. New crankshaft. Cylinder head ported and flow benched by Davis porting. 'Factory' shift kit.

Micron 'Race' stainless steel exhaust.

Stainless steel braided brake lines front and rear.

Updated triple clamps from 96' to increase trail and fork stance 10mm, as you may know the pre 96' bikes are known to be 'twitchy' – original clamps are included. New fuel pump, new front rotors, chain and sprockets with less than 5K. Just serviced including: oil and filter, cooling system flushed and refilled, brake fluid flushed and refilled.
From one of the sweet spots of sportbike history, a quieter exhaust could allow this CBR900RR to really surprise its next acquaintance.  Even though the FireBlade eventually grew to a full liter and a little more GT, the original concept of compactness and lighter weight, requiring less power to compete is still a winner.  The up-to-date ask might be challenged with an offer, this superbike-engined Blade in classic sportbike livery looks worth the effort.
-donn