Wishing it were an RR or an L homologation from the WSBK-winning 1993 model year won't make it so, but best to appreciate a carefully maintained J2 for what it is - a 93 hp 750cc nicely equipped, with great 2nd generation styling and classic graphics.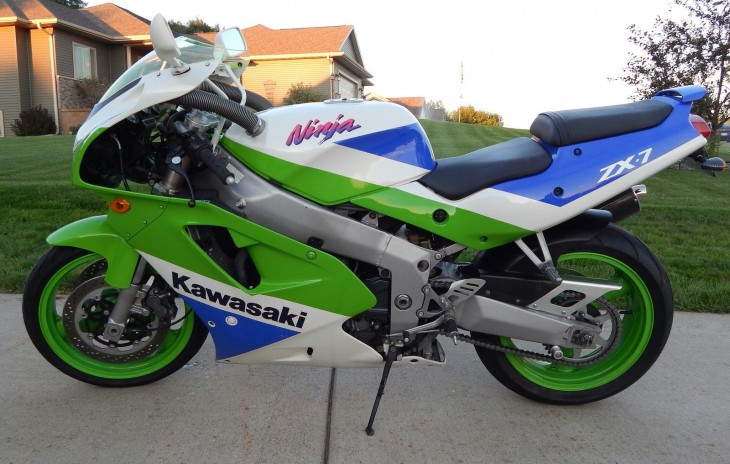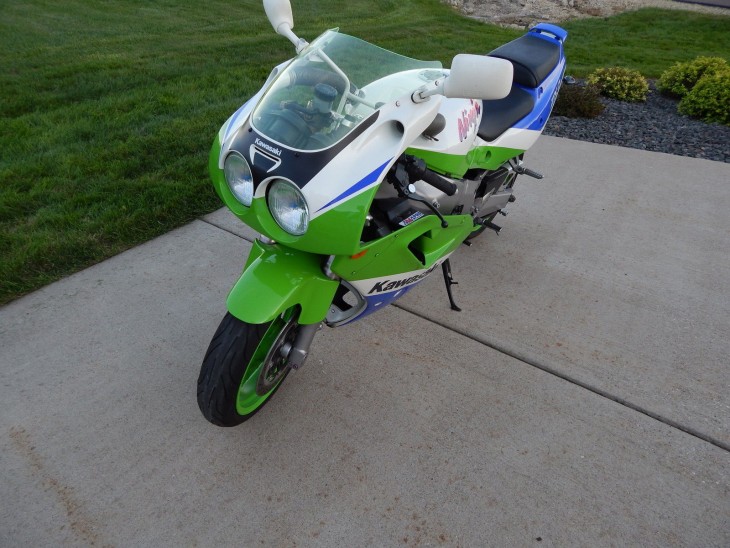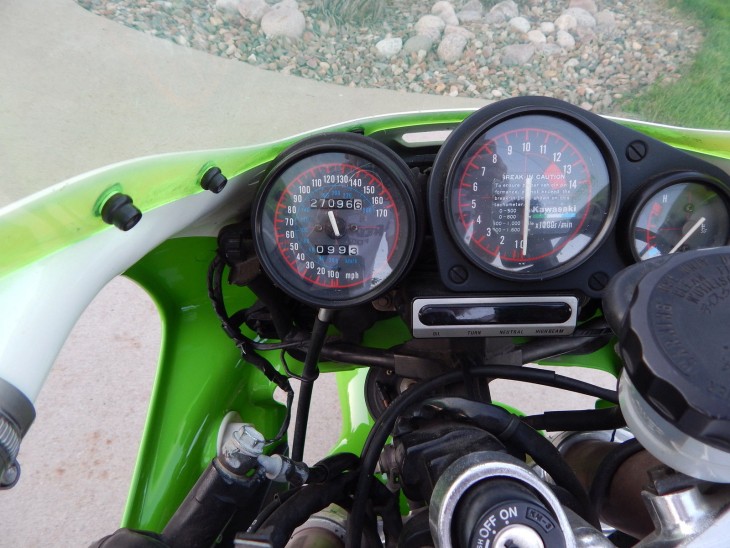 First introduced in 1988, the ZXR-750 / ZX7 was a long runner for Kawasaki until 2003.  Peeking out from the endurance fairing is the frame that made it all possible, a double perimeter hybrid of stamped and cast aluminum, with similarly fabricated swingarm.  The engine had been updated for 1991 and was unchanged for 1992.  An early adopter of upside-down forks, these are 43mm.  The rear Uni-Track pushrod system sported a re-valved monoshock, reviewed as a big improvement from 1991.  Brakes are overbuilt if that's possible, with dual 320mm front disks and 240mm rear.  Now-classic bodywork has twin headlights leading the way, with air intakes below the mirror bases, providing cool air if not ram-air.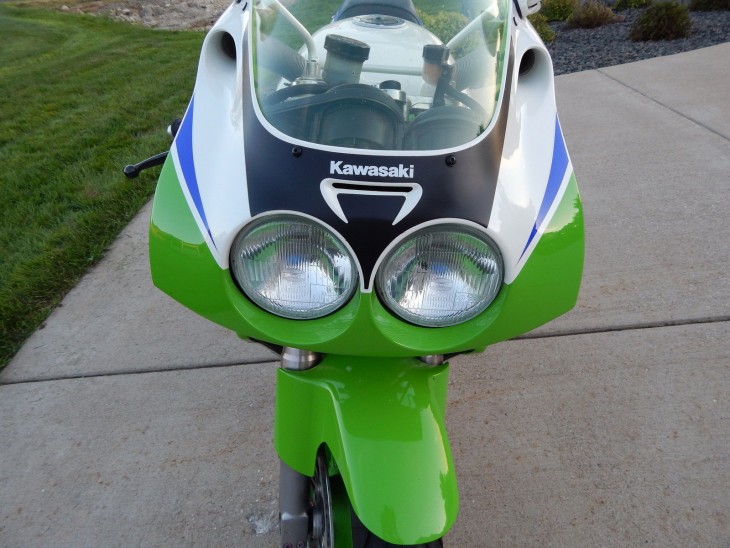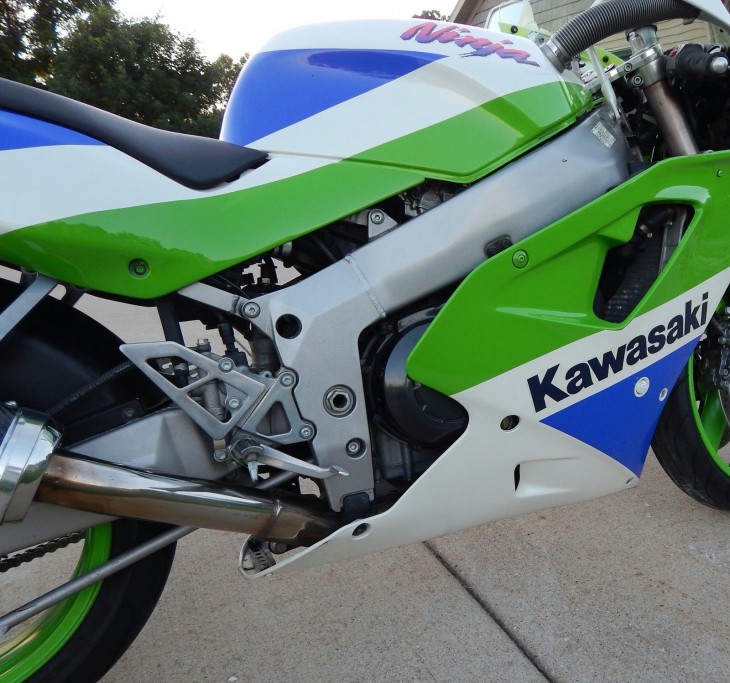 Not without miles at 27.5K, this J2 looks awfully nice, and though not described, there must've been a paint shop in its recent history.  Maintenance hasn't been ignored, with lots of new wear parts.  A spare color-matched seat is also supplied.  The owner says the only squawk is the broken speedo needle, an easy repair for an instrument shop.  From the eBay auction:
I purchased this zx7 with just under 18,000 miles around 5yrs ago, from california.  I rode it quite regularly for 2 summers and then just on weekends off and on the last 2 summers.  The bike has been well maintained.   I have service records from my local kawasaki dealer to show the work performed.

Recent work/parts:

New front tire

New front and rear sprockets

New chain

New cush drive

New fuel pump (2 summers ago)

New battery (last summer)

Front forks rebuilt this spring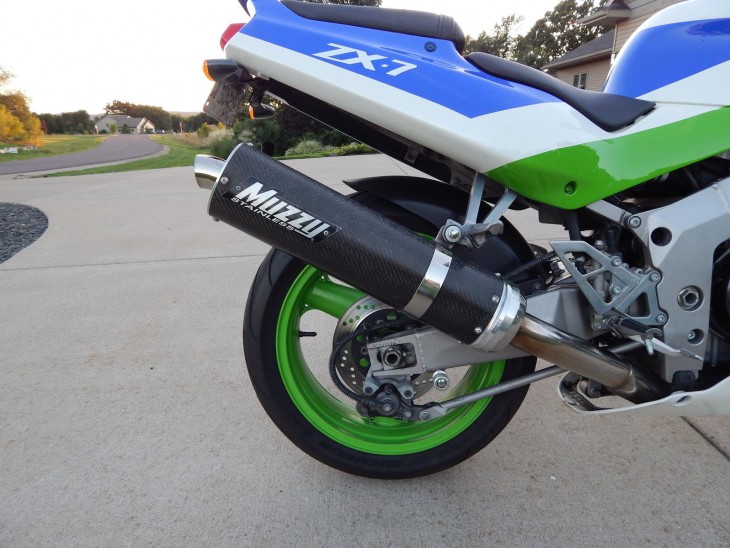 Though our more knowledgeable and sharper-eyed readers will find other foibles, this Ninja seems to be a bargain route to the sportbike affliction, packing about 90 percent of the fun into a fraction of the possible spending.  Not registering much on the rarity meter, but most 90's Ninjas are a fright of frame sliders, half-completed mods and helicopter tape.  Maintenance records from five years are a welcome addition.  The lack of customizing and overall clean presentation make this ZX-7R worthy of a second look...
-donn