Warning!
This post is in our archives. Links in this post have been updated to point to similar bikes available to bid on eBay.

Location: Altamont, New York

Mileage: 11,344

Price: Auction, currently $3,349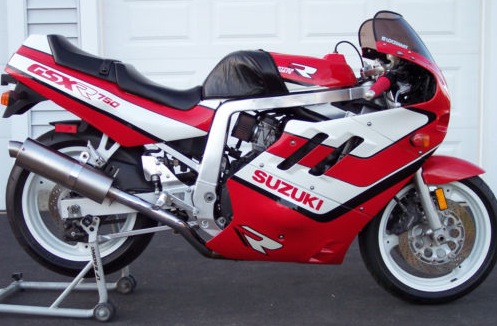 As Mike pointed out in a previous post, I spend much of my time at corporate trying to convince anyone who will listen of the greatness of the early GSX-R. We all have our opinions and certainly much is subjective, but I will always write these bikes up. To me they are an essential part of the golden era of the sportbike.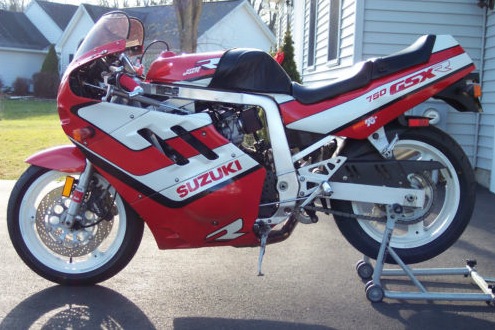 This '89 is a nice example of the second generation GSX-R 750. This generation saw a revised frame and bodywork that resulted in one of the best looking sportbikes ever built, in my opinion. The engine in this bike was switched up by Suzuki to a shorter stroke for higher revs. The result was an engine that didn't quite deliver the expected increase in power. But it was still the lightest 750 on the market.
From the seller-
Back in 1989 I purchased one of these off the showroom floor here in upstate NY. Loved the bike but was forced to sell it. This GSXR was bought by me earlier this year. I am the third owner. (Clean title in my name) First owner bought it new and second owner was his personal friend and relative. I was lucky to find it. Bike is in Incredible shape for the year. Actually better than most 2008 2009 and 2010 I've seen. I've been working on it for the last few months and was planning on keeping it. However, I came across a 92 1100 which I am in the process of restoring. Which is what I love to do, So the time has come.

As for the condition. Its flat out beautiful. The plastic is in excellent shape. There are two scratches. One on the lower left (see pic) and one on the front cowl right hand side (see pic) from the throttle cable. The cable crimped where it meets the downswing and it rubbed on the fairing. I have a new cable but have not replace it because it doesn't pose as an issue to the throttle. There is a crack on the rear about 1.25 inches around the mount. I had it pulled and bonded. Nice strong fix and hard to tell. I put a K&N sticker over the hairline which you wouldn't know it was there. (see pic) camera can't pick it up.

I was planning on having the blems professionally repaired by Empire GP in Mountour Falls NY. However, After speaking to the owner Bob, they have closed shop temporarily. He's done work for me in the past and is a professional. If the bike doesn't sell then I will check back with Empire till they get up and running.

Mechanically the bike is sound. Runs clean, pulls hard, shifts perfect. Oil and battery were replace in the beginning of 2011. Has Brand New Bridgestone Battlax tires and brakes, Chain, Sprockets  are as new. The 2nd owner Had the D&D exhaust installed with, filters, racing clutch, jetted, basically tuned for a racing machine.(See pic of receipt). Now, I installed the Supertrapp Superlite canister on the D&D header. These are tunable for your stile of riding. Sounds better as well and offer more HP. The Supertrapp was really long so I shortened it and repacked. Looks great and sounds incredible. I will sell with both cans and you can decide. For any of the custom changes I have done, You can easily change. I installed the left side bar end mirror. For me its easier to see and eliminates any possible damage to the front cowl. I do have the stock mirrors and two others that can be used for parts. Stock mirrors were painted. I stripped them and they are ready for a light dusting of flat black to even out the finish. Rims are best Ive ever seen. This bike has went through one tire change in its life. It shows because the rims show little sign of a disgruntled mechanic. Bar end weight is included as well. Any other bolts that were replaced were swapped with stainless. No corners cut with this restoration. 

Mileage is 100% original and riding this bike you will think it just came out of the showroom.

I have extra parts that I will throw in with the bike. Original parts as well. I have the original mirrors, bar end and receipts. Receipts and invoice total around $2k. The 2nd owner didn't keep any of the parts he removed, Unfortunately. The solo seat cover is aftermarket but fits nice. Was planning on having it painted factory as well. Please email Any Questions. I will respond later in the afternoon.

Not included is the center stand and swing arm spools.

Shipping is your soul responsibility. I will not be held responsible for shipping or any damage. It is at your risk. So make certain you know hire a reputable shipper. 

I have a video of the bike running with the d&d exhaust.Send email address and I'll send it to you. 

I have winterized the bike by removing the battery and draining the gas. I just drained the carberator bowls today. Its stored in my clean garage with a cover. Garage is not heated but attached and carpeted which helps.

Reserve is priced to sell. 

Bike is For Sale locally. I reserve the right to end the auction at any time. 

Finally, This is a 23 year old piece of history. For a bike of this era to make it this long unmolested is a miracle in itself. Serious buyers only, please. Do not waste my time as I will not waste yours. Good Luck and Thanks for Looking….
And more photos for you to check-
So this bike is not  bone stock, but is still a pretty clean example of an '89 GSX-R 750. Mileage isn't too bad and there are some replaced parts, although the original equipment comes along with it. Some minor cosmetic issues are highlighted by the seller. There is a reserve on the auction, and who knows where that is. I would suspect this would go somewhere between $4 and $5k.
It's the holidays and I love to see any of these older GSX-R's find good homes. If there's space in your garage (you will garage it, right?) then go place your bid!
-RN