This 1990 Honda Interceptor 250 might be the nicest example of its breed that we have ever seen, and it certainly takes the prize for nicest Interceptor 250 we've seen in the last couple years. Down to the paint on the engine, the bike appears to be spotless, and is a final-year example, which means it has a traditional front disc brake, as opposed to the weird inboard unit Honda tried in 1988 and 1989.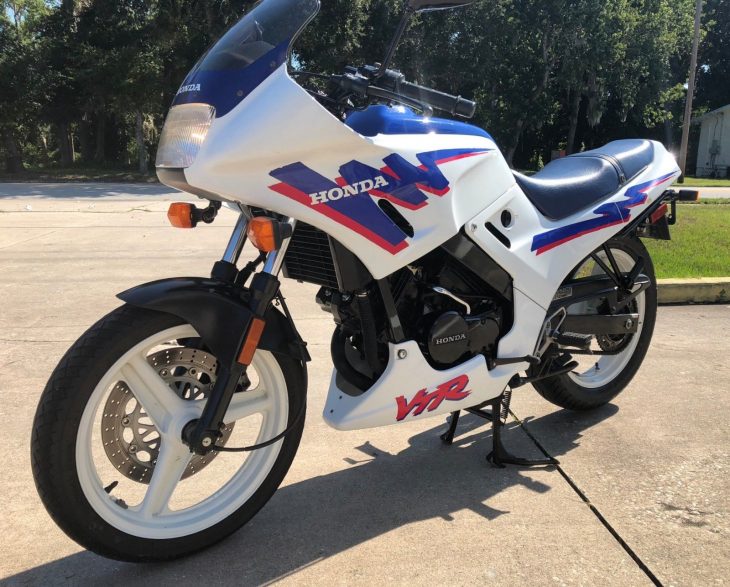 By any measure, the Honda Interceptor 250, also known as the VTR250, was an extremely odd beast. Aside from its styling, which can best be described as goofy, even for the 1980s, it was sold exclusively in the U.S. and Canada and sported some pretty high-tech touches for a beginner sportbike. Stacked against the Kawasaki Ninja 250, the Interceptor was a Cadillac, and easily outpaced the Kawi. The v-twin was rev-happy, and would spin all the way to 13,500, which made the tiny mill gruntier than its capacity let on. With its natural litheness, the littlest Interceptor cuts quite a dash on back roads.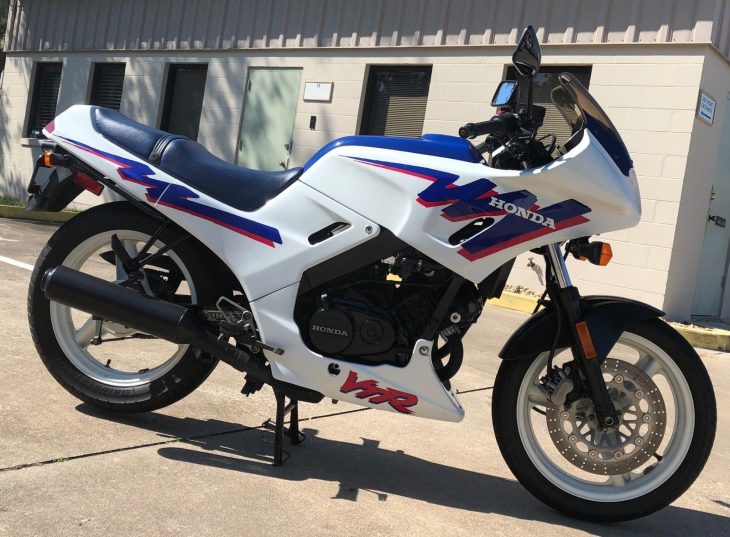 From the eBay listing:
SUPER CLEAN
1990 250 INTERCEPTOR
LAST MODEL OF PRODUCTION
ONLY YEAR WITH FACTORY CENTERSTAND
LOW ORIGINAL MILES
NEARLY NEW CONDITION
RUNS AND DRIVES PERFECTLY
ALL SYSTEMS FUNCTION PROPERLY
ORIGINAL OWNERS HANDBOOK INCLUDED IN BUY IT NOW PURCHASE
MORE PICS AND RUNNING VIDEO ON REQUEST
please look at photos closely and ask questions before bidding!
cycle-tech-1 is an online seller service, we can help turn your old stuff into CASH! our sales staff has over 45 years combined online sales experience….
Feedback is very important to us as a seller, and aids our sales process. Buyer feedback is given upon shipment of the item… we ask that you leave positive feedback upon receipt of the item. Or contact us before leaving feedback to resolve any issue
all shipping quotes require, name full address and contact phone number for best rates………..
when leaving detailed sellers feedback, please understand that we do not set shipping rates, insurance is ALWAYS included and we do not charge handling fees for domestic shipments…..
32 YEARS EXPERIENCE SHIPPING MOTORCYCLES WORLDWIDE
You won't be in any peril of keeping up with the likes of a Yamaha R3 on the Interceptor 250, but if you're OK with slowing down some, this bike would be a cool weekend option. With just a three-year life, they are very rare, but the $3,600 asking price is still upper echelon for these things.