Warning!
This post is in our archives. Links in this post have been updated to point to similar bikes available to bid on eBay.

Never Say Never:  Honda NSR250SP  Terra Racing (MC18 RK6)
I really never expected to see one of  these for sale.  As the title says though, "Never say never!".  The above brochure is what many a young Japanese male lusted after in the late 80's:  a Honda NSR250SP Terra Racing replica.  The race replica craze was in full swing and most of the Japanese manufactures were glad to oblige.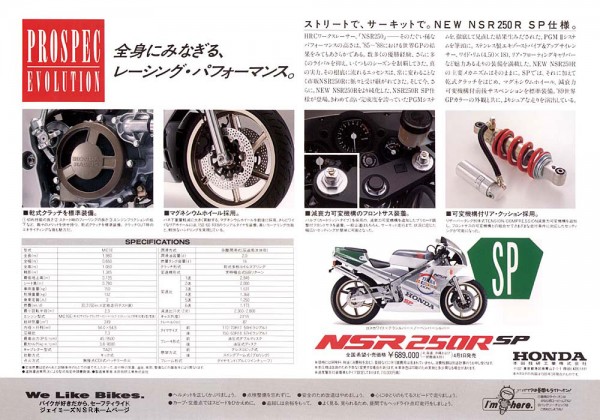 Prospec baby!  I always get a kick out of the English bits mingled in with the Japanese.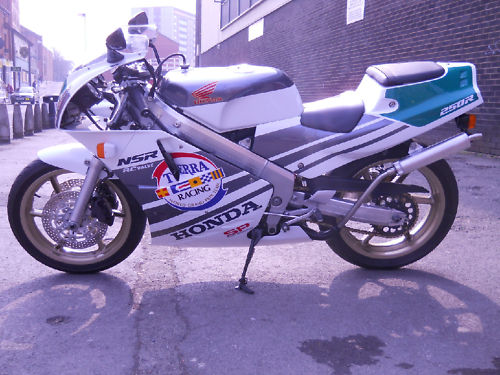 And here is the bike in question.  It has made its' way from Japan to the UK and is .  No bidding on this one, if you like the price it is yours.  That price in US dollars is roughly $8,600.  Steep but you might have the only one in the country.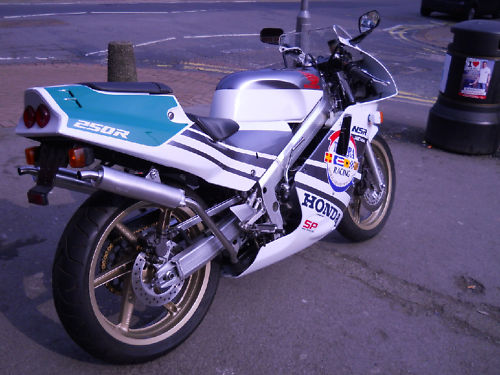 I found a great blog entry (edetuckracing.blogspot.com) that gives a great explainer on what makes the  Terra Racing replicas special:
The R6K models were the first true SP's. They sported the similar gold Magtek magnesium wheels as before, but now with the benchmark 150/60 series tyre, first seen on the R5K. This new SP also had adjustable suspension front and rear; spring preload and rebound dampening on the front, and spring preload, rebound, and compression dampening on the rear, and an all new dry clutch based on the RS250 race bikes. Released to compete with Yamaha's new TZR250 Reverse Cylinder, Suzuki's first RGV250, and Kawasaki's KR1, it was (and still is) an extremely competent road and race bike capable of in excess of 70hp in full race trim! All R6K SP's were only produced in white and silver Terra Racing colours.
This might be the best picture:  it looks pretty darn clean and better yet, corrosion hasn't begun.  If you've owned a bike from Japan where that salty air has gotten the better of it you know why I pointed out the lack of corrosion.  By the way, it only has 8,000 miles on it and it looks completely stock.  Pissed you don't live in the UK yet?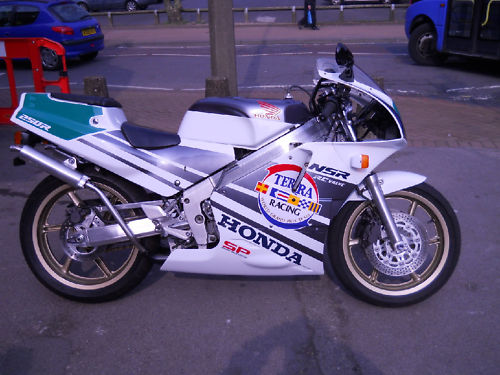 Now that will finish off a nice Honda collection.
It's from a little earlier (1987) but will still take you back. All Japan Series action:

Ian
Note: The great brochure images in this post are generously made available by Jamie's NSR Homepage. Thank you Jamie!