For Sale: 1992 Ducati 900 SS with only 963 miles
Up on our list today is this fantastic looking Ducati 900SS from 1992. Now this is not a traditionally rare bike (although that white frame always gets me going), but this particular example has only 963 miles on its white-faced Veglia clocks. Math majors amongst us will quickly figure out that this bike has seen a scant 50 miles per year since it left the showroom floor. No wonder it still looks so good!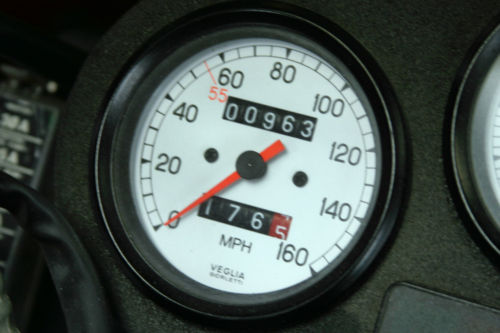 While everybody loves a low mileage example, it always sets me off to wondering why this set of wheels saw less use than most. On one hand, it has enough mileage where you will not be "ruining" a zero mile bike, yet it is still low enough to ensure that there is a lot of life left. Still, somebody was really missing out on this one, as these 2 valve Ducatis are a joy to ride.
With relatively light weight thanks to a birdcage style frame, an air cooled motor and minimalist appointments, the 900SS series of the Ducati lineup has withstood the test of time (the first Pantah-based SuperSport was introduced in 1988, with the bevel drive motors reaching back to 1972). There is roughly 80 HP hiding in that package somewhere – a figure not very impressive by hypercycle standards, but with great low-end grunt and good torque these twins are genuinely forgiving to poor technique.
From the seller:
963 Original Miles
Red Body with White Frame And Matching powder coated whitewheels.
Staintune exhaust,
lower ratio sprocket
Fresh Dunlop D207's tires
Euro light switch
New battery
and all factory updates
Bike comes with original factory exhaust as well as original sprocket and motorcycle stand

Freshly serviced and ready to ride.
While this bike is not a vaunted SuperLight model, the white frame evokes a resemblance to the more limited edition model. This was a stock color combination for a SuperSport in '92, and comes with all the benefits of the color scheme: good luck keeping those wheels clean.
Which brings us to price. This seller is listing the bike in a NO RESERVE auction, but the opening bid is a cool $7,500. For those of you still on your chairs, that is higher than the 1992 MSRP for this bike, and places it in well-cared for SuperLight territory. Still, there are not many unmolested 900SS models around anymore so this could still push the right buttons for the right buyer. Is that you? For more information and details, click the link and jump over to the auction. Good Luck!
MI