Warning!
This post is in our archives. Links in this post have been updated to point to similar bikes available to bid on eBay.
Every post will be sent right to your inbox every morning when new posts are made. We will never sell our list or spam you. Plus you can click links to bid or buy right from the email and skip the site entirely. Subscribe to Rare SportBikes For Sale today!
Motorcycle Designer Pierre Terblanche is a somewhat controversial figure in the world of motorcycle design. Notably held responsible for Ducati's controversial 749/999 bikes and Sport Classics, you'll find a great deal of internet hate directed at him. I happen to be a fan of the 749/999 bikes but I acknowledge that they're not especially pretty bikes. I expect that they'll eventually be recognized as classics in their own right, and they are certainly more humane and useable bikes than the notoriously uncomfortable 916.
However, many people who are highly critical of his designs forget that he was also penned the innovative Supermono and was also responsible for the 900SS redesign, along with the 851/888 bikes. The Ducati 851 is obviously not as iconic or as elegant as the later 916, it's also far less common, and has a very simple, purposeful look that suits it.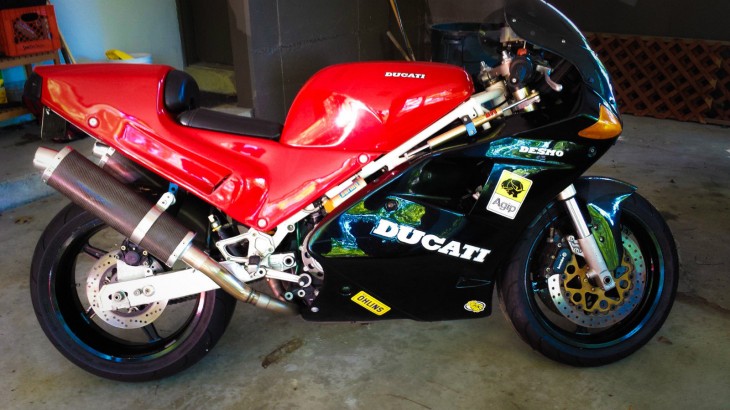 Setting the stage for Ducati's modern superbikes, the liquid-cooled, fuel-injected, four-valve 851 displaced, perhaps surprisingly, 888cc's and made just over 100bhp. Not all that much in today's terms, but those 104 horses came with a flat wall of torque that shoots the bike out of corners with authority, accompanied by the characteristic musical booming that Ducati fans know so well.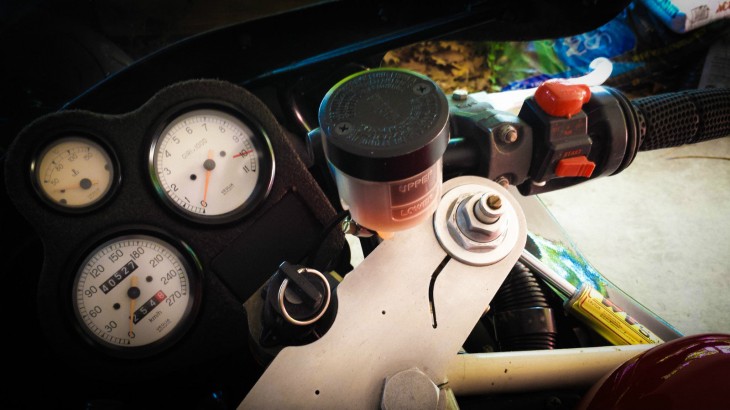 From the original eBay listing: 1988 Ducati 851 for Sale
Suitable for any museum or private collector or someone that just wants to ride but I recommend a full service and new tires first.
Dials, gauges and switch gear are nice and bright, not faded. Body paint quality nice and clean. No stress cracks in fibreglass bodywork, never dropped.

Some cosmetic improvements –

good quality front and rear carbon fibre mudguards

carbon fibre undertray

carbon fibre dash panel

rear brake slung beneath the swingarm

clear tank protector film fitted to prevent zipper scratches

upgraded brake hoses

rear brake micro-switch re-wired prior to my owner ship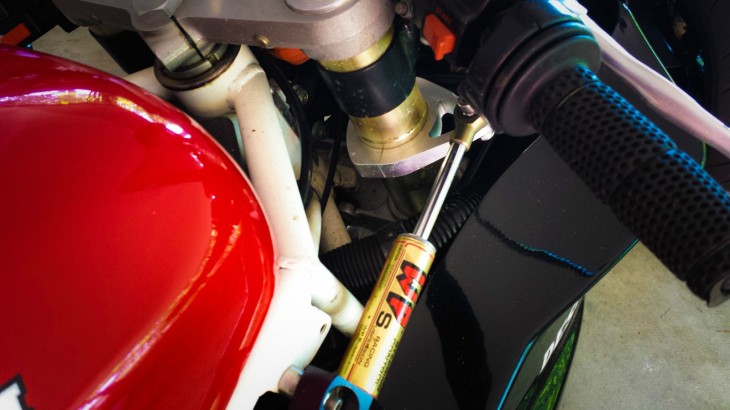 Overshadowed by the Tamburini design that followed, these are still largely unappreciated. From a historical point of view, the 851/888 represents a huge step forward for Ducati into the modern era with their use of liquid-cooling and four-valve heads. This particular example has a really nice carbon, dual-headlight fairing fitted by well-known California Laverda tuner Lance Weil. It may not be to everyone's taste, but the original parts are included, so it should be very easy to put right.
Maybe it's not the prettiest bike, but one that does the business and is rare to boot. Grab this for relative peanuts, then start scouring the internet for a 50mm Termignoni "spaghetti" full race exhaust for the full, window-shattering experience.
-tad