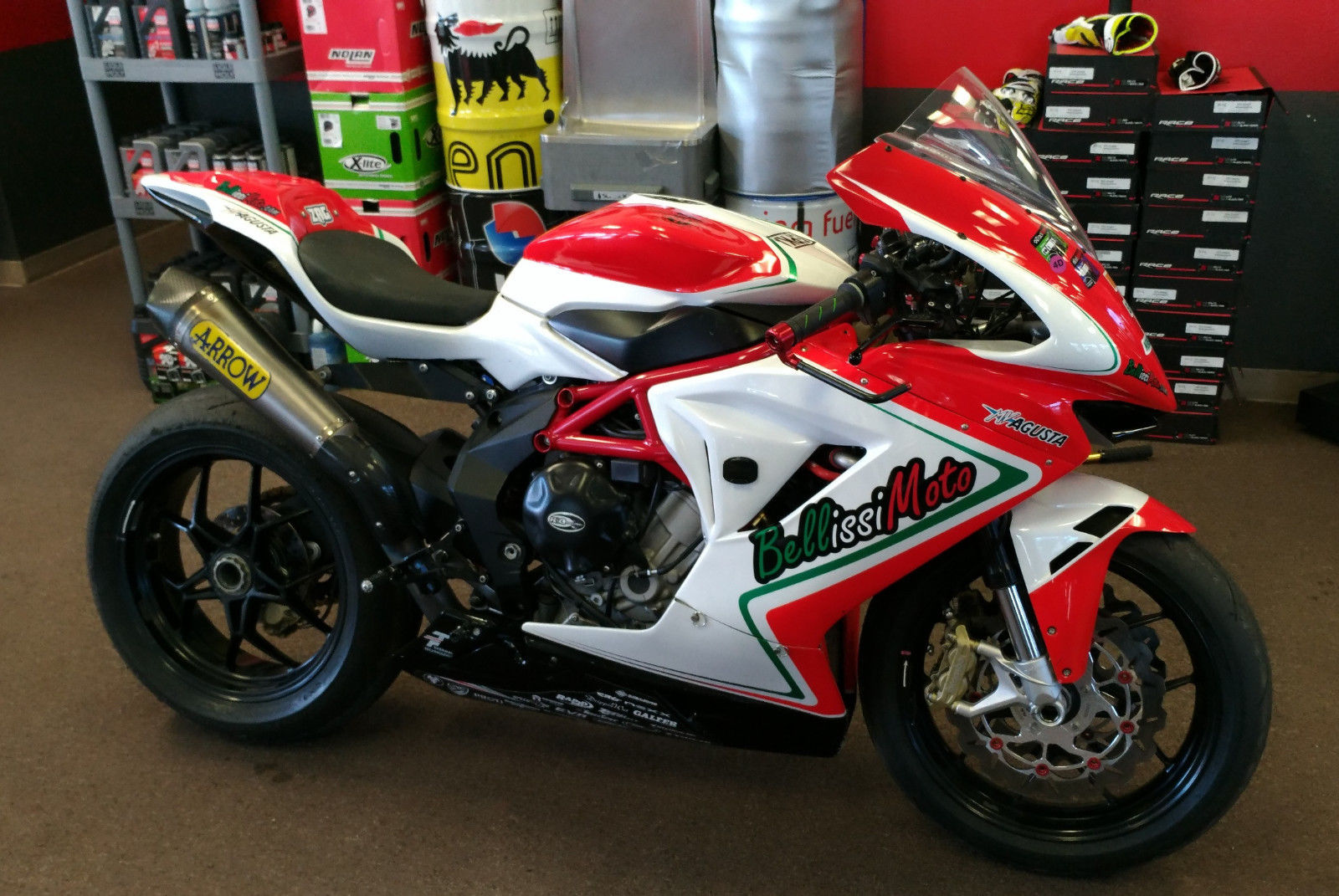 In the annals of US-based motorcycle motorsports, we are in a rare period of ascension. Driven by the goal of delivering US talent onto Europe's doorstep for inclusion in WSBK and MotoGP championships, MotoAmerica has one of America's top pilots at the corporate helm: Wayne Rainey. Today's bike comes from the MotoAmerica series, and is itself a stepping-stone to the bigger classes in the US. Open to 636cc four cylinder bikes, 675cc three cylinder bikes or 750cc twins, the SuperStock category allows for some minor internal and suspension mods (along with a minimum weight) to align with FIM Supersport regulations (check out MotoAmerica). This 2013 MV Agusta F3 has been a championship contender from an established race team, and hosts a variety of upgrades over a stock example. If you want to rip some serious lap times at your next track day event, you might want to read on. I'll let to the seller pick up the narrative: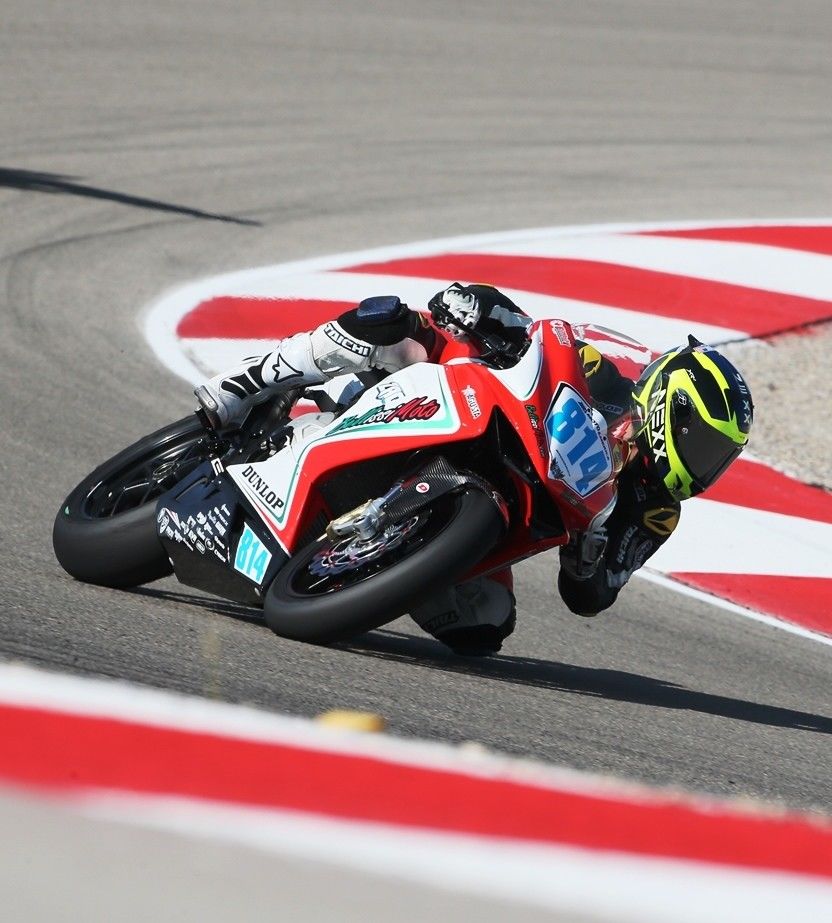 From the seller:
MOTO AMERICA MV Agusta F3 Racebike!
The MotoAmerica championship replaced the AMA as our national top level motorcycle racing series in 2015, and BellissiMoto was there, with Javelin Broderick racing this awesome MV Agusta F3 all around the country, finishing as high as 7th, in the ultra-competitive field, in our first year, with a young (19yr old) racer who had never visited a majority of the tracks before.

Full Moto America SuperSport Race Build!
Armour Bodies – Racing Bodywork
Arrow – Full Competition Racing Exhaust
Bitubo – ECH 29 Nitrogen Gas Charged Fork Cartridge Kit
– the exact piece from Jules Cluzels 2014 World Super Sport Race bike!
– factory reconditioned after the 2014 season then sent to us
Bitubo – XXF31 Fully Adjustable Nitrogen Pressurized Rear Shock
– the exact piece from Jules Cluzels 2014 World Super Sport Race bike!
– factory reconditioned after the 2014 season then sent to us)).
Bitubo – Adjustable Nitrogen Charged Steering Damper
CNC Racing – Adjustable Brake and Clutch Lever
CNC Racing – Adjustable Rearsets
CNC Racing – Bar End Lever Guard
CNC Racing – Top Triple Clamp
CNC Racing – Clip Ons
CNC Racing – Quick Release Gas Cap
Domino – XM2 Super Soft Grips
EVR – Slipper Clutch (same as used by all the Factory MV Agusta race teams)
Galfer – SPECIAL R&D PRODUCTION – PRO RACER ONLY – Full Floating Rotors
MotoHolders – lightweight aluminum racing fairing stay
MWR – XXL Intake Kit and Racing Air Filter with adjustment kit
– same as used by all the Factory MV Agusta race teams)
MV Agusta – Racing ECU Upgrades and help from Reparto Corse development
Rapidbike – Racing module
Rapidbike – Quick Shifter / Sensor
Rapidbike – YouTune module
RG Racing – Engine Protection Kit (Clutch and Alternator covers)
Rizoma – Brake Fluid Reservoir
Samco Sport – Silicone Racing Hose Kit
Superlight Sprockets and Lightweight 520 MVXZ Racing Chain
Zero Gravity – Double Bubble Racing Windscreen
Paint by Andrew Swenson, Graphics by Drippin Wet.

Bike has been serviced meticulously by professionals, and the bike has been used for less than 250 miles since it's last complete service.

It runs PERFECTLY and has 2 custom maps; 1 for premium, 1 for race gas.

EVERYTHING WORKS, THE BIKE NEEDS NOTHING.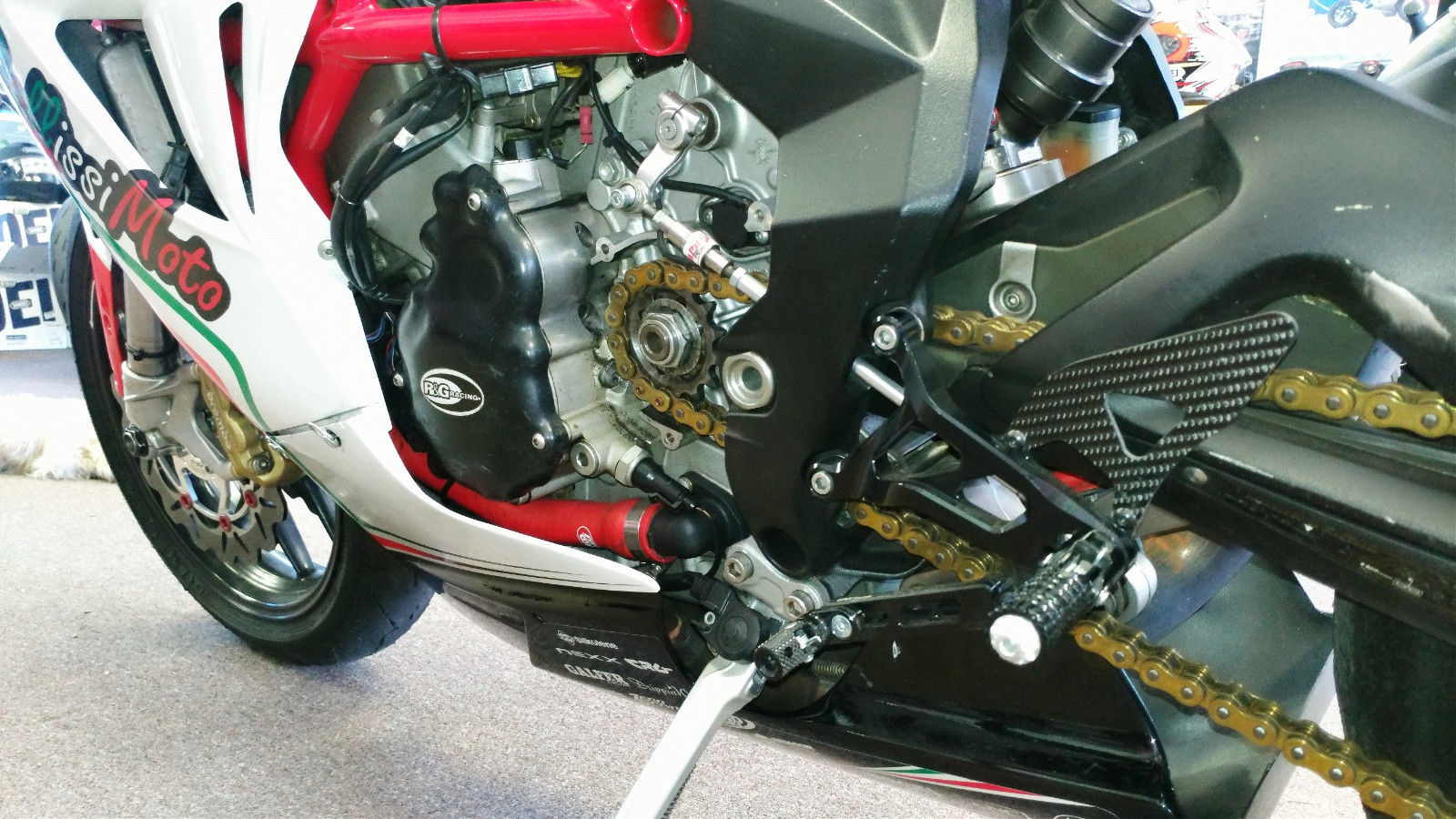 More from the seller:
Obviously the bike is used, it was raced in the 2015 MotoAmerica Championship by Javelin Broderick, and only suffered 2 crashes, both of which resulted in minor damage which was professionally repaired and the bike was put back into use throughout the year's remaining racing activities without any negative incidents. Overall Condition is that of an authentic racebike that's 100% ready to roll onto the starting grid and race again. She would look perfectly at home in World Super Sport, the paint is great, there are very few chips/scratches/cracks, and the bike has been fully torn down and rebuilt after it's race season before becoming my personal track bike for the past 2 seasons. The bike needs nothing, jump on it and ride. This was our "B" bike during the season, so she has low miles (1649), and an ultra-fresh engine!
More from the seller:
Why am I selling? I own BellissiMoto, America's premier exotic Motorcycle, Parts, Gear, and Accessories store, but I also have about 25 bikes (3 track/race only bikes already) in my personal collection and it's time to clear out some of the bikes I just don't ride enough.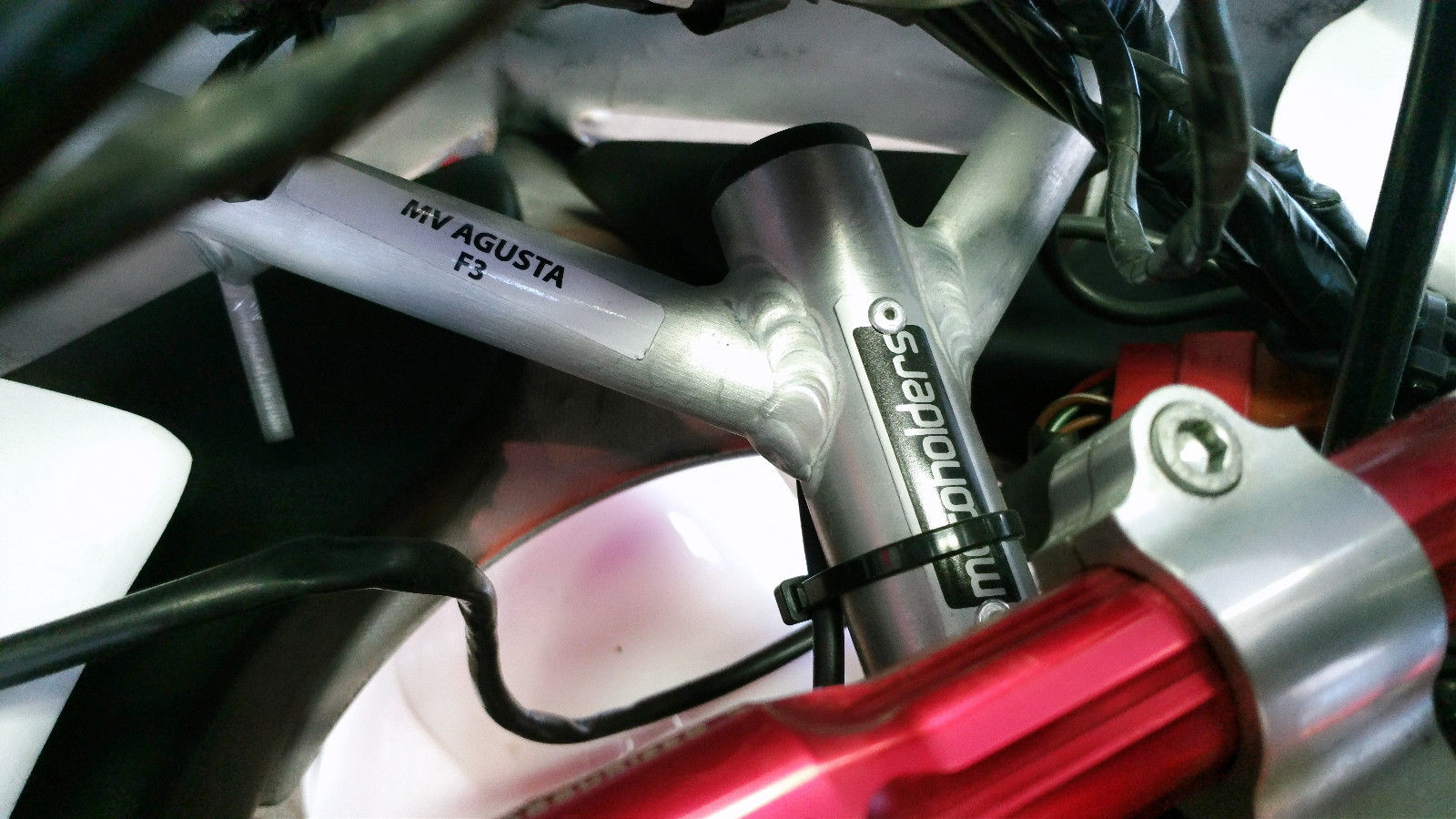 More from the seller:
NOTE – THIS BIKE DOES NOT COME WITH A TITLE.
It was purchased directly from MV Agusta's Racing Director (Bruce M.), and CEO (Helen V.) under a special arrangement for the race season. Original bill of sale from MV Agusta to me is included, this bike is not stolen, and it is not an unusual or strange purchase arrangement for a professional race bike / team, as the manufacturers shield themselves from the potential liability of having factory racebikes turned back into street bikes, etc…

This is common for collectors or racers, and if you have questions or concerns, please ask – there is nothing to hide here.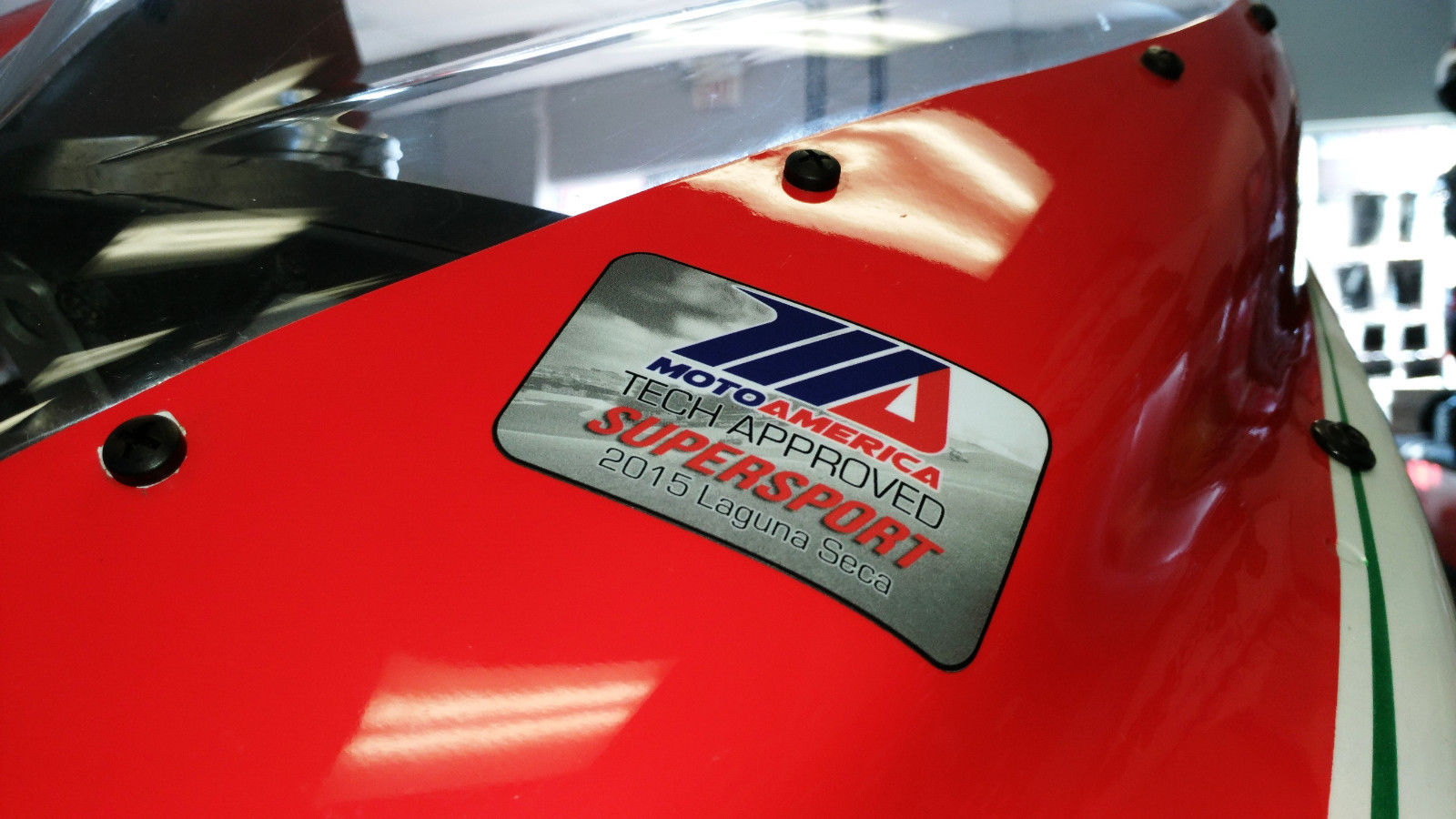 There is a huge difference between a stripped down track-day bike and a fully developed racer. Of the two, a bike contending for an established championship will nearly always be the more meticulously prepared of the two; races are won by consistent equipment as much as consistent riding skills. Here is your opportunity to either stock your man cave with one of the coolest possible MV Agustas I can think of, as the coolest bike in your next track day, or as a fantastic foundation for your foray into amateur racing (it always helps to start with a properly sorted bike). As a street bike the F3 has been lauded as a fantastic handling machine; this racer only goes to show you how close the track has come to the street in recent years. Check out this 2013 MV Agusta F3 racer here; you could not build something even close for the asking price. Good Luck!!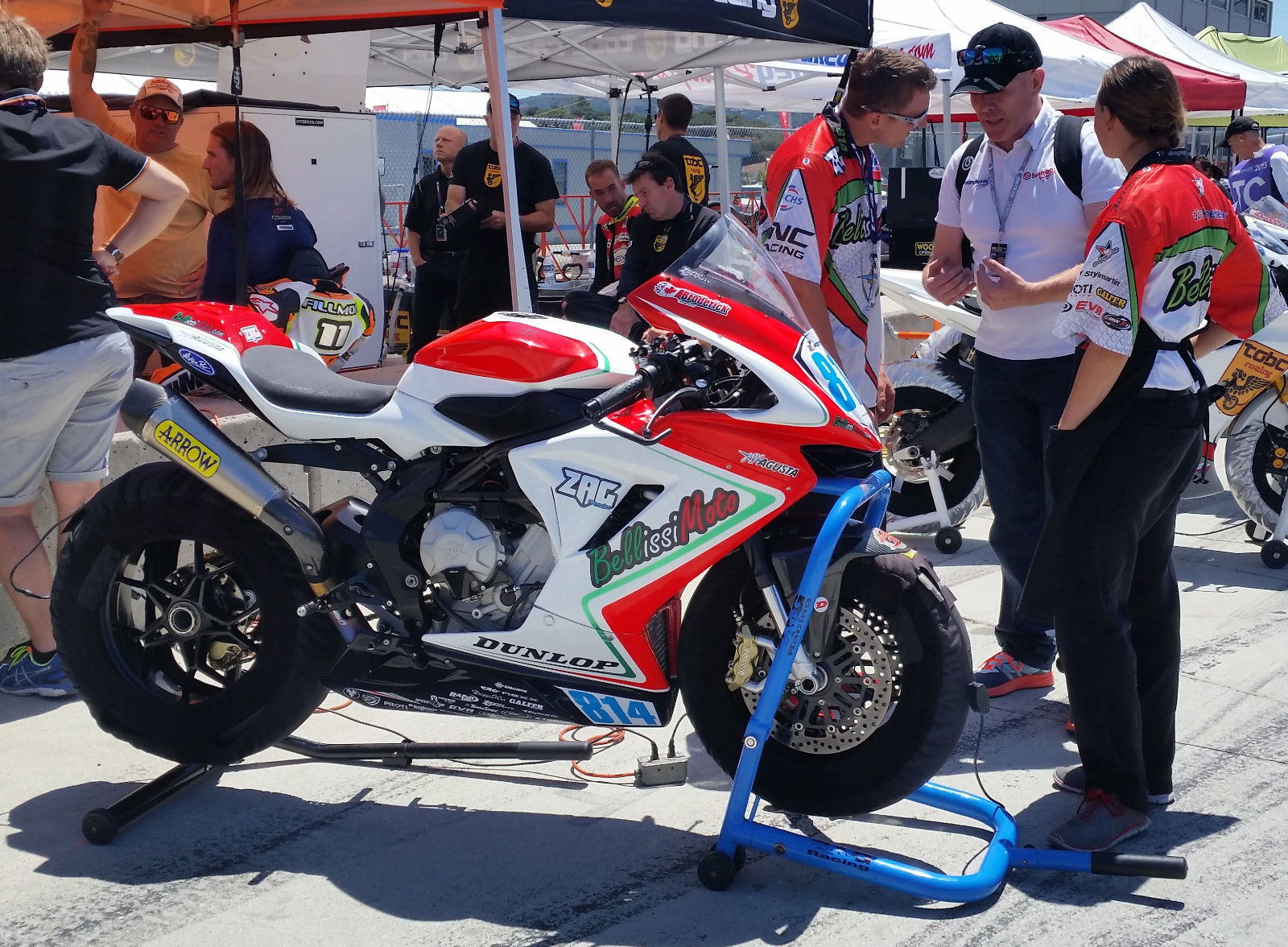 MI