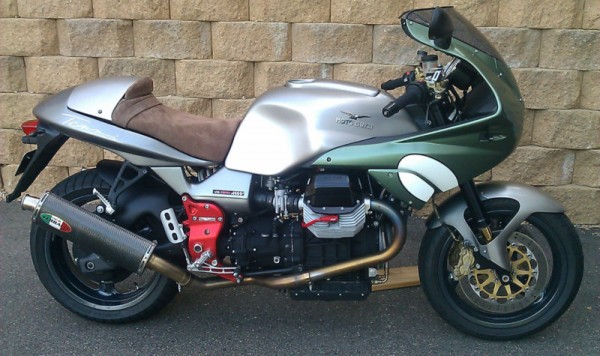 The V11 Le Mans is a great bike in it's own right, but this Tenni limited edition raised the bar a bit higher still. It's mostly a great tribute bike cosmetically but does include upgraded lightweight clutch, titanium Marzocchi front fork, and the lovely suede seat. Not to mention the sweet color scheme!
Best of all this bike is going to sell with a current winning bid of $6400 with about 5 days remaining.
2002 Moto Guzzi V11 Lemans Tenni for sale on eBay
loving and detailed description from the seller:
2002 Moto Guzzi V11 Lemans TENNI Edition- Only 170 of these bikes made world wide and this is #133.

This is a 2 owner bike. I purchased it 2-3 years ago from the original adult owner who took great care of the bike. He purchased it new at his local dealer and I have all of the paperwork on its original sale. He also had numerous upgrades and warranty work done on the bike including:

Fast by Ferracci Carbon Fiber pipes(I have since taken the FBF decals off the mufflers as I like the look better)
Fast by Ferracci cross over x-pipe
Fast by Ferracci piston upgrade
Updated Ducati 748-916 voltage regulator
Smaller more modern LED blinkers front & rear
BMW type outlet mounted under seat for heated gear and electronics

Warranty work: (have most of the receipts)

Gas Tank Replaced
Engine Paint redone where paint bubbling occurred, it looks great
Replaced Timing Cover Gasket
Spark plugs, Valve Cover gaskets, cover gasket

Oil changes and services done by dealer as scheduled, 12000 mile service done, brake pads are great and Bridgestone Battle Axe tires have lots of life left. Everything worked perfectly on this bike when I purchased it and it still does. The looks are great and the sound is amazing. Ride all day comfort for me and I love the shaft drive.

Since I purchased it I have added:

New slightly longer Buell mirrors
Red CRG adjustable clutch and brake levers
New Gel Batter spring 2012

Paperwork:

Original TENNI Edition brochure, and owner certificate from dealer
Owners Manual,
Original sale paperwork from dealership
Some warranty and service receipts

Extras:

Sale includes both the suede seat and the black one, both seats also have the matching eye brow the mounds on the rear seat cover. Laminar Lip that significantly helps with airflow over the rider, very easy to put on and take off. Also includes a soft tank bag that came with the bike, I believe all of the mounting hardware is there, but I am not 100%. Over all condition of this bike is very good. There is a small crack at the top of the windshield and a small crack in the paint at the lower left hand side of the tank. These were both there when I purchased it and are minor, see photos.
dc