For Sale: 1974 Yamaha TZ750A
Race bikes are in these days, as there is nothing quite like the fury and brutality of a historic and vintage guided missile. This TZ750 is a great example of the breed, complete with minor, yet significant history. These bikes are increasingly difficult to find in such pristine condition, although we have posted a few on RSBFS over the last few years.
Unlike felt-tipped pens applied to street bikes, ownership by a famous racer certainly improves the offering when it comes to used race bikes. In this case, the seller claims this was originally Steve Morehead's bike, and was ridden during practice sessions at Daytona and Talledega. While the "Findlay Flyer" is not particularly well known for his roadracing exploits, he was king of the privateers when it came to dirt track riding, posting 23 AMA National wins in his long and storied career.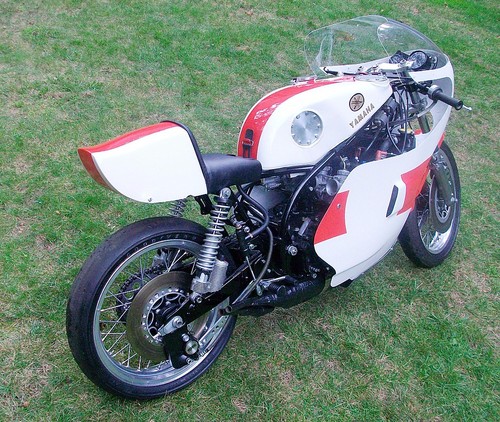 From the seller:

1974 Yamaha TZ750A: Engine & Frame Number 409 – 000245.
HISTORY: The Yamaha was originally owned by Steve Morehead, the well known Ohio rider. It was raced in 1974 at Talledega and Daytona (practice only) and then acquired by Scot Erickson who also rode it in 1974 at Ontario Motor Speedway, California. In 1975 Scot rode it at Laguna Seca and in lesser races at later dates. He sold the bike to me in 1989 and it has been recently restored.

ORIGINALITY: Matching numbers are stamped on the engine and frame. Both the left and right cylinder barrels have "347cc 40900" cast on the rear. See early style piston with rearward inlet slots in picture 16. The wheel rims are stamped "Daido Japan 30 B 2.15 x 18 409F" & "Daido Japan 30 C 3.000 x 18 409R". Tires are Goodyear Motorcycle Road Racer 3.25-18 & 3.50-18.

The Yamaha was restored carefully following the TZ750 Parts List for authenticity and is original except for the following:

1) The rear of the frame has been modified for a "Laid Down" shock absorber installation. The footrest and rear brake lever mounts have been modified to suit. The shock absorbers are replacement Marzocchi 1 (N.2Kg/cm.cm.) The swing arm is unchanged.

2) The rear brake caliper mounting arm has been modified, as shown in picture 19.

3) Exhaust Pipes 1 & 2 and also 3 & 4 are each attached with small welded plates. See picture 13.

4) The fuel tank has been modified for "Quick Fill" and the installed petcock has (2) spigots.

5) The chain guard and rear fender are missing.

CONDITION: The Fairing, Fuel Tank, Seat, Front Fender, Frame and the black attaching parts have been professionally painted to the highest standard.

The seat was recently upholstered.

The Front and Rear Brake Master Cylinders have been serviced with new Cup & Master Cylinder Kits.

The right side rear wheel rim has a small crack and both tires are in poor condition.

The left side shock absorber spring has some scuff marks as shown in the last picture.

COMMENTS:

1) The mileage is unknown and the listed mileage is an approximation.

2) The cylinder bores were lubricated during storage.

3) I have never had the engine running.

4) Engine compression, gear selection and clutch operation are normal.

5) Engine coolant and hydraulic brake fluid are not installed.

6) A few "non-Yamaha" metric fasteners have been used.

7) The fasteners have not been correctly torqued and are not wire locked.

8) The Yamaha does not have a Title.

9) The Yamaha has been stored in temperature controlled conditions.

10) Please do not ask for a BUY IT NOW price. The Yamaha will run the duration of the auction.
This TZ750 really looks great in the pictures, and should do well at auction. Be warned that nicely restored vintage racers with some history do not come cheap; this bike is no exception. Bidding is just under the $20k mark with light action and reserve still in place. If past TZ750s in this condition are any indication, we should see a marked increase in price in the few days this auction has left. To check out all of the pictures and info, click the link and jump over to the auction. Good Luck!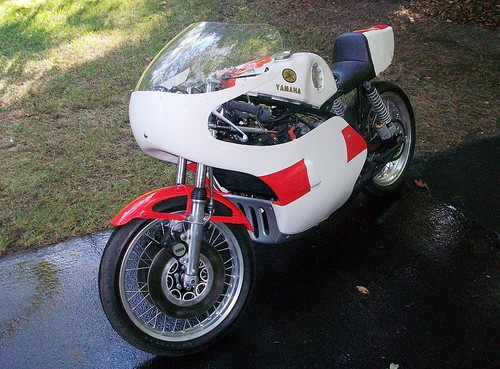 MI