Along with more racey junior editions that were JDM only, Honda had a naked / standard in the 400 cc category.  The Bros ( known elsewhere as the NT or Hawk ) were designed as a V-twin team,  400 and 650 cc's.  Likely a grey market import to the U.K., this Bros 400 has landed in Tennessee and is looking to show its versatile brand of maneuverability to a new stateside owner.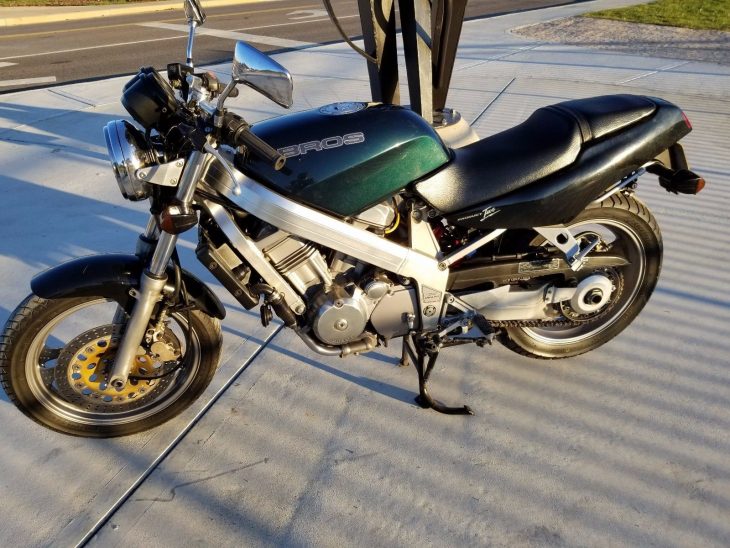 Honda designed a 52-degree V-twin for the Bros's and it's similar to other water-coolers like the TransAlp.  In 389cc guise the three-valve arrangement results in 37 hp at a civilized 8,500 rpm.  It's coupled to a five-speed transmission, housed in an aluminum twin spar frame, and equipped with single disks and clip-on handlebars.  Right-side-up forks, single-sided swingarm and a stubby mass-centralizing muffler show the nature of compromise.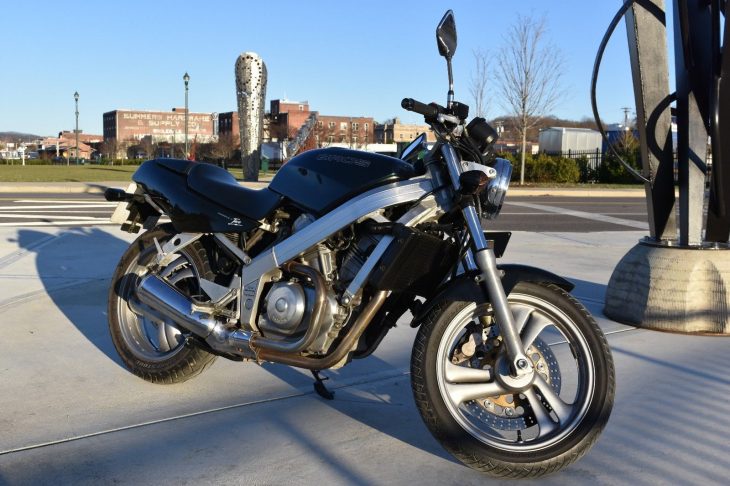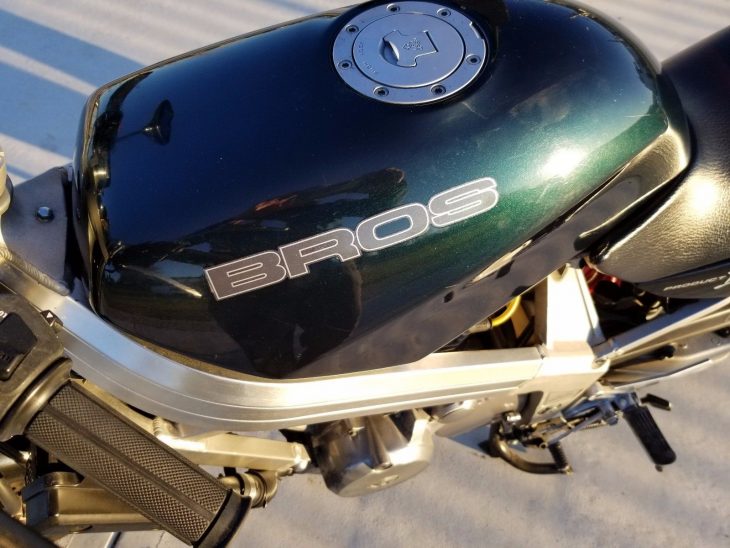 With km's adding up to about 12,000 miles, the little Bros looks complete and un-scarred, though the seat fairing seems darker that the rest of the forest green metalflake.  The bike still sports its British tag from a previous life the seller was able to sample in London.  From the eBay auction:
Here we have a very clean, extremely rare, and low mileage, 1988 Honda Bros 400. In the U.S. we recognize its clean lines as those of a Honda Hawk. Everywhere else in the world this model was called the Bros., and a 400cc model was available in addition to the 650. This is a very nice, fully stock, collectible motorcycle. It runs very well. I had the good fortune to cross London on this bike a few months ago on congested roads. It proved to be quite the traffic assassin. The small water-cooled twin produces generous mid range torque, allowing for quick work within tight spaces. The bike will be sold with a Tennessee registration, tag, and title.
Though reviews of the Bros cited the mushy suspension and bargain tires, the unexpected fun factor was such that the writers didn't want to give it up.  Easy riding position, quick handling, and pretty good torque all beat the admittedly low expectations.  With the rarity around here, it's a winning hack around or pit bike, or even a learner as it was intended.  Lots of bids on the no-reserve auction with three days to go, and the owner hints of more to come...
-donn