When it comes to sport bikes, few manufacturers generate the kind of response as Ducati. For some, these machines are the mecca for the knee-dragging faithful. For others they are over-hyped, over-priced and over-represented on the pages of RSBFS. To be fair, both sides have merit. Ducati has made an indelible mark on the motorcycling world through performance and competition. They have also cheapened the "rare" motorcycle experience through endless marketing campaigns and gimmicky Limited Edition numbered bikes. Whatever side of that coin you fall, the 851 stands out as an iconic example of Ducati engineering.
Ducati made their name through a narrow, light-weight racebike, using a two valve desmo L-twin to produce good low end torque. But with advances in Japanese four cylinder machinery, famed Ducati handling was no longer enough to keep these air cooled machines competitive. The 851 was born out of competitive desperation, simultaneously adding liquid cooling, fuel injection and four valves per cylinder to produce a quantum leap in performance. Wrapped in flowing bodywork that looks current 23 years on, the 851 was a watershed bike for Ducati, and for sport bike fans.
From the seller:
I have a highly collectible, show-winning superbike for sale. I am the 4th owner of this fully documented bike with detailed maintenance logs. When I purchased this bike it had 1,800 original miles. Upon purchasing the bike, I took it to Ted's BMW and the bike was given a complete maintenance check under the supervision of Adam Cecchini from Cecchini MotorSports. All maintenance recommendations by Ducati were competed at that time. Cecchini MortorSports did the most recent safety/maintenance check in Sept. 2013. The price reflects the care and maintenance lavished upon this bike as well as its collect-ability. You may find a cheaper 851 but you will not find a better 851.

All Original with the exception of added Staintune High Rise exhaust and Penske rear shock. I have all original parts to include Maintenance Manuals.
Ducati created a few different variants of the 851. There are the true homologation units (known as the SP series) that allowed Ducati to compete on the World Superbike stage, and then there are the more common Strada (literally "street") models. This particular bike is the latter. Beneath the solo seat cover is a passenger pillion – although I note that the high-mounted Staintune pipes have necessitated the removal of the passenger pegs.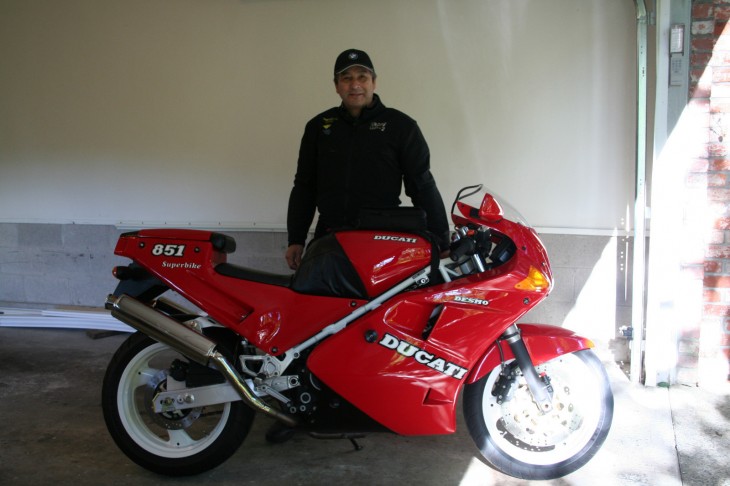 The 851 series has preserved value reasonably well. Mint bikes run the range from $7k – $10k, with an SP fetching a few grand higher. You can also find these bikes for much less if you are willing to look, willing to put up with a few more miles, and willing to take a risk on incomplete maintenance records. This looks to be a well-kept example of the breed, and the seller has a $9,500 BIN in addition to the auction. Check it out here and let us know what you think!
MI