Mint (really mint)- 1994 GSX-R 750 On Ebay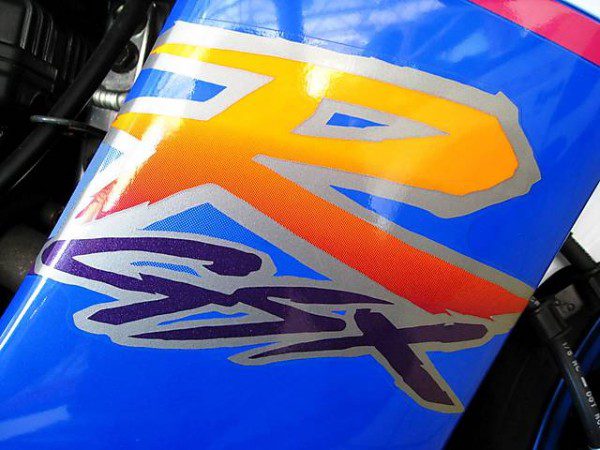 Obviously a GSXR750 is not a rare model but a 1994 model in this condition is quite rare.  I would make the argument that finding a GSXR of this age, in this condition is more rare than  75% of the bikes we post on here.  GSXR's live a much harder life than any Bimota, Ducati limited edition or lusted after grey market two stroke.  This bike might even be a bit more rare because it wasn't a particularly popular model year.  The old cradle frame had reached the end of it's lifespan and engine technology was marching on.  Over the years the 750 had gained a lot of weight and lost touch with it's roots of light weight minimalism.  To top everything off Suzuki must have fired their better designers and the old GSXR got a pretty unattractive paint scheme.   It wasn't any better at the  track.  These were pre-Mladin days here in the US and Suzuki was barely involved in WSB. 
Here is some info from the auctin:
You have an opportunity to own and ride a virtually brand new, legendary 1994 GSX-R 750 that has been in a private collection since new. This awesome classic Suzuki has never been abused in any way; just lovingly stored and maintained. The motorcycle runs, looks and rides like it did the day it was brought home from the dealership. The condition is nothing short of spectacular; this is a museum quality time-capsule Gixxer. Get the best of both worlds – the beautiful classic styling of the bike that started it all with 118 lively horsepower, excellent handling, light weight and six-speed transmission (this bike was way ahead of its time), all of which make this bike perform like a modern sportbike at a fraction of the cost!  The reserve is set very low……..bid with confidence and good luck!
It's a bit cliche but I think you really could  eat off of this one:
Now what is it worth?  Well used but clean examples I've seen have been offered from roughly $2,500 to $3,500.  How much should the condition of this bike add to its' value?  $1500?  $1700?  The reserve for the bike has not been met but a hint can be seen at the bottom of the auction.   They are requiring a $3000 deposit within 48 hours of the auctions close.  Hmmmm, if they want that large of a deposit are they placing something like a $6000 reserve on this thing?  I'm just guessing here on the reserve of course but that bike might sit for a bit if that is the case.  You can  on one of the cleanest GSXR's you will ever see.
One interesting fact about the bike is that it spawned possibly the rarest of all GSXR's:  the GSXR740W SP.  I don't believe any came to the US officially and I think they only produced around 150 of them.  I've never seen one for sale anywhere.  It was an homogation special all the way.
IK