Update 10.2.2013: This Superlight is back on eBay and has got our attention as the ad states the reserve has been set at the previous high bid of just $6099 — and the high bid is just about there! Good luck to buyers and seller, -dc
The Ducati Superlight is a bit of a rock star in the world of rare motorcycles. One of the earlier attempts by Ducati to create a special, limited edition bike, the Superlight was limited to a numbered run of only 900 bikes. With the cachet of limited numbers and some modifications to lighten the load, the Superlight brings with it the promise of both exclusivity and performance.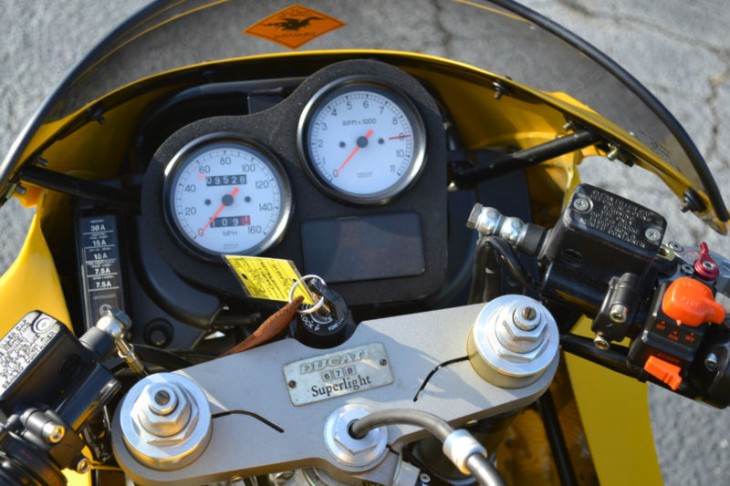 We all know that yellow paint weighs less than red paint. That is one of the secrets to the SL's weight advantage over the standard 900SS lineup. When this model was first introduced in 1992, tasty bits included the solo saddle, upswept exhaust, fully floating brakes front and rear, carbon fiber bits, special clutch cover (vented) and special two piece magnesium spoke wheels. By 1993 the party was all over; the Superlight was essentially a solo-saddled yellow 900 SS/SP with yellow paint. The magnesium wheels were gone, the SP grew into the same SL carbon bits and floating front brakes and upgraded suspension. Besides the color, the 1992 SL retained the unique color, the floating rear brake, and the limited, numbered tag rivited to the headstock.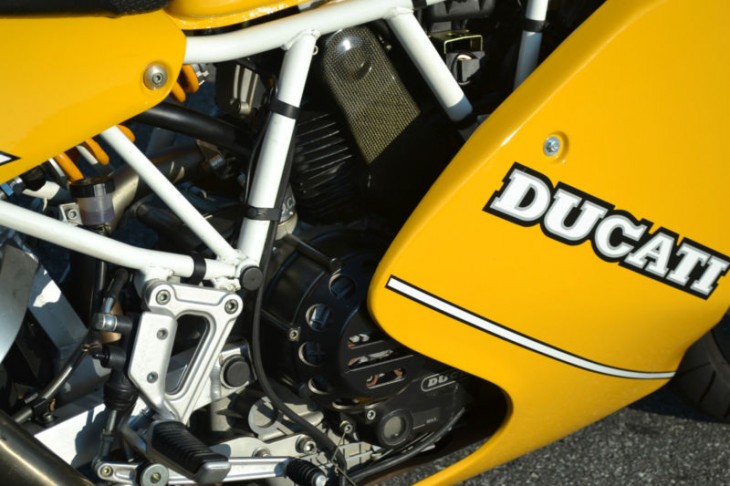 From the seller:
1993 Ducati Superlight #678
Yellow with White Frame
9,528 miles
90 deg V-Twin, Air Cooled, Desmo Two Valve
Includes Two Fairing front sets (one bikini 900SSCR type and one full fairing)
Carbon Tech Dual Exhaust
Ohlins Rear Shock
Carbon: Front Fender, Rear Hugger, Cam Belt Covers
Clip on risers
Adjustable Brake and Clutch Levers
Brembo Wheels and Brakes w/ floating rotors
Vinyl coated braided flex Brake Lines
Yoyodyne Clutch Slave Cylinder
Upgraded milled aluminum Crank Case Vent
Vented clutch cover
Corbin Seat with back stop
This bike has been babied it's entire life and looks to have never been down.
The Ducati Yellow paint is unblemished and very pretty.
The bike has a new battery and the oil has been changed. Tires have a couple thousand miles left on them.
This bike is available in Greensboro, North Carolina, and bidders are turning up for the chance to be the next caretaker of this iconic machine. The bidding is up to $6,099 thus far, and the reserve is still in place. Most of the SLs we see here on RSBFS climb above the $7K mark pretty quickly, and I suspect this one will be no exception. Click the link to jump over to the auction and check it out. Good Luck!
MI