Warning!
This post is in our archives. Links in this post have been updated to point to similar bikes available to bid on eBay.
I'm really shocked there are any Honda Hawk GTs running around still so few miles on them at this point. After all, that's kind of why you generally buy a Honda, right? So you can ride the hell out of it, without worrying about failing voltage regulators, expensive and frequent valve-adjustments, expensive parts… The bike may look like Honda was trying to create their very own Monster, they way they were trying to beat the 916 at its own game when they released their VTR. Except that the Hawk GT was released in 1988, so it was really more like Miguel Galluzzi saw the Hawk and thought, "What a great idea!" And then proceeded to sex the concept up and use it to save Ducati from financial disaster…
Performance specifications seem pretty tame: a very optimistic 58 horsepower from the 647cc twin, with a top speed of 107mph. But those numbers don't tell the whole story and the Hawk GT has plenty of Honda racing heritage built in. Designated the RC31, which should give some hint of the bike's engineering, it also included that very spiffy, Elf-Racing Pro-Arm swingarm. That trick piece is really the only obvious indication of the quality hiding in this modest machine.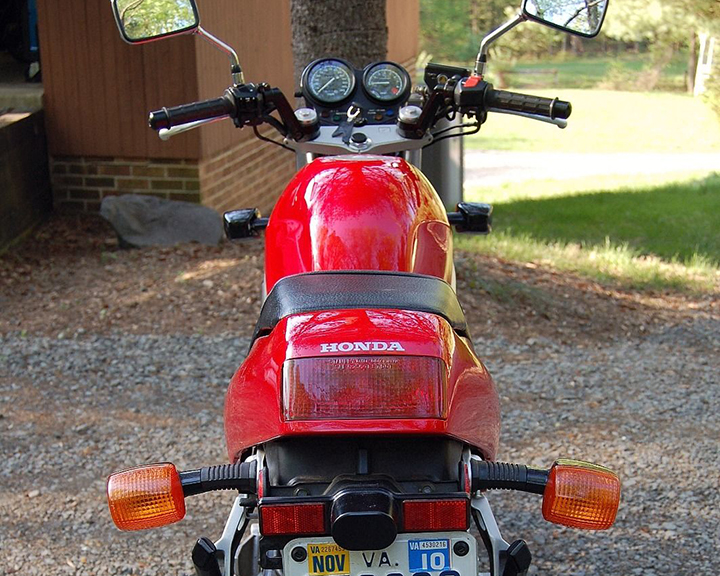 The 52° v-twin may not scream performance, but the smallish displacement kept vibrations to a minimum, and it had liquid cooling and three-valves per cylinder. Power was definitely modest but so was weight. Suspension is a bit budget in stock form, and the bike earns praise today for its nimble handling and stability. If you're of the "it's better to ride a slow bike fast" mentality, you've found the perfect bike, as the Hawk GT is a simple, lightweight machine that rewards skill and can, in the hands of a good rider, embarrass much faster machinery on a tight canyon road.
This example has just over 4,000 original miles on it and is in completely original condition, although it doesn't have to stay that way…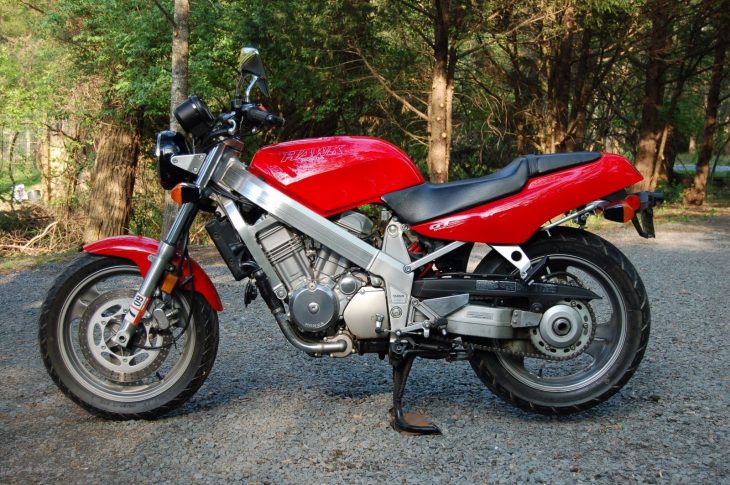 From the original eBay listing: 1989 Honda Hawk GT for Sale
Ill health forces me to sell my original red 1989 Honda Hawk GT650 motorcycle, in excellent condition with very low original mileage. The (desirable) carburetor re-jetting was done by the local Honda dealer. The rear tire has been replaced (due to age of the original). Has original toolkit and manual. Local pickup only.
New, the Hawk GT was a bit of a jack of all trades, master of none, which is a big reason it didn't sell well here in the USA. But the basic goodness of the package allows you to build it to match your tastes. Want to race it? Bolt on some RC30-styled Airtech fairings, swap in the front-end from a CBR600, and build up the motor a bit. Looking for a canyon-carver? Set up the suspension properly and fit some grippy brake pads. A fun commuter? Fit a windscreen. Or just leave it alone. But above all: ride it. These are unlikely to be especially valuable for a while yet and it seems a shame to let one of these sit when it could be out there, doing what it does best: a little bit of everything.
-tad