For Sale: 1993 Ducati Supersport Superlight
Update 9.4.2012: Originally listed in April this year with an opening bid of $7500, this Superlight is back with an opening of $6250. Links updated. Thanks for the heads up Mike! -dc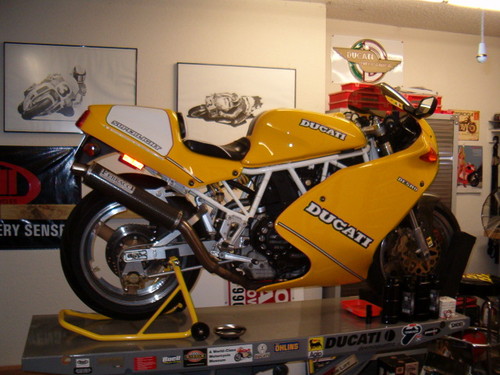 Back in 1993 this was one of the more rare Ducatis that collectors were buying up to complete their stables. With its limited number appeal, the Ducati 900 SS SL really opened the doors for the serial numbered bikes from Bologna; while they may have started this with some earlier bikes, the SL really sparked the Ducati numbered bike dynasty that continues to this day.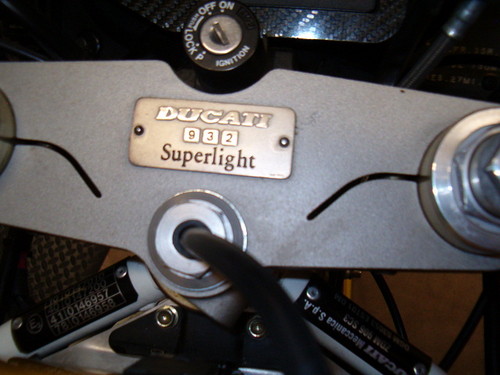 The Superlight differed from the standard 900 Supersport in minor ways: some additional carbon, full floating front rotors, and (on the earliest models) modular magnesium wheels. All told the weight savings were modest, but with the striking white frame and bright yellow bodywork – and the exclusivity of a numbered tag rivited to the top trees – a legend was born. Don't expect any more HP from the SL variant, as the same air-cooled, two-valve desmo L-twin from the 900 SS series was utilized with no changes.
From the seller:
Ducati Superlight #932 with 15496 miles in near perfect condition. Bike was sold new in Tulsa Oklahoma to a friend who later became a Ducati dealer in Oklahoma City. I am th 5th owner and knowing the other 4 owners (4th owner owned the bike over 15 years) I have all service records including org owners manual, warranty card and copy of org paper tag.I have the stock mufflers in perfect condition, stock seat, stock airbox lid, sprockets and stock rear brake parts (I installed a floating rear setup)5 years ago FBF high compresson pistons and new cyl studs were replaced,valves adjusted, new Michelin Pilots installed, forks gone through, steering stem bearings cleaned and repacked and then was parked until last summer when I bought it, since then the carbs were rebuilt, tank cleaned new fuel pump and oil change done.Bike has never fell over crashed or been abused. Only flaws worth mentioning is the carbon fiber front fender is faded and the tail section near some of the mounting screws there is some very very minor cracking that I could not get to show in the photos .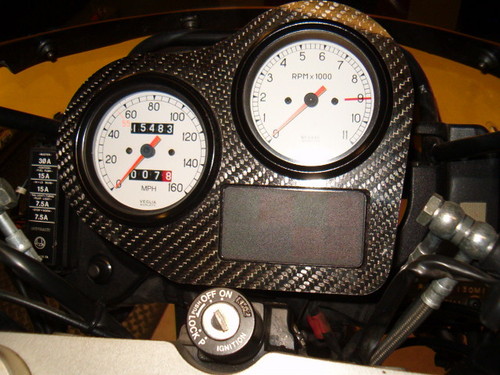 This particular Superlight shows some mileage, but really looks good for the age. Most of these bikes have been through multiple owners at this point, but the good news it that they are still collectable enough to be taken care of. This bike is a good example of that – despite the miles and the change of ownership it retains much of what it started with. Top dollars are still collected by stone stock, low mileage specimens, but the market remains bullish on SL models in general.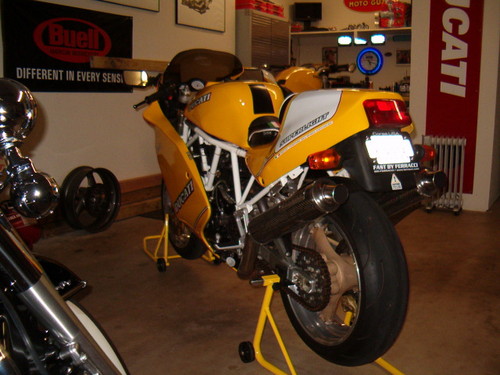 This auction is on right now, with zero bids against a $7,500 opening ask. There are still several days to play on this one, so time will tell us if the opening bid is simply too high, or if folks have not yet discovered the auction for this yellow gem. Seven and a half large is right about the lower range of the ballpark for a SL, so my guess is that the former might prove to be correct.
For more information and a chance to bid on this beauty, click the link and jump over to the auction. Good luck!!
MI