Warning!
This post is in our archives. Links in this post have been updated to point to similar bikes available to bid on eBay.

Late 80's Stroker Gem: 1987 Yamaha TZR250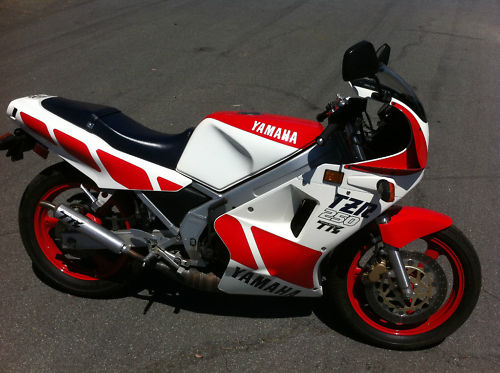 Oh my, 1987 was when the race replica wars just started to heat up. For a scant few years the Japanese manufactures would win buyers with small cc bikes that featured trickle down GP technology that shined on the track. You can see the wave building in this TZR. The stout aluminum frame is there, as is the power valved twin cylinder engine. Upside down forks, dry clutches, braced swing arms and double discs were waiting in the wings.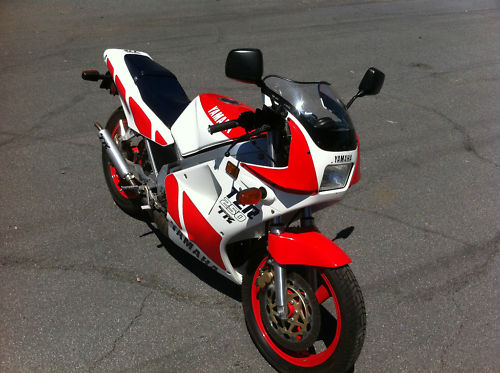 This TZR is a great example and rare even among TZR's. I sure don't see many of these early model TZR's compared to the later reverse cylinder models and even later 3XV's. Making it even better is the condition (excellent), the mileage (low) and the title status (you are good to go!). It appears mostly stock as well with only a set of chambers being the obvious add on.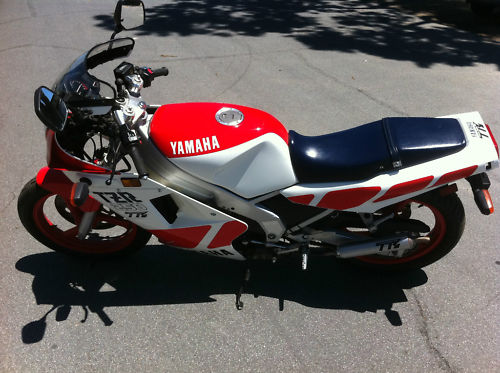 Here are the details from the seller:
A nearly mint condition 1987 TZR-250 with a clear USA title, these bikes were the latest in the RD-RZ lineage, and were some of the BEST bikes ever designed by Yamaha.

Superior handling, incredible acceleration, (eats most 750's!) and beauty to boot!
This machine was held in a private collection, by some one very knowledgeable about Yamaha racers, and as such was the crown of the collection. It has spent the last 10 years in the living room of the collector! Was running beautifully (SO smooth!) but battery is dead now.

Here is your opportunity to have one of the most beautiful, most fun to ride motorcycles of all time. Looks like it came out of the crate yesterday as you can see from the fotos. This is about the closest you can get to riding a 250GP bike on the road!
Included are hand build racing expansion chambers that broadened and amplify the incredible powerband, and give it a sound, second to none! (Stock pipes are available for an addition cost.)
Two-Strokes……..ahhhhh!
Don't wait….. these just do NOT exist anymore, especially in THIS condition!

There were only a few imported to the US.

THIS IS IT, ………….THIS is your chance!
The seller is quite excited and should be since he has such a nice bike. As most sellers do the truth may be stretched a bit. I can take nothing away from the condition of the bike but time did march on and these older TZR's are not the closet thing to a GP bike for the street. The only reason I bring that up is that is what the potential buyer will have to keep this mind when deciding what kind of bike he wants. Does he want an absolutely beautiful and titled early model TZR for that price ($5,500 BIN) or does he want a later model (with a bit more tech) for close to that price in rougher condition and possibly not titled? I think you would come across bikes in quite varying conditions in that $5,500 to $6,000 price range.
I don't think this bike will have much trouble finding a new home. It has it all and I'm sure someone out there would love to relive the race replica craze on it. You can bid or buy it here.
Ian