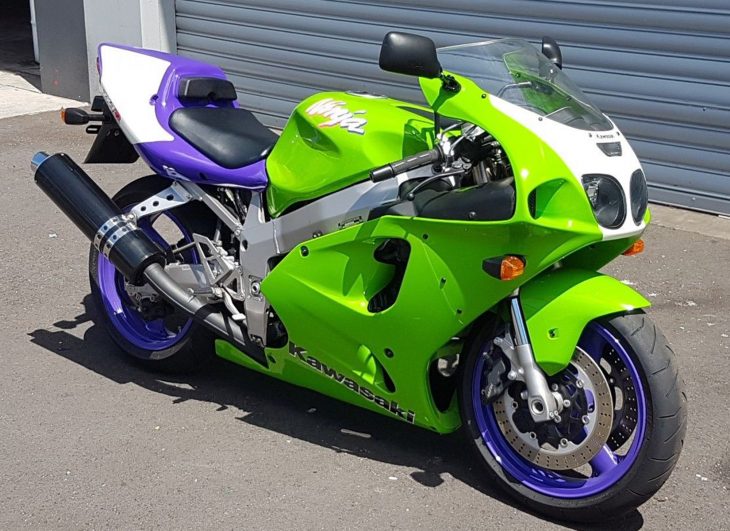 Slathered in Kawasaki's traditional lime green, the ZX-7RR was the homologation version of their 750cc superbike. It wasn't quite as trick as Honda's RC45, but its more pedestrian underpinnings make it a bit of an underdog, and the bike had surprising success and longevity for a machine that was updated in 1996, as you can see from this 2001 example. It was obviously pretty long in the tooth by then, but still provided a solid foundation for production-based racing.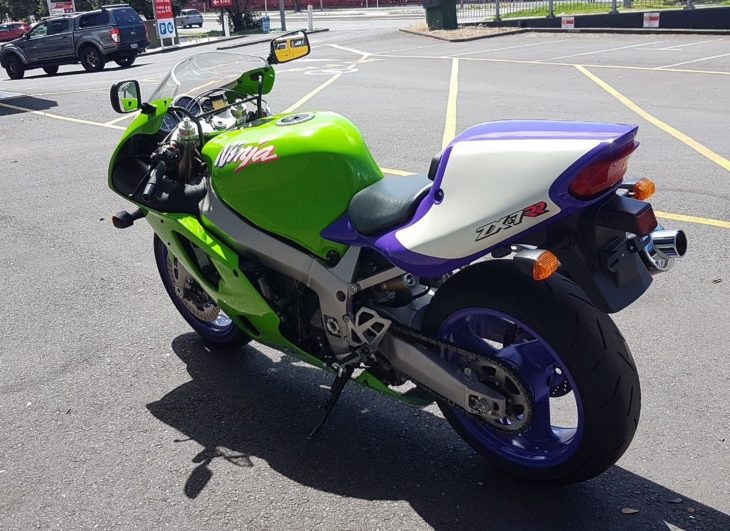 The parts you'd expect are there: an adjustable steering head and swingarm pivot, and suspension provided an even broader range of adjustment, compared to the regular bike and, up front, Nissin six-piston calipers replaced the stock Tokico units. The bike had a close-ratio gearbox, and the cases were reinforced, and the engine used a heavier flywheel in an effort to improve traction off corners.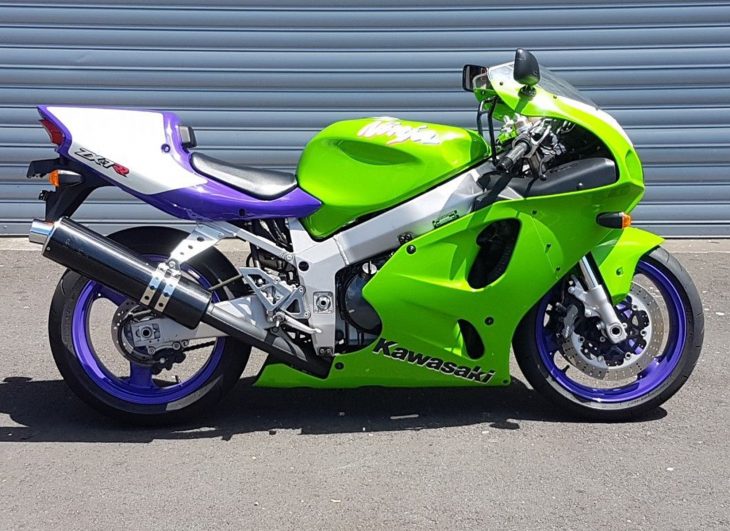 Interestingly, the bike was homologated with both 39mm and 41mm flat-slide carburetors, up from the 38mm CV units on the regular R. Kawasaki was covering their bases by offering that choice to racers, but conventional wisdom is that the 41s are just too much carburetor, especially on the street and even some racers went with the smaller 39mm units.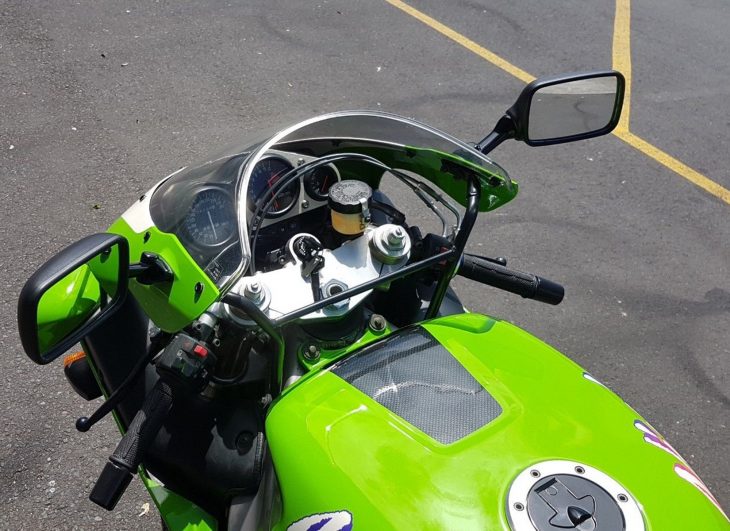 At 441lbs dry, the bike is a bit of a porker, but these Kawasakis were always more than the sum of their parts. Track down an old magazine article, or read a more recent review of these now "classic" sportbikes, and the writers will wax poetic about the bike's "sublime front-end feel" and stability.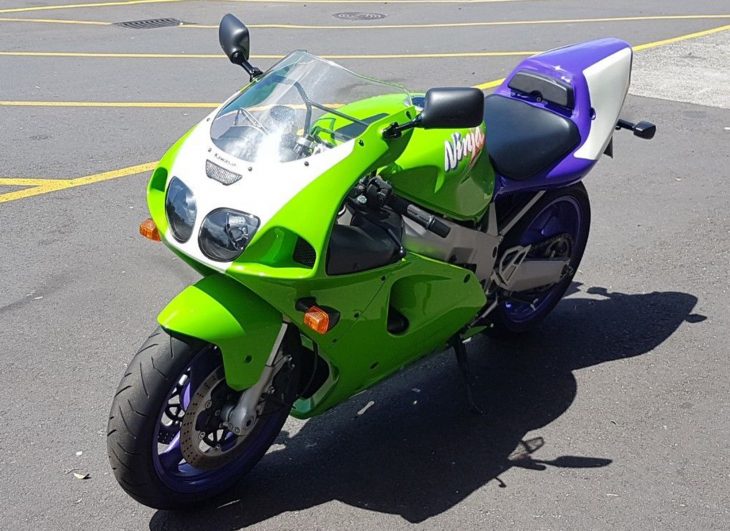 As you'd expect, it was pretty expensive for what was really pretty close to the standard model, but didn't work as well on the street, or even on track for that matter, in the hands of ordinary riders. The RR was $11,999 compared to the R's $8,999. $3,000 was a hefty chunk of change then and even now, but compared to the RC45's $27,000, it was a screaming bargain, and one of my favorite Japanese superbikes.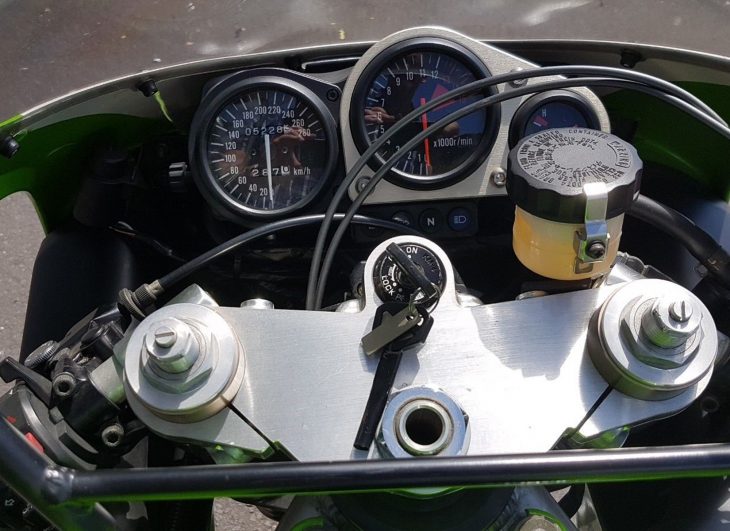 From the original eBay listing: 2001 Kawasaki ZX-7RR for Sale
Kawasaki ZX-7RR Ninja (750NNA – 2001 Registered)

Genuine motorcycle, which has traveled just over 5,200km from new. I purchased this example about 5 years ago on a trip to Tokyo, Japan and shipped it to New Zealand where it has been in my private collection. It is an exceptional example, all original, and appears not to have ever been ridden in the rain! The spare key still has its factory protection on it. The motorcycle was featured in a newspaper article on the model a couple of years ago.

https://www.stuff.co.nz/motoring/bikes/74403132/null

The original Japanese registration documents show it was first registered in Japan in 2001, and may well be one of the last of these RR versions manufactured. I have not complied and registered it in New Zealand, but have the paperwork and can arrange this if this buyer so desires.

I own a classic motorcycle restoration business and have shipped many motorcycles worldwide. It will be securely wrapped, packed and shipped in a steel crate, clad in plywood for safety. Feel free to contact me for a shipping quote, we use a broker and CFR Rinkens for shipments to the USA.

This is a very rare opportunity to secure what I consider may well be amongst the best ZX-7RR examples in existence.

Excellent condition, has been part of a private collection for a number of years. Run up about every six months, but seldom ridden.
Well, this particular collectible Kawi looks to be in great shape, with low miles and a sharp Buy It Now price of $20,000, although bidding is only up to $15,000 with very little time left on the auction. The only downside? It's in New Zealand, and that makes shipping a bit of a pain if you're here in the US.
-tad