It's a long while between ZXR-400's here in the U.S.A., so we took a trip to the U.K. to find this well-used but renovated small sport.  Today's is an L3 from the middle of the model run, with a super spec sheet and weighing barely 400 lbs.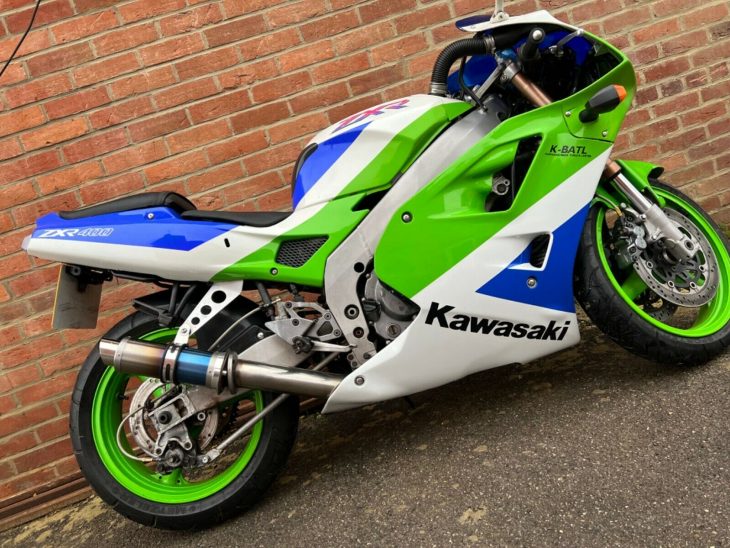 Since it was Kawasaki's entré into national F3 racing, the ZXR400 was sold primarily on the island, with intermittent exports to England and other Pacific rim markets.  The inline four had 2-1/4 inch bores and revved to 14,500 rpm, with max power at 12,000.  Extrusions for the alloy chassis have chamfered corners and are welded to the cast headstock and sideplates.  USD forks, slipper clutch and fresh air intakes were there to help the race team, but paid off on the street.  Dual 300mm brakes could be found on a larger supersport, with 17-inch rubber at both ends.
Probably a lot that only a ZXR cognoscenti will see, but this one looks like a pretty good starting point.  Plenty of miles, but a bunch of work done recently.  The seller restricted power for its intended licensee, though it sounds easily reversed.  Requisite tail-ectomy, blue windscreen, and too small exhaust – paintwork isn't mentioned but except for the mirrors, looks way better than the miles would allow.  Notes from the eBay auction:
Just had following work done at local bike shop
-full safety check after purchase
-All carbs fully stripped, cleaned and balanced
-A2 restrictor kit fitted to 47hp (plate inside carbs)
-restricted ecu limited to 10k rpm ( have got standard ecu aswell) 
-Brand new uprated chain and rear sprocket gold X link
-new spark plugs
-new oil and filter
-new air filter
-new fuel tap rebuild kit fitted
-coolant flushed and replaced
-new A16 titanium moto gp exhaust
-real carbon tank pad
-real carbon fuel filler cap cover
-real carbon top yoke cover
-real carbon clocks cover
-real carbon plastic fairing cover
-tail tidy fitted 

Bike, engine and gearbox run smooth

pulls strong in all gears always starts on the button 

Body work has some age related marks but otherwise in good condition

 

Comes with full service manual
Hopefully the new owner will have better weather than the seller, who had to wheel the ZXR out in a spritz to photograph.  The ask is at the lower end of the spectrum, though shipping and working through DMV will run into some money.  The ZXR reviewed as fairly comfortable and torquey for the segment, with just a few chassis adjustments needed.  Probably more things will need doing, but still find you ahead in the long run.
-d0nn