Update 10.13.2014: We last saw this bike for sale in 2012 but it's back on eBay with an opening bid of $1,900, from the original seller I believe as well. Thanks for the heads up Marty, -dc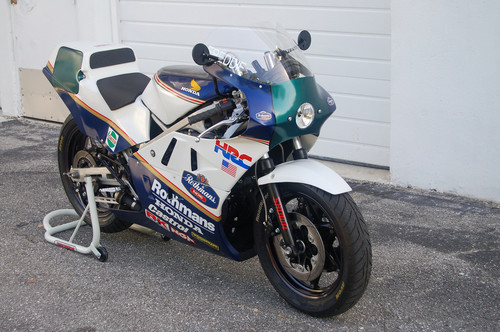 I bet at first glance you thought that was an old NS/NSR of some sort. For the most part we lust after close to stock two wheeled rarities here at RSBFS. Generally the more you modify a bike the more it appeals to just you. Every now and then though someone gets it right and I think we have an example here. Would your first guess have been a 1984 VF500? Liar! Yes, I know it isn't even a two stroke (like Spencers GP bikes) but excluding the chambers poking out it is a darn good replica.
As always, I wish there was more info:
1984 Honda vf 500 interceptor. Built as a tribute to Freddie Spencers gp racing bikes. Many custom and vintage parts, new tires, brake pads, ss braided brake and clutch lines, nissin brake and clutch master cylinders, tons of suspension mods. More pics can be seen at bradwsm flickr.Pictures with the number "1" in plate are the most recent, all pics are of the actual bike. This is not a show bike and it is titled and registered, so there are some scratches and imperfections
Be sure to check out his Flickr page. It has more pictures of the bike and some of his other projects that look quite interesting. It looks like he is working on a four stroke powered KR replica.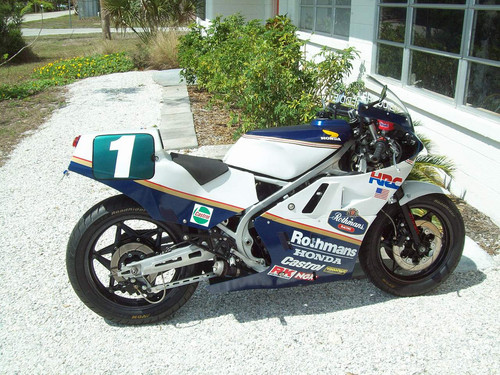 I'd love to see it without the bodywork. Is that a NS400 swing arm? It cracks me up how race like the little Interceptor looks: A+ in my book. I've been a Honda hater for years but I love this thing.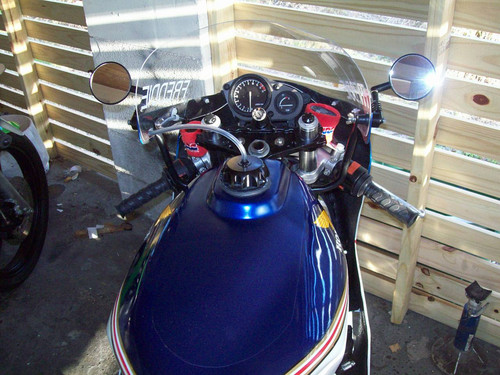 He has an auction going and a BIN of $3,500. Now of course the book value is way below that but that really doesn't sound like a bad price for a unique bike like this if the attention to detail on the build is good.
Ian