It's All In The Reserve: 1986 Suzuki RG250 Gamma
Update: Originally we posted this one in November of 2011. Back on eBay and links are updated. -dc
This may not be the flashiest RG we've listed but I like auctions like this to see what the market is willing to pay for a two stroke. On one hand you have a rare RG in decent overall condition. On the other hand, it has no paperwork, hasn't been started in years and is not a special version. The reserve will tell the story. Did the seller base his price on market realities or is he going to try and milk the two stroke allure for every penny? Only time and some bidding will tell.
Overall the pictures show a solid, stock example. It's funny but I've rarely seen an RG250 with aftermarket chambers while you rarely find an RGV250 without them. The close up picture does appear so show some oxidation on the frame that is oh so common on bikes that live close to the ocean.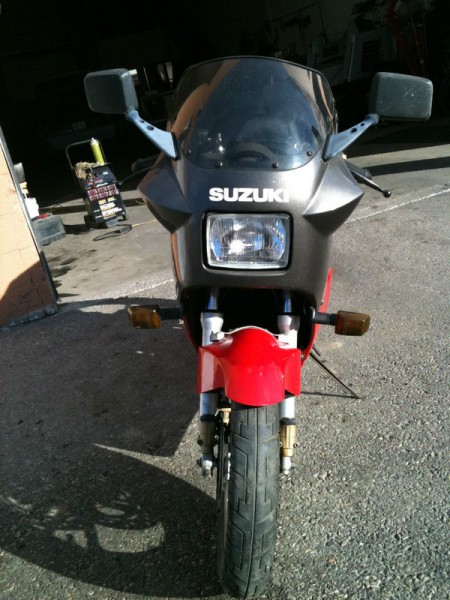 You'd be hard pressed to distinguish between an RG250 and RG500 from the front.
The story:
Hi I have a 1986 RG-R250 Gamma that i had imported from Japan in 2007. It has never been registered in Canada. I imported it along with some other bike for the purpose of reselling, but with running my regular buisness I never have the time and now the desire to continue with the bikes that I have left. I had the bike running when I first imported but it hasn't ran for3 yrs, but it should run with out too much effort. When running it sounded good and and blew that beautiful blue 2 stroke smoke. It is a 2 stroke 250cc. The body and paint are in great shape frame is nice and shiny. This bike had obviously been kept in doors before I imported it and Ive kept it in my shop since. The bikes tires, chain, brakes, sprokets seem to be in good shape. If you have any questions e-mail me and I'll do my best to anwser. Oh also the bike has 17193km not miles
We Americans would have a panic attack with some Japanese in the middle of our cluster yet the Japanse regularly mix in English in almost everything . Some of it can be quite amusing. I'm a bit baffled on the mileage. The cluster is a KM unit and shows roughly 9,500KM's. The seller states though, the bikes has over 17,000KM's. What am I missing?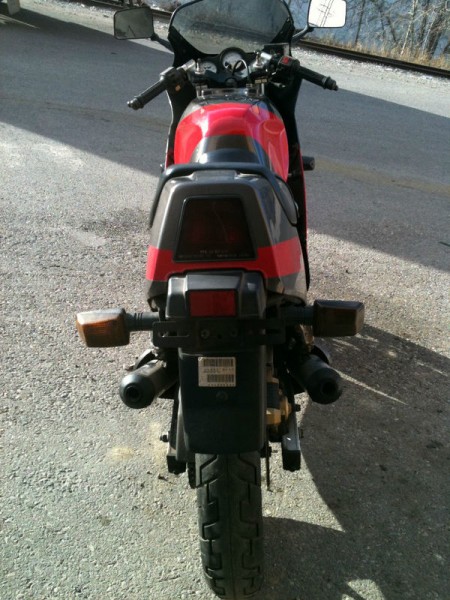 Overall it is a nice example with a paint scheme that is rarely seen. The lack of paperwork (although it is has hit the magic 25 year mark that drops most import issues) and time sitting are sure to hold the price back though. If you need a comparison, a 1987 RG250 that needed some work but was titled sold for $3,300 a few months ago. If you can snag it for the right price I think you'd come away with a solid RG, that with some freshening up will provide plenty of smiles.
Ian