Warning!
This post is in our archives. Links in this post have been updated to point to similar bikes available to bid on eBay.
Every post will be sent right to your inbox every morning when new posts are made. We will never sell our list or spam you. Plus you can click links to bid or buy right from the email and skip the site entirely. Subscribe to Rare SportBikes For Sale today!
It's A Mystery All Right:  1980 Vetter Mystery Ship Turbo (Kawasaki KZ1000)
Yeah, I giggled a bit when I saw this bike but then I started to do a little research on it and realized it is a very interesting machine.  Craig Vetter (yes, that Vetter) wanted to produce his version of a racing motorcycle.  The Mystery Ship was the result.  200 were planned but 0nly 10 were built due to Vetter being involved in a hang gliding accident.  Yoshimura was even involved.  They offered 4 different stages of engine mods.  If that wasn't enough a turbo charging option was offered.  It sounds like several of the 10 are already tucked away in museums around the country.
What we have here is one with that turbo charging option.  20 percent (or 2) were built with the turbo option.
Remember when you were a kid playing with Matchbox cars?  Everyone wanted the car with "turbo" on it.  As an adult you got a rash if you owned something with a turbo on it.  I think you could call turbo charging motorcycles a fad at best.  I have no idea how it works on the Mystery Ship, I'm just spouting off in general.
This baby wasn't cheap back in 1980.  A Mystery Ship could easily run $10,000 while a standard KZ was less than $4,000 at the time.  I'm trying to think of a bike with a more "unique" styling and I'm drawing a blank.  I'm not sure where the dual purpose tires came from.
Here is the info on ship 6:
Musuem quality 1980 Kawasaki KZ 1000 Turbo Mystery Ship designed and built by Craig Vetter. Craig, known for his farring designs was to build 200 of these race prepped motorcycles but after everything was said and done, only 10 were built. This is #6 of ten with only 2 original miles. The bike has been stored in a climate controled facility for it's whole life. This is one of two Turbo verisons that was custom built for a customer in Arlington, VA. The Mystery Ship was designed as a limited production streetbike or what Vetters referred to as "a streetable road racer, with all the right parts."

The wheels were magnesium Dymags, the gas tank held 6 gallons. Rearset pegs and a Yoshimura four into one pipe also showed the bikes racing Heritage. The original order and all documented paperwork comes with this very rare bike
The following info comes from Kawasakizi.com and provides good details on exactly what you got.
Standard KZ1000 MKII frames were used, however, they had several modifications.
They were taken to Kosman's where a frame jig was used to ensure accuracy, as the geometry of the Mystery Ship frames was to be the same as the Kawasaki KZ1000 racing motorcycle sponsored by the Vetter Corporation in the 1978 AMA Superbike Series.

The steering headstock was removed completely. It was replaced at 26° by a machined headstock fitted with 62mm tapered bearings.

The frames were strengthened, and all brackets that were not needed were removed. Rearset footpegs and a gear change linkage system were fitted. A shortened rear brake lever was used.

The mounting points for the Mulholland Force 1 rear shock absorbers were relocated further down the frame.

A box section swing arm was fitted.

3 spoke magnesium Dymag wheels were fitted with Michelin tyres, M45 front and M48 rear.

Standard Kawasaki brake discs and calipers were used with Ferodo pads.

A four into one Yoshimura exhaust system was fitted.

The bodywork was a two piece unit that covered a 6 US gallon fuel tank.

A Lockhart oil cooler was fitted into the nose of the fairing just below the headlight.

The Vetter Mystery Ship came supplied with a standard KZ1000 MKII engine, which, according to Yoshimura, produced around 75 BHP at 9,000rpm, however, for those with a deeper wallet, several Yoshimura tuning options were offered.

Stage I. $799. 1105cc with 10,000rpm cam. (101 HP)

Stage II. $1134. As above but with 10,500rpm cam with ported and polished head. (108 HP)

Stage III. $1348. As Stage II but with larger valves. (116 HP)

Stage IV. Superbike specification. Prices were available on application.

For those wanting a Turbo Charged option, for around $1,700, Vetter would work with Russ Collins of R.C. Engineering.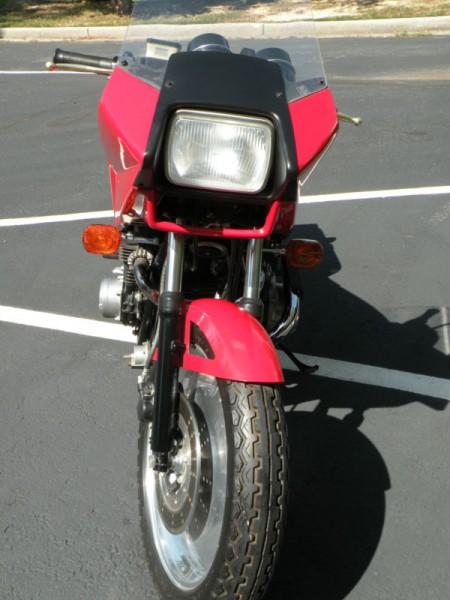 Nothing to see here.  You'd think it was an ordinary looking bike from the front.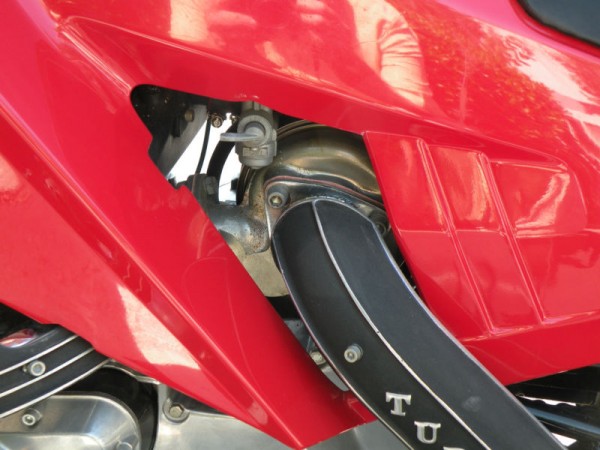 I'm not even pretending I know what one of these bikes is worth.  It's a rare version of a rare bike that has never been ridden and was designed by someone who is now in the AMA Motorcycle Hall of Fame.  On the other hand, how strong is the demand for the bike?  I simply don't know.  At least 5 people want one as the bidding goes on but it has not yet reached the reserve price. What do the RSBFS faithful think?
Ian