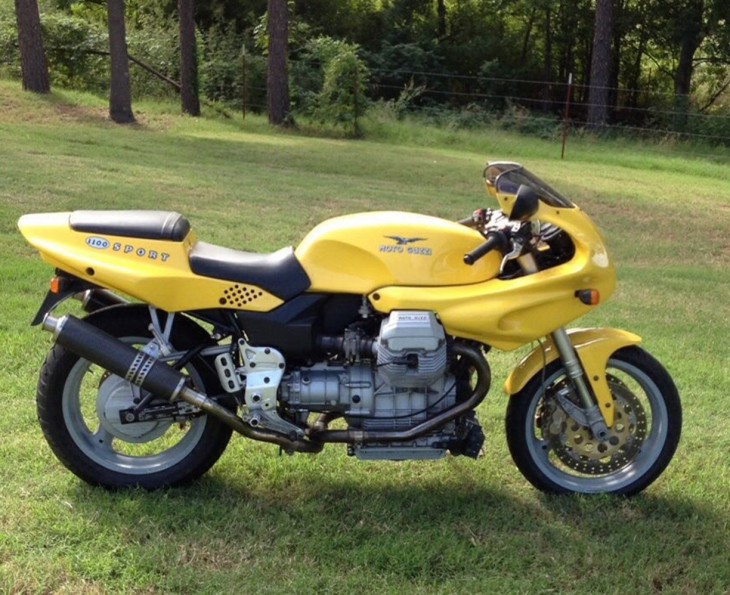 The story of Guzzi's 1100 Sport is a bit like the story of Judas Priest and Tim "Ripper" Owens, but with motorcycles. It's the story of an unlikely amateur being asked to join the big boys on stage, and in this case the "unlikely amateur" was former-dentist-turned-endurance-racing-guru Dr. John Wittner.
Wittner's heavily-modified Guzzis were very successful in the mid-1980s, running endurance and ProTwins series events in the United States. Asked by Guzzi to develop a new top-of-the-range superbike that incorporated what he'd learned about engines and suspensions during his time in the trenches, Wittner's Daytona featured the first use of Guzzi's new-ish four-valve engine and spine-frame that proved a worthy successor to the Tonti-framed bikes that preceded it.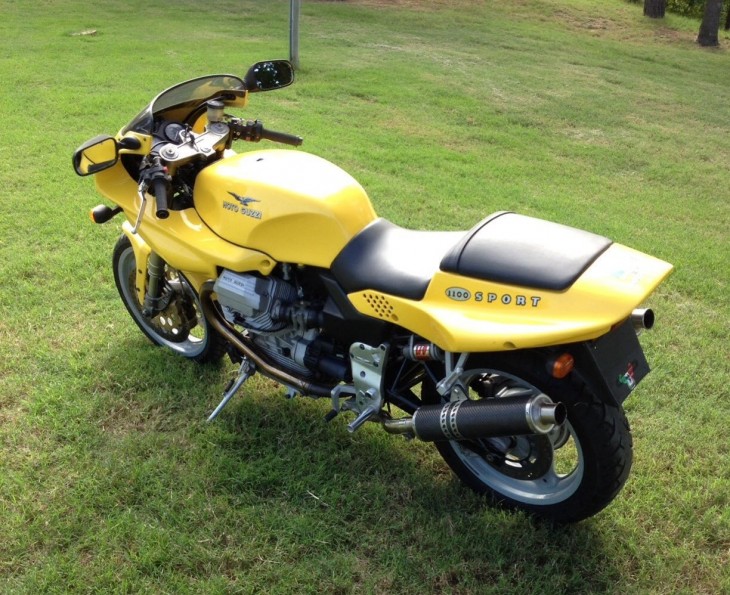 By the mid-90's the bike was followed by the lower-spec, lower-priced Sport 1100 powered by Guzzi's 1064cc two-valve engine that I'm going to insist is longitudinal, not transverse, since the crankshaft runs longitudinally. I don't care what Wikipedia or Guzzi's own website says.
Often criticized for being "agricultural", Guzzis can be an acquired taste: if you're used to clinical precision, you might hate this bike. And while shaft drive is durable and low-maintenance, it contributes to an overall heavy bike. The motor makes a respectable 90hp but, more importantly, a mountain of torque. Which is a good thing, since the gearbox has only 5 speeds and isn't exactly famed for being pleasant to use…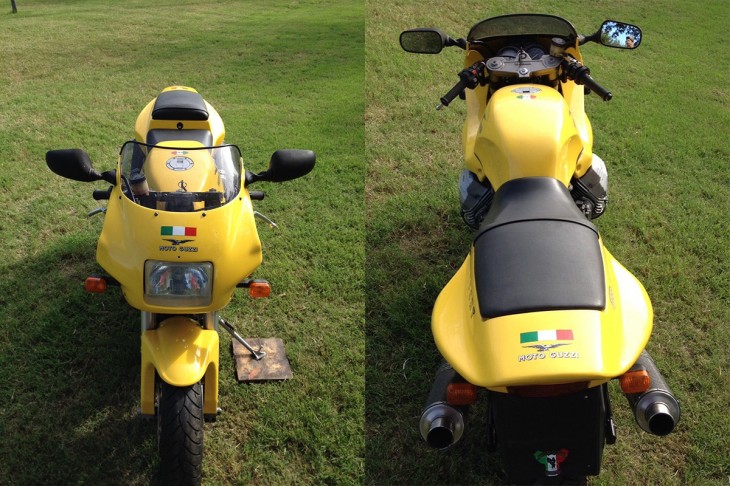 Best to just stick it in third or fourth and worry about clipping apexes. Excellent suspension components lend confidence and stability, if not agility, and top-of-the line period Brembos give solid, predictable stopping, although weight hampers the overall performance. The shaft-drive torque reaction is a little weird at first if you're not expecting it, but you quickly get used to the slightly asymmetrical  feeling in corners.
Get a Guzzi into a fast road groove and it can keep up with much lighter, higher-strung machines. With plenty of cornering clearance, stability, and long legs, the Sport 1100 is really more of a GT and less of a race-replica.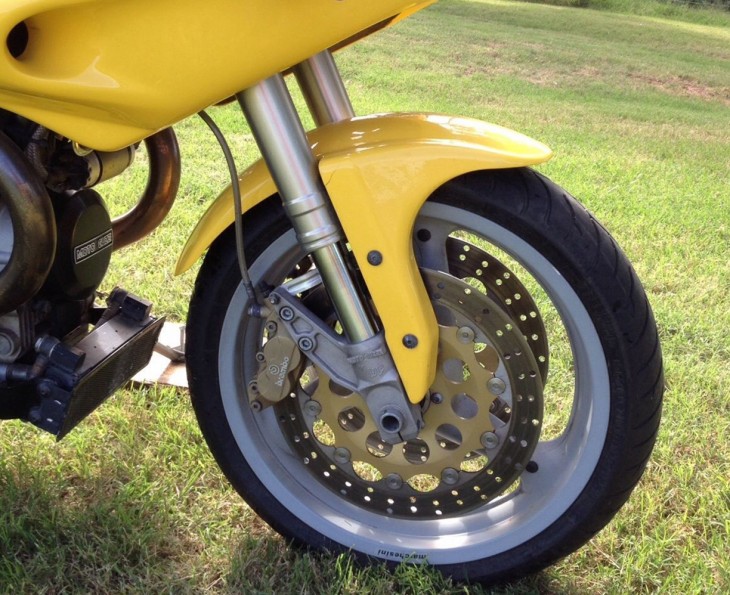 From the original eBay listing: 1997 Moto Guzzi 1100 Sport for Sale
Here is a very clean 1997 Moto Guzzi 1100 Sport. Comes with the original owner's manual and a clean title ready to go.

The bike has just a little over 31000 miles on it, it is all checked over, and has a brand new battery, fuel pump and fluids. Very nice carbon fiber exhaust sounds excellent as well.

I was used to old Guzzi 850's before this one and man these 1100's are fun.  Very high performance oriented, this Guzzi even looks fast. A very good handling machine, tons of life left in her and the value will only increase. This bike is the fuel injected model and is very nice!

I am very busy with all of my vintage builds and have decided to let a pair of these modern 1100's go to someone who will enjoy them.
I love these bikes, and I love how the half-fairing shows off that hulking engine and transmission. Two-valve Guzzis are very tough bikes, and valve adjustments are a snap, with those cylinder heads sticking out in the breeze! As a bonus, those carbon cans should make a seriously stunning roar: Guzzi twins make a truly epic noise when uncorked. Unfortunately, this example does feature the US-spec headlight. I really love the 1100 Sport, but I'd be scrounging up a trapezoidal Euro unit as soon as possible if I had this in my garage.
Only problem I see here, aside from that headlight, is that Guzzi eagle on the tank: my buddy has a Guzzi, and people keep asking him "what kind of Harley is that?"
-tad