Italian Pride: 2007 Ducati 1098S Tri-Colore
It just looks the business, doesn't it?  I'm such a sucker for this paint.  The dealer sprayed Paso Tri Color (you say colore, I say color)  had me two weeks ago and then tonight this one caught my eye.  I'm one of the few fans of the 999 and I think it would have looked great in some version of this paint.
This loaded 1098S hasn't seen too many curves.  She hits the market after covering only 1200 miles.    I don't think it is legal to have a Ducati without a Termignoni exhaust system.  I believe these were supplied with an ECU in a kit that came with the bike. 
What else does she have:
1200 original miles, Limited Edition, Perfect original condition, adult ridden, never raced or crashed, complete with Termignoni carbon fiber race exhaust and ECU, also street exhaust included, over $3.5k in carbon fiber and extras, bike stand, all books, tools and records, always stored inside, never been in the rain, paid well over $30K for the bike and extras. Title in hand.

 
I spot some high spec Ohlins forks.  It has an Ohlins shock out back as well.  I could see myself totally screwing up the suspension with the amount of adjustments available.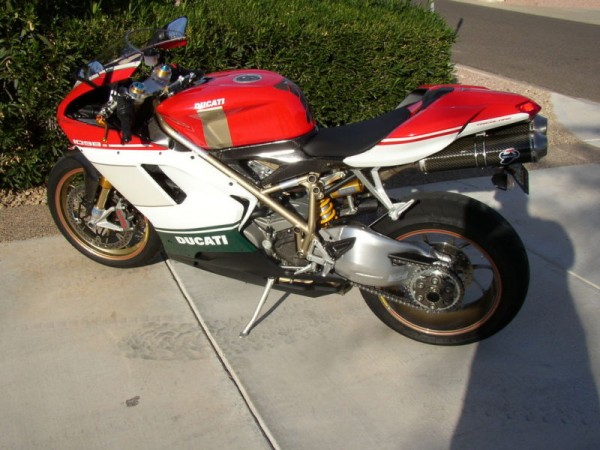 Can you spot the extra carbon fiber bits?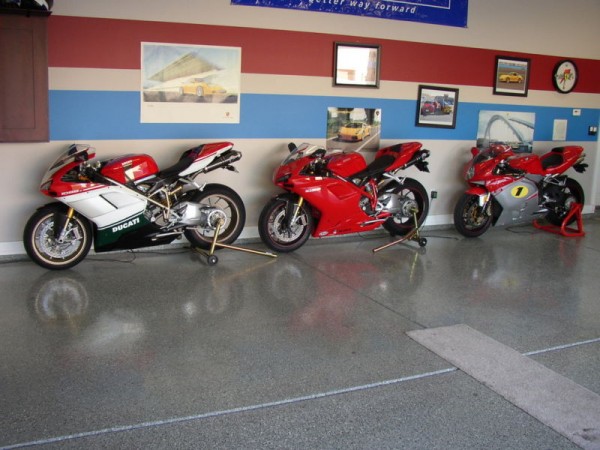 All call this photo, "I should have studied harder in school".
Any guesses on the reserve price?  The auction is starting at almost $17,000 with no takers as of this writing.  After consulting the RSBFS crystal ball and a quick question to the RSBFS Weegee board I'm going to guess $28,000-$30,000.  If you are in the market and would like to tell me how close I was you can .
IK