For Sale: 1994 Bimota Bimota db2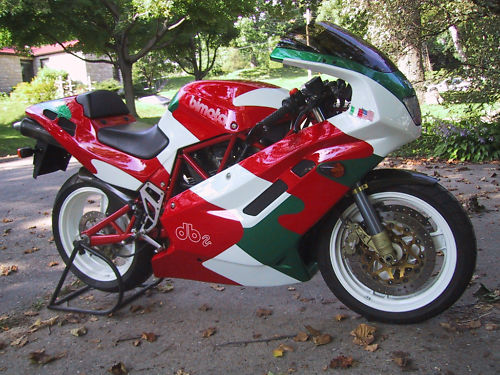 The offspring of two Italian Supermodels, the DB2 (Ducati – Bimota, 2nd model in the series) offered the power of the torquey Ducati 900SS, in a compact and beautiful handcrafted frame. Whereas the earlier DB1 was a stunning styling excercise, its 750cc mill and tiny size left something to be desired on the performance side. Enter the DB2, which gave up some of the syle of the DB1, but unleashed greater performance on the rare few who could afford such a machine.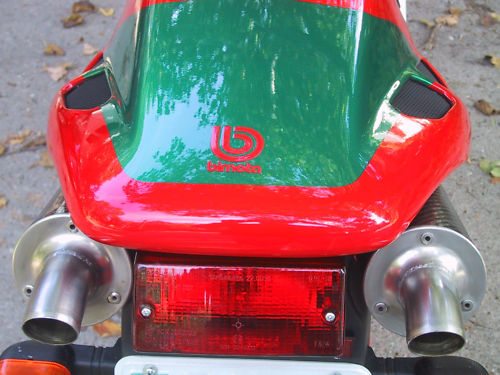 Before the Ducati 916 made high, under-seat exhaust pipes fashionable, Bimota was already there. This bike sports aftermarket carbon canisters.
From the seller:
One of 35 tricolore Bimota db-2 in existence, all imported in 1994, and pictured on p.189 of Sarti's Bimota 25 Years of Excellence. Powered by a 904cc air-cooled Ducati engine, weighs a mere 375 pounds. Some details can be seen at and and .

Dripping with carbon (salvaged from the prior db-2, which I dumped): cambelt covers, sprocket cover, vented clutch cover; also has: carbon pipes, CRG's Hindsight billet bar-end mirrors, billet oil filler cap & Euro switch (both also scrounged from the old bike), little flush Lockhart turn signals (fake carbon), evoluzione cyclesports' regulator (with charger); Yoyodyne clutch slave; 916 SPS brake & clutch levers (and remotes), ss brake & clutch lines, Euro fairing w/parking light. Most (if not all) original parts will be included.

Except for Dynojet kit & opened airbox, Termi carbon pipes, it is stock as a stone. (Except for a shortened sidestand (by previous owner) and tiny length of clear plastic tubing to cover the shift lever, to prevent scarring shoes (when I'm dumb enough to ride wearing shoes instead of boots). Lovely bike, goes where you look, stops on a dime and gives you 7 cents change, feel like a toy compared to my older Ducati Darmah.

This is the second one I've owned. I totalled the first, which I rode home over 350 miles without needing a chiropractor, and put 3,000 miles on it in less that 7 months, even collected a speeding ticket in a Wisconsin February. I liked it so much I bought this one after a longish search. I am the second owner, the first being the selling dealer who repainted it after tipping it over in a parking lot (hence the shortened sidestand, so it leans over a bit more when parked). I didn't like the job, so I had it re-done, with some gold flecks in the green.

It comes with similar quarter (after-market, Italian, no print-through on the 'glass) fairing, yet unpainted.

Why is it for sale? I am 70, and have aged out of bikes with this riding position (similar to a 748/916 Ducati's). I'm keeping my elderly Ducati, which I can ride in greater comfort.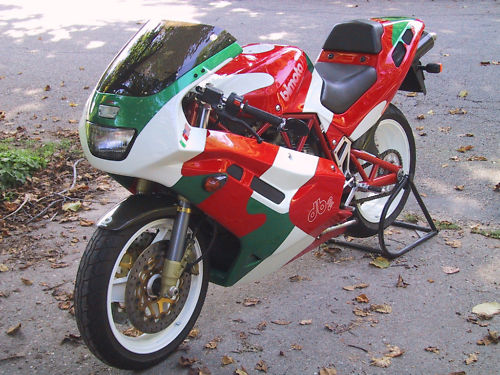 If you think you have seen this bike before, you are correct. RSBFS has chronicled a few DB2s in the past year, and this particular bike was listed on Craigslist last year. Back then, it had an asking price of $12k. Now the bike is available on eBay with the current bid in the $2,000 range with reserve not yet met. There is also a BIN on the bike for $11k, which is fair money for the machine, but no bargain.
To join the auction fray, check out the pictures or just drool, click on the link and . Good Luck!
MI