Here we have two excellent examples of the Kawasaki early 90's Ninja family, a first generation ZX7 with only! 7000 miles and a pristine 1992 ZX11.
---
Here is the 1st one, a Dark 1989 ZX7.
Back in 1989 Kawasaki launched their 750cc sportbike, the ZX7 H1. The ZX7 line (known as the ZXR outside of the us) started with the "H" models and it looked uncannily like the first model of the ZXR-7 racer. The 750cc Kawasaki ZX7 was probably the definitive pure sportbike configuration for Kawasaki until the ZX9 was introduced; sure there were other Ninja's in their product range including the excellent ZX-6 and ZX-11 but the 750cc model was more powerful and less buzzy than the 600cc version while still a pure sportbike/not a partially sport touring oriented machine like the 1100cc.
For the 1st year/1989 model year, Kawasaki offered three bodywork paint schemes- a basic black, a red/silver/black combo and the color scheme that would come to be defined with the ZX7, a green/white/blue combination. While the green/white/blue combo bikes have become quite the collectors item, the other color scheme bikes didn't sell as well here in the states and are actually rarer to find in pristine condition.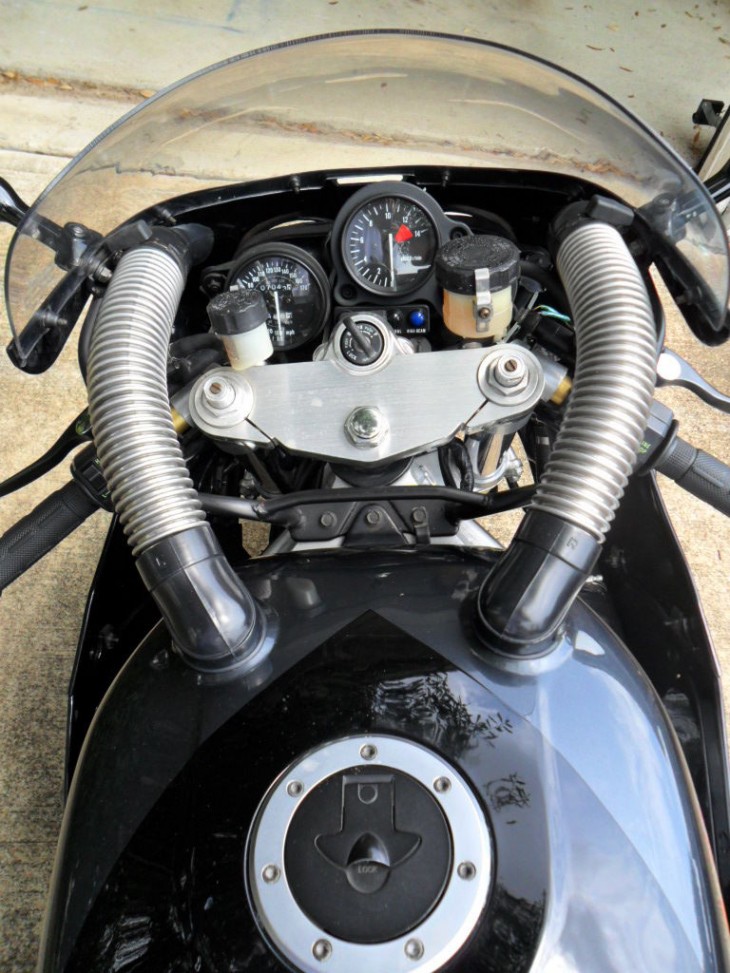 This particular ZX7 is an extremely pristine 1989 Ninja 750 with the black bodywork. The seller indicates a mileage level of 7000 miles (yes you read that right) and that the bike is completely stock. This seems to be one of those bikes that was bought by someone in their youth, ridden for a few seasons and then just tucked away.   I would expect a full maintenance would be needed, including new tires, all fluids and possibly a chain.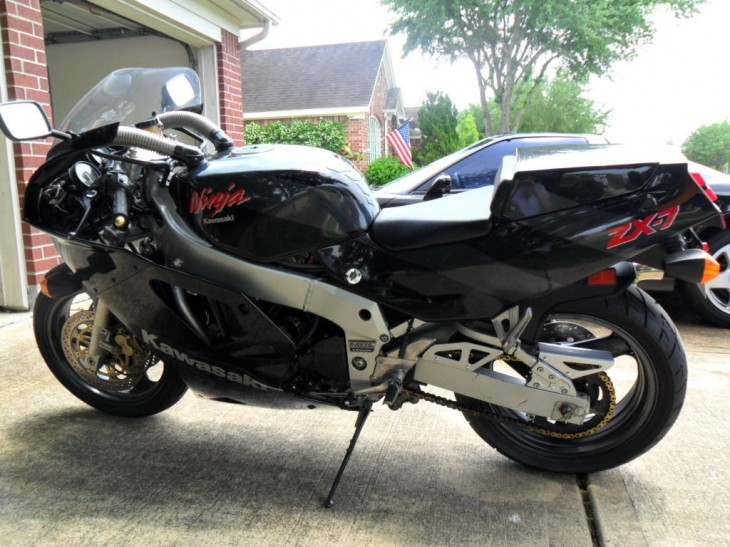 So whats this 1st generation ZX7 worth?   Well, the $5,000 USD asking price is well over KBB values but prices for the first generation ZX7 are definitely climbing and finding one this pristine is going to be a truly rare occurrence..  This might be a smart acquisition for someone looking to add a 1st generation ZX7 to their collection..also this bike could probably be converted to the more desirable Green/White/Blue via the purchase of an aftermarket bodykit or a repaint if the purchaser so desired.
---
Here is the 2nd one, a Dark 1992 Kawsasaki ZX11 with 16,405 miles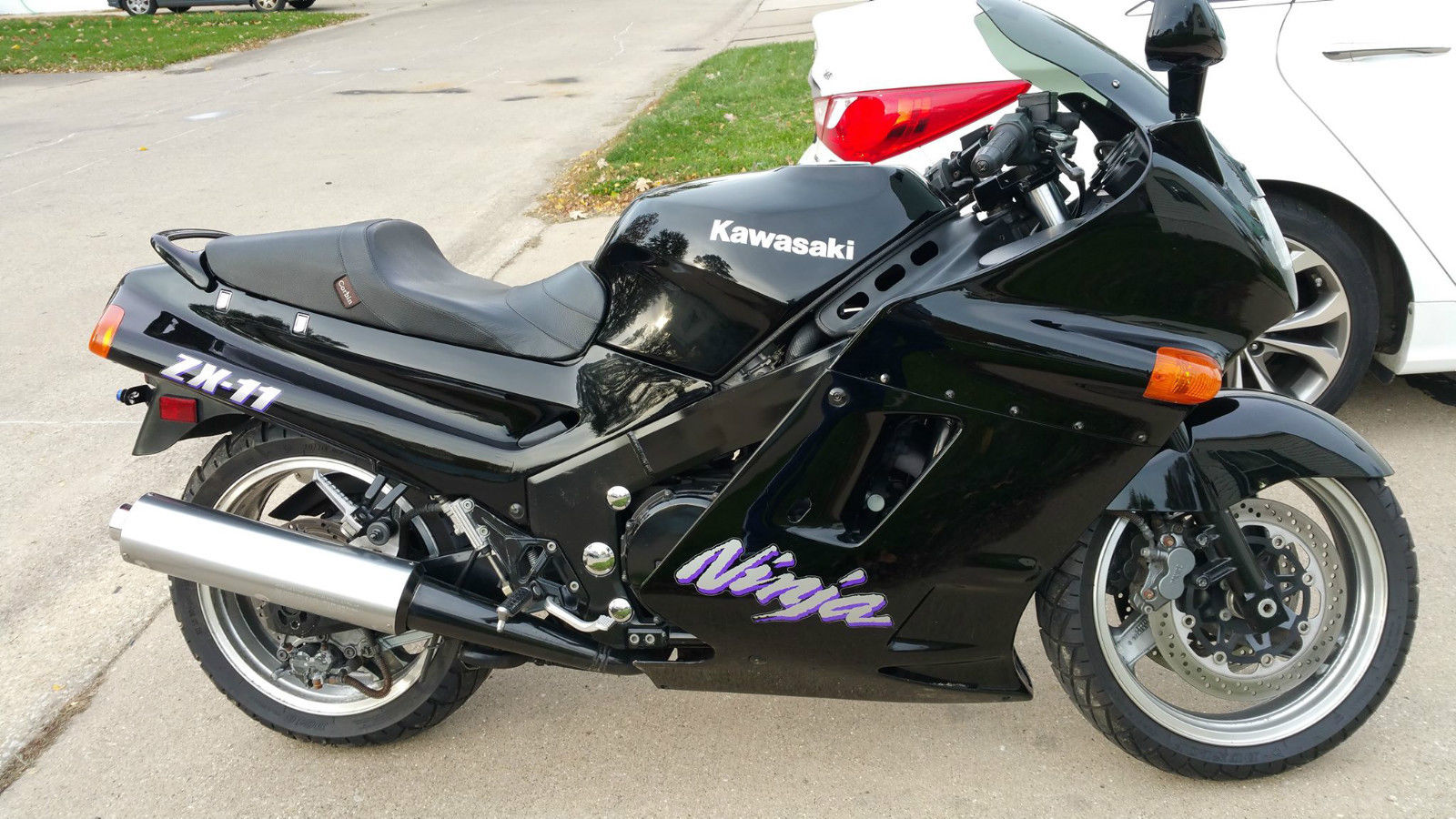 As previously posted here on RSBFS,  the ZX11 D model was probably THE definitive big sportbike.   Even thought it wasn't a hardcore sportbike/track-oriented machine, the ZX11 was frequently faster than other brands race reps and could be used as a sport touring machine due to it having a center stand, civilized dual seat, 200-mile tank range and full gauge cluster (including a  clock!)   The ZX11 was the fastest production motorcycle for six years, from its introduction in 1990 through 1995.
Like the earlier posted ZX7, this particular ZX11 comes with the dark scheme of black bodywork with purple highlights and looks to be in excellent condition.  The only flaw I was able to spot was some rust on the line going to the rear brake caliper which isn't too surprising given its location in Illinois.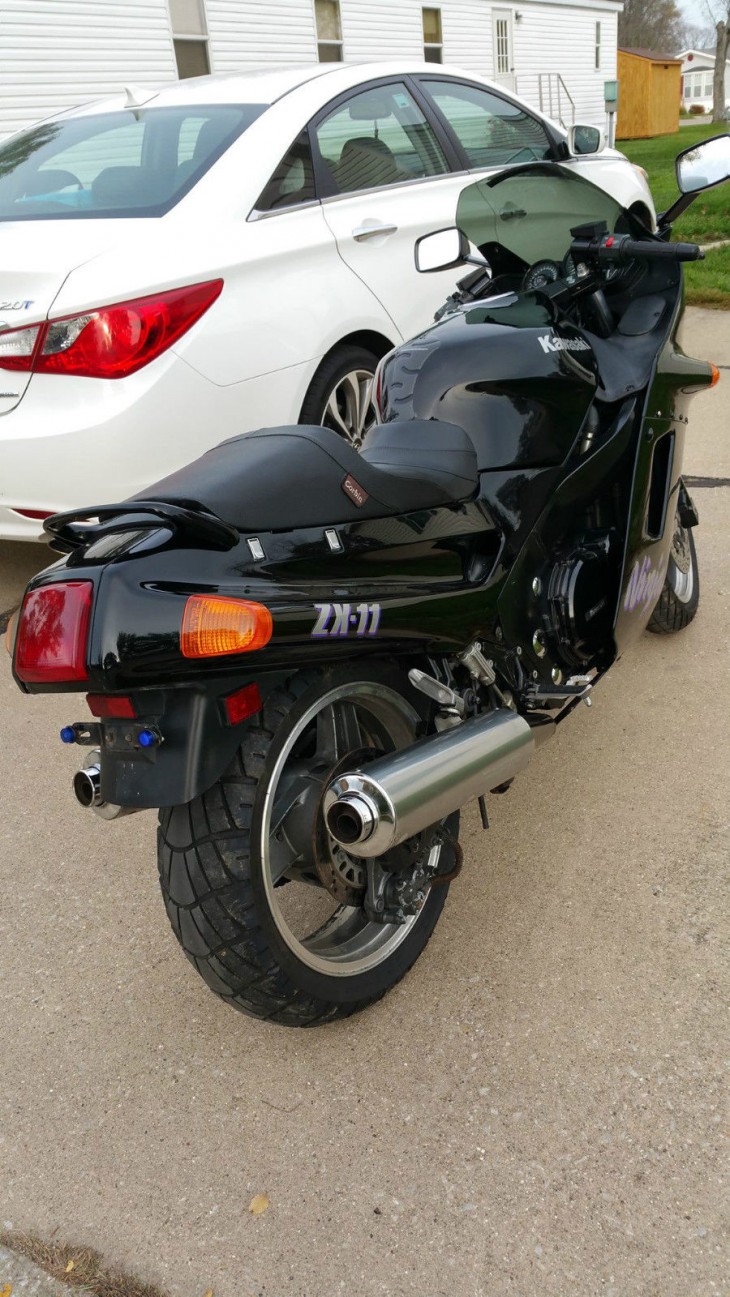 Here is some of what the seller has to say.
A 1992 Kawasaki Ninja. 1052cc.
Bike is very well maintained and clean, runs great.
Bought it from second owner a month ago and wanted to ship it out of the country but couldn't due to customs requirements.
The bike has near new tires, brake pads, and battery.
It comes with a charger, corbin seat, and it's original seat, and a cable lock.
It only has 16K plus miles, and is a speed devil.
All systems are up to date, including oil change.
Very minor scratches, no dents or dings.
Garage kept.
So what's this big black and purple beastly worth? Buy-It-Now price is a bit above KBB but the seller is asking less than the ZX7 featured earlier in this post. The price actually seems reasonable given the condition and the fact that this isn't a first gen ZX11 (its a D model). Personally I prefer this big ZX11 over the ZX7, especially the integrated turn signals that are kind of like rocket tail fins. The big Ninja could certainly be a bike for any rider who is a bit more "mature" but still wants to have people say "WTF was that thing that just blew by us?"
– Marty/Dallaslavowner