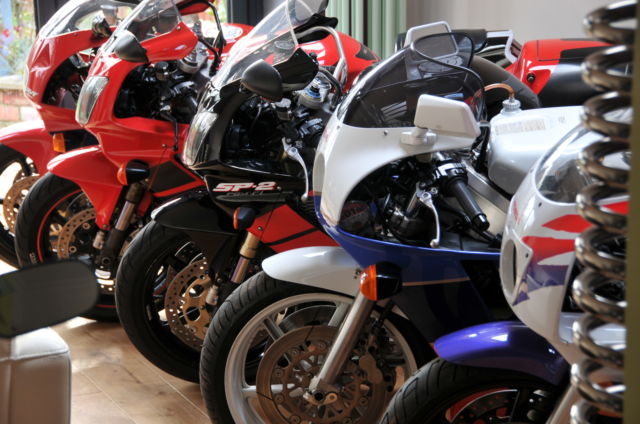 Sean forwards us this spot on eBay UK for an instant Honda sportbike collection. The collection includes an RC30, RC45, RC51, CB1100R, and other signification Honda specials. If you just hit the lotto or feel like making your investment portfolio a whole lot more interesting, bid accordingly!
dc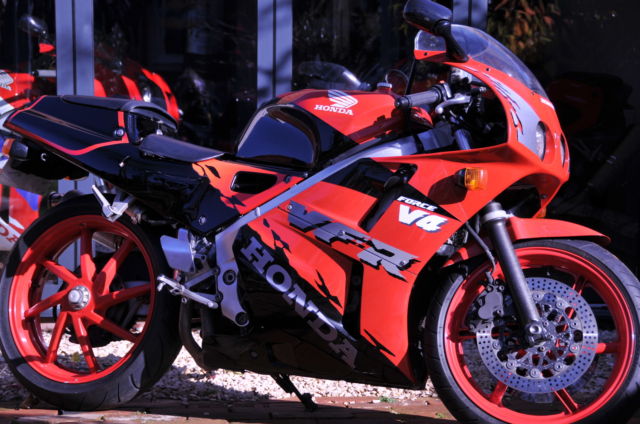 from the seller:
To include

RC45
RC30
NC30 RR-K
NC30 RR-L
VF500F2
SP1
SP1
SP2
NC29
CB1100RD
CBR900 (893cc)

Most mint or near mint. Many with handbooks, toolkits, some with spares, etc. Viewing is welcome if I can please have notice to retrieve them from the secure storage facility. There will be a few revisions as I add more pictures and better descriptions over the next few days. Please contact me for further information on content before bidding.

RC30 – Excellent condition. European import – 1 previous UK owner. 30K miles. With spare new mudguard, mirror and rear brake disc. New complete toolkit and accessory toolkit, and very clean owners manual. Also has brand new OEM rear brake cylinder and cap which will give it that finished touch with the fairing off.

RC45 – Only 9000 miles. Netherlands import. I previous UK keeper. Full Akrapovic system and double bubble screen. Comes with genuine owners manual, original screen and brand new boxed OEM rear shock.

SP1 – Red. 20K miles.

SP1 – Red. 40K miles with a most incredible sevice history

SP2 – 2003 Black. 20K miles. Mint. With rear pillion cover and seat. Original sales documentation, spare key, owners manual, etc

CBR900 893 – twin headlamp Fireblade. 1993 white and purple. Excellent condition. Runs and starts perfectly. New battery. Stainless steel exhaust system with Micron can. Comes with original black silencer. Original screen, etc. still present

VF500F2 – 1985. You will struggle to find a better one anywhere. Strip and rebuild a few years ago, radiator rebuild, bearings, chain/sprockets, calliper rebuild, braded lines (original ones still present). Collector box and pipes in amazing condition. Original paintwork in beautiful condition. I MOT'd it and rode it for a short while after the rebuild and she has been in storage ever since. Comes with spare collectors, downpipes, carbs, screen, gaskets and other bits.

NC29 – Near mint. Late model, 1 previous owner, low mileage. White with flame pattern. Complete with one of the last, boxed OEM exhaust cans anywhere (about £500 when you could get them).

NC30 RR-K RC30 colours. Low mileage. Absolutely gorgeous and clean under the skin, but there is a small dent in the tank, and most of the fairings are spot on, but a couple need a little work. Fairings are included, but not shown in the photos.

NC30 RR-L Black and red. Near mint, but the wheels could do with a repaint.

CB1100RD – What a beast! Needs restoration, but is complete. Also, with a spare set of rear shocks in good condition, plus a basically new complete rear shock set and front forks, triple tree (all original, genuine RD spares) and £1000 worth of new OEM fastenings, etc. Lower fairings and spare seat cowls are available, but not shown in the photos.