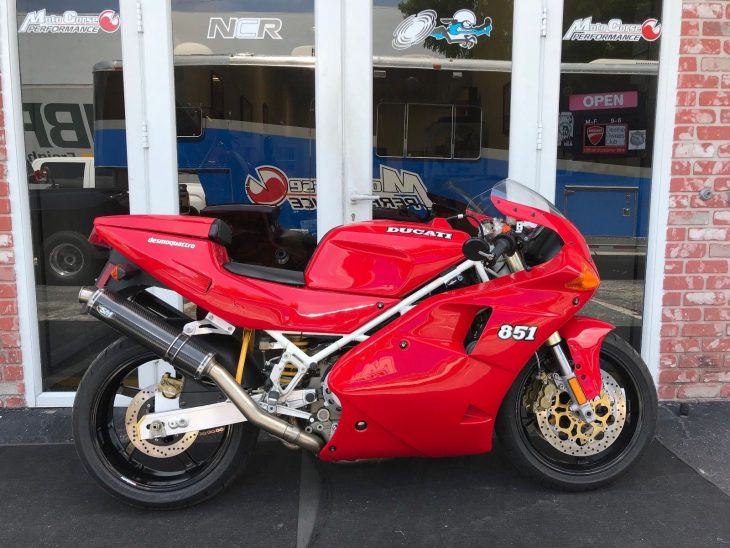 Ducati's modern era really started here, with the 851. The air-cooled Pantah engine, with its rubber cam belts, was a step forward, compared to the bevel-drive twins and set the stage for Ducati's move into the future. But it was the liquid-cooled, four-valve version of their classic L-twin that finally brought them fully into the modern era and allowed them to compete against the very best sportbikes from Japan in the newly-formed World Superbike Championship.
Sure, their throbbing, torquey v-twin was down on power, compared to a screaming inline four. But a fat, useable midrange helped make up for some of the theoretical horsepower gap, and a bit of additional displacement took care of the rest. The 851 wasn't as reliable or as affordable as the Japanese competition, but it could handle with the best of them.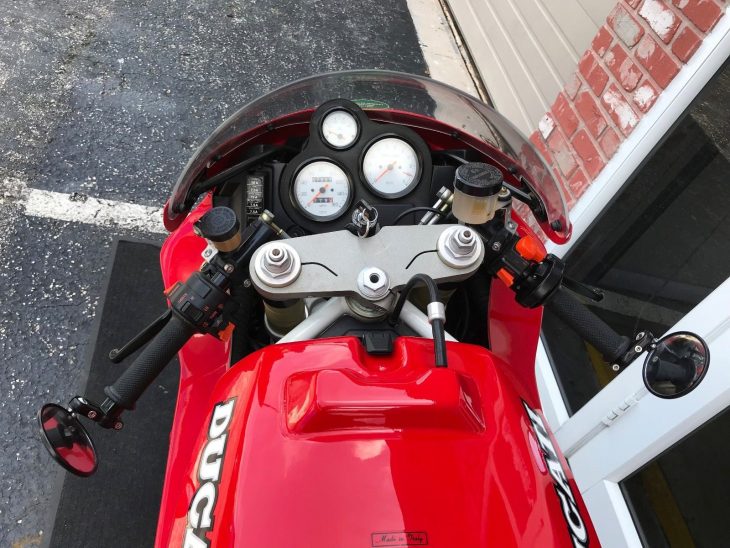 The new liquid-cooled, four-valve engine was dubbed, naturally, the Desmoquattro and displaced 851cc. Truth in advertising! The bike was fed by very effective Weber-Marelli fuel injection for a claimed 104hp. The original bikes look a little bit awkward and old-school, rolling on 16″ wheels, but those were quickly changed to 17″ hoops and, by the time this 1992 version rolled around, it looked very modern and exotic, although not nearly as elegant as the 916 that followed. The upside is slightly more comfortable ergonomics that work better on a bike far more likely to be used for 7/10th canyon rides than 10/10ths race track sorties these days.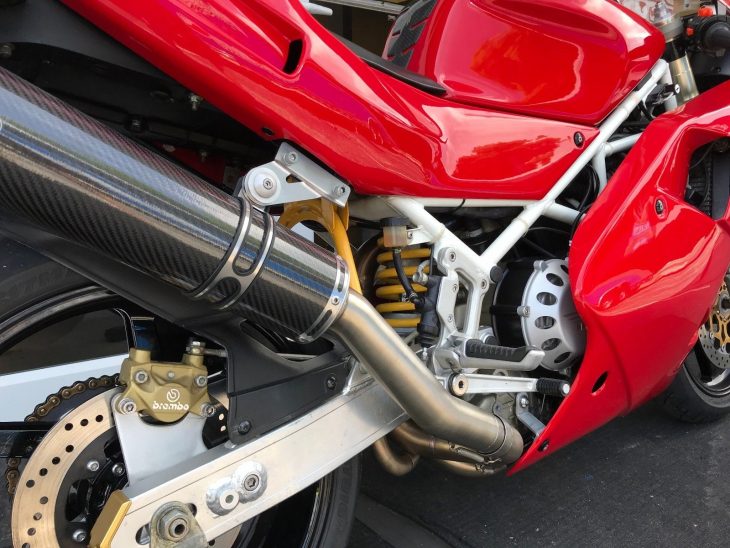 From the original eBay listing: 1992 Ducati 851 for Sale
BEAUTIFUL 1992 Ducati 851 

*PERFECT CONDITION* 7k miles

Well maintained! 

Never dropped/crashed!

VERY light signs of (normal) use! 

Magnesium Marchesini wheels

Spaghetti exhaust
Obviously not as beautiful as the 916 that followed, but it is very purposeful and aggressive, with the white frame adding a classic touch. I do wish the seller had removed some of the bodywork so we can see the condition, along with some better shots of the "spaghetti exhaust," a reference to the system's smooth tangle of large diameter piping that was based around equal-length headers and replaces the ugly crossover junction with actual tubes. Sure, a set of carbon-fiber cans will help your red stallion sound more Ducati-y but if you really want it to sound like the real deal, you need an expensive full system. This set is likely a Silmotor system to match the end cans, since I believe they're still in production. Otherwise, this is a clean, low-mileage example of an appreciating classic sportbike, and has a couple of pricey aftermarket bits that should genuinely enhance performance.
-tad