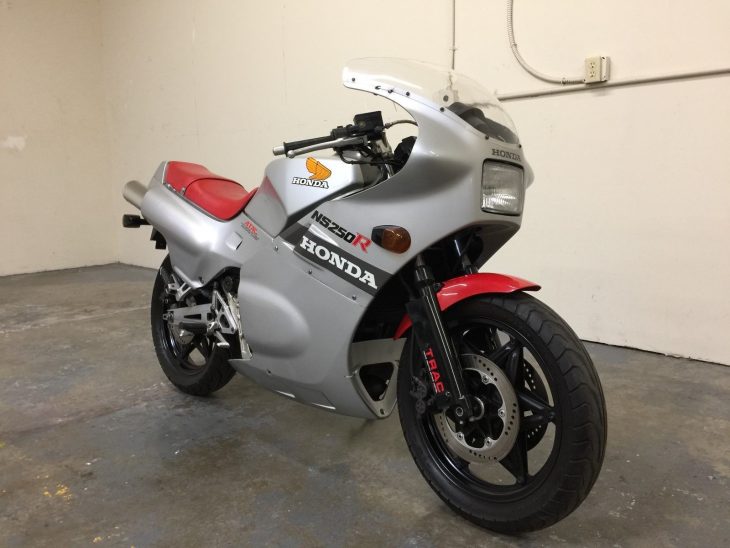 The mid-1980s were a transitional time for sportbikes, and some of these seminal machines are a bit less graceful than their descendants. Today's Honda NS250R MC11 certainly fits that description: it's nowhere near as sleek and purposeful as the later NSR250, but certainly much sportier than the earlier MVX250F that preceded it, with fully-faired style and that cool exhaust that exits through the tail. Unlike other small-displacement sportbikes of the era that generally used compact and economical parallel-twins, the NS250R was powered by a 90° v-twin with Nikasil-lined bores that made the class-limited 45hp at 9,500rpm.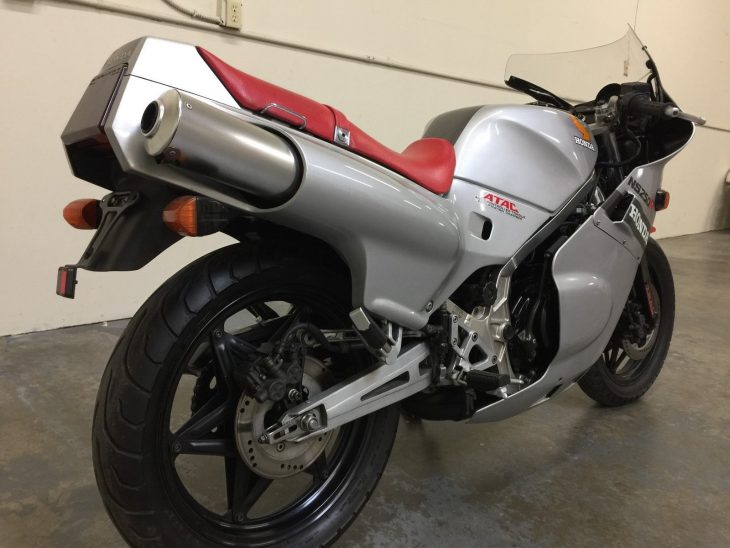 The rest of the NS250R was high-tech as well, with TRAC "Torque-Reaction Anti-Dive Control" forks and the engine had Honda's ATAC "Automatic Controlled Torque Amplification Chamber" to boost midrange by adjusting the volume of the front cylinder's exhaust. The bike was very light at 317lbs dry, helped by liberal use of aluminum in the frame and swingarm, while modular Comstar wheels accepted tubeless tires, a relatively unusual feature for the period.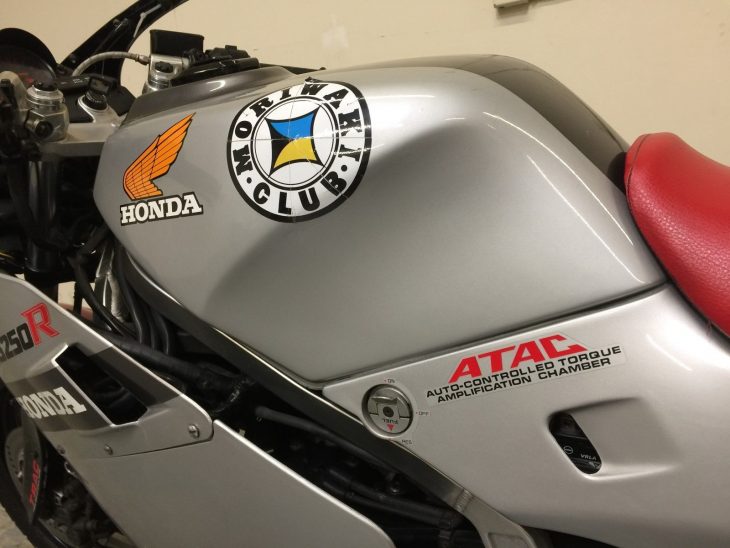 From the original eBay listing: 1984 Honda NS250R MC11 for Sale
The bike is imported from Japan. Not registered yet in the U.S. This bike is sold without title. (NO TITLE) We don't know how to get a titile. Please ask DMV

Start engine. Original Cowl. Switches and lights working. Some scratches and cracks but very clean. So look carefully all pictures and video. No Mirrors. Need to fix the tank under the decal.

Engine Number MC11E-1116589 15,197km (9,442 miles) Low miles


This motorcycle is 33years old. Sold as is. Sold as is with NO warranty NO refunds NO return. Buyer responsible for vehicle pick-up or shipping to your location. Item in Carson now. If anyone wants to come see the motorcycle. Please contact me.

Thank you.
The seller also includes a video of the bike starting [on the first kick] and running. It's not in perfect condition, with missing mirrors and other imperfections, but is complete and is claimed to have the original bodywork, even the funky flap on the sidestand. There is a "Moriwaki" sticker on the tank that is supposed to be covering some cosmetic issues but it appears there's not dent, just damaged paintwork. No takers yet at the $2,500 asking price, but these are pretty cool and definitely rare in the states. Although performance won't be on par with the later NSR250, it may be easier to register here in the US due to age.
-tad