For Sale: 1985 Yamaha RZ500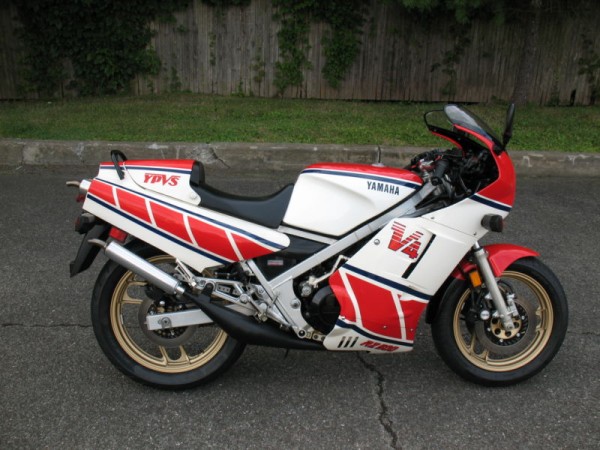 From the seller:
99% of these bikes are a mess… if you want a good one with some extras, this may be your bike.
These words from the seller regarding this ONE OWNER bike really do say it all. Located in NY, this looks to be an honest RZ500 find with a title for that state.
Here is a bike that has been fawned over since birth by the same guy. Here is an advert that reads of not wanting to sell. Here is a bike and spares that would make grown men weep. THIS is exactly the sort of bike that RSBFS loves to post. The seller knows the bike, and is happy to explain what has been done to it as well as point out the flaws. There are tons of pictures, and lots of detail. This is eBay shopping heaven!
This RZ500 is not stock. Who cares?! I don't think that I would ever have the restraint NOT to want to change something on a smoker. Let's face it – as delivered from the factory, these bikes had great potential, as well as a lot of EPA and other regulatory baggage. Uncork those pipes, let 'er breathe, and hold on as the tach sweeps through the range. That is what these legacy two strokes are all about.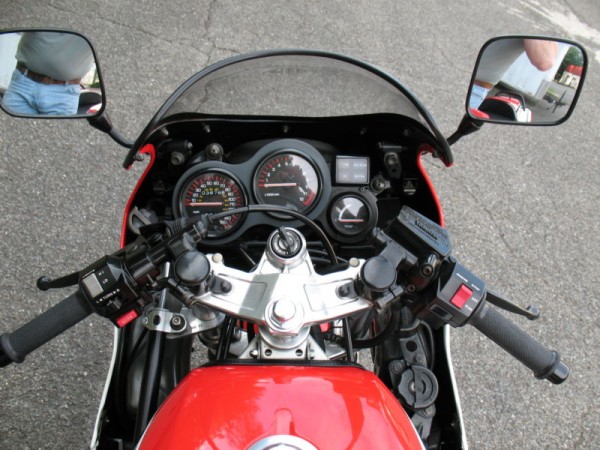 From the seller:
1985 1/2 Yamaha RZ500RN (1GE)

I am the original owner of this bike, I bought it in January 1986 when I was 26 yrs. old. I have all the manuals (owners, setup, and service) and documentation, sales brochure, magazine articles, un-opened 1/12th scale Tamiya model, original bill of sale, and clean New York title in my name.

This bike has been part of my life since 1986 and I have always had strong emotional attachment to it (This was my first new bike). It has always been kept indoors in a temperature controlled environment.

Being a professional motorcycle mechanic for most of my adult life, I decided when mileage reached 23,000 kms, to give it a top end freshening with genuine Yamaha 0.25mm pistons and rings, and anything else that needed attention…. Worn YPVS linkage parts…. Bearings, gaskets Etc…. all genuine Yamaha.

New fork seals and fresh oil
New front brake rotors (old ones are included here)
Remove steering head and grease bearings. (tapered bearings are standard)
New chain and sprockets
(there are a few extra front and rear sprockets included here – for gearing changes if so desired.)

There were a few extra non-stock things that I decided to do at the time which included:

Jolly Moto race pipes – High temp black powder coat – I liked the original look
(Original immaculate condition pipes are included with bike)
All tuning for the pipes is done by me, and the carbs have my jet kit installed.
(I will include the original carb needles with the bike)

Mill heads .040" (1mm)

Replaced metric KM speedometer with UK spec RD500LC MPH speedometer.

Ohlins rear shock – (Original is also included)

I also did some of the Yamaha race manual modifications (also included with bike) which include:

Slot stator housing and advance timing 5 degrees

Remove split gears from crank gears
(Originals are included with bike)

This was all done back in the winter of 2001….. the mileage shown is what has accumulated since then…. The whole bike was gone through with a fine toothed comb… anything that was worn or ugly was replaced. I have a lot of spare parts that I have accumulated over the years including spare body panels as well as mechanical parts and wear items – Please see photos.

The seat cowl has a plastic weld repair on the left side and a crack that needs to be repaired on the right – see photos.

Also, there is another crack by one of the tail cover screws – see photo.

There are fresh (April 2012) Avon radials on the stock rims.

The minimum price that I will accept is the opening bid – there is no reserve.
The seller has pointed out the good and the bad. It is my duty to point out the UGLY. Prices are rising on these oil breathing monsters, and this one is right up at the pointy end of the scale. The seller is looking for a STARTING bid of $22,500. There is no reserve on this auction, but looking at that starting price, there really is. Is this a $20k+ bike to you? Check out all of the pictures and details here, and then check back and let us know. A one owner bike with some pretty thorough knowledge of the state of the machine PLUS a boatload of spares…… I would consider that for at least a New York minute…..
MI