For Sale: 1988 Yamaha FZR 250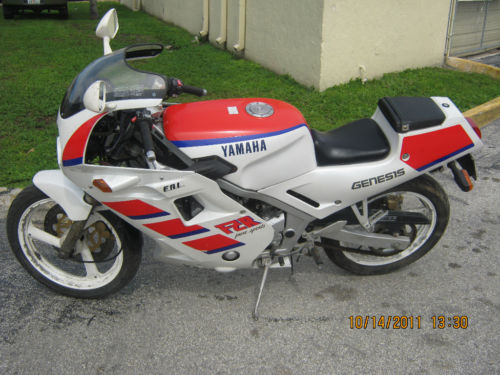 From an importer in Florida comes this neat FZR250. Ian wrote about a pristine example in his FZR250 post here, and some of the same comments apply. Unfortunately this particular bike is nowhere as well loved as Ian's example. This is the dark reality of many imported bikes: these are commonplace in home countries such as Japan, and as such are not afforded the kind of treatment "rare" bikes might deserve.
From the seller:
THIS IS GOOD RUNING BIKE YAMAHA FZR 250 VERY RARE IMPORT FROM JAPAN HAVE TITLE SOLD AS IS
So let's look at what we have here. The basic package is the tidy FZR250, but the bike is not exactly in museum condition. With a little effort, it could look like Ian's bike in the post linked above. But there could be a lot of unknowns lurking beneath this little beast.
The upside to the collector is the cost. The last showroom condition bike went for less than $5k – which is not a lot of change to be the only one on your block riding a quarter-liter FZR. This particular bike has an opening auction ask of $2,200 – which might be a bit on the high side given the condition and the unknown history. Click on the link for more pictures and (slightly) more information.
We on RSBFS want to bring you the very best bikes found on the 'net. This one is perhaps not the best ever found – but all the bits are there and it is exceedingly rare and worthy of note. Good luck!
MI