Update 9.25.2018: This bike has SOLD! Congratulations to buyer and seller! -dc
If you have the Desmodromic Flu, the guys over at Iconic Motorbikes have the cure! And it's a very, very yellow pill to swallow! The whole range of Ducati's Tamburini-designed superbikes are likely at a low-ebb in terms of values, so if you've ever wanted one, now's probably the time to buy in. From the 916 that was introduced in 1994 through the end of production with the 998 in 2004, the package evolved constantly with improvements to the frame, engine, and fuel system. But the looks stayed largely the same, and the Ducati 996 offers up some pretty good value at the moment.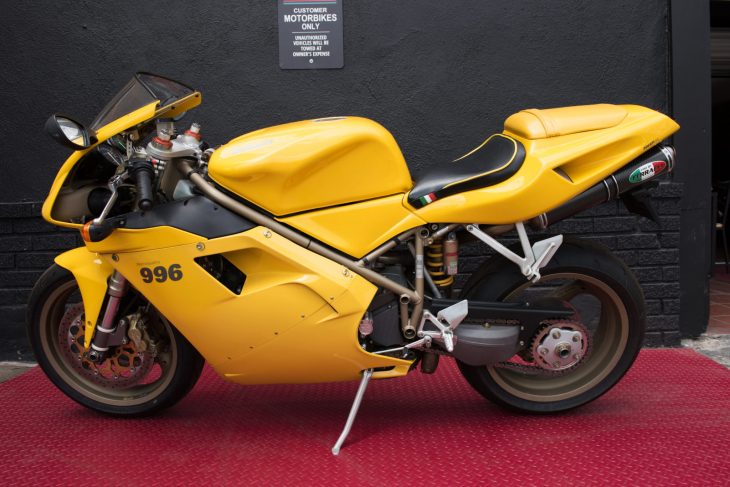 The 996 is obviously the middle-child of the line: it's not the collectible original or the best-developed of the bunch, but has improved power and reliability compared to the 916 and prices are generally lower than the 998. Handling for all of them was superlative, and if you really think you're a good enough rider that you'll "get bored" with the 996's mere 112hp, more power to you. But somehow I still think there are guys who can lap faster than you on a nice R6…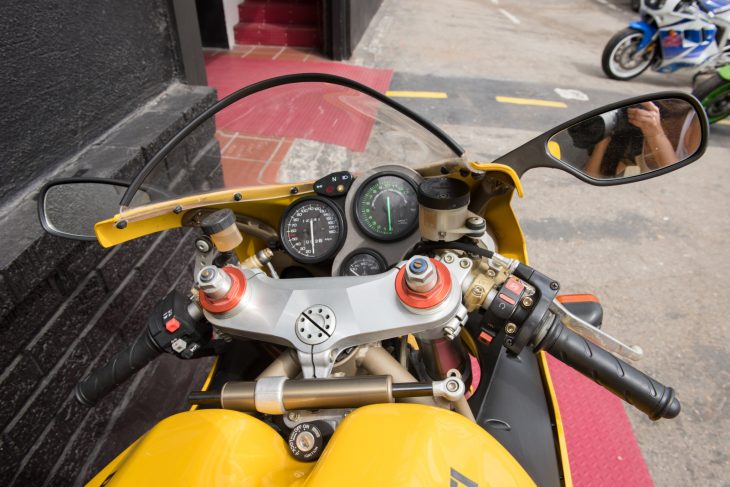 Its ergonomics are famously uncompromising, but the aftermarket Corbin seat seen here which should help somewhat, and the dash is wonderfully simple: just speedo, tach, temp gauge, and a row of idiot lights. None of which should probably be completely trusted, since this is a Ducati after all. The exhaust on this one isn't original, but I personally wouldn't want a 996 with the stock cans and Ferracci's bits were apparently rebadged Arrow or SilMoto parts, both of which were of good quality.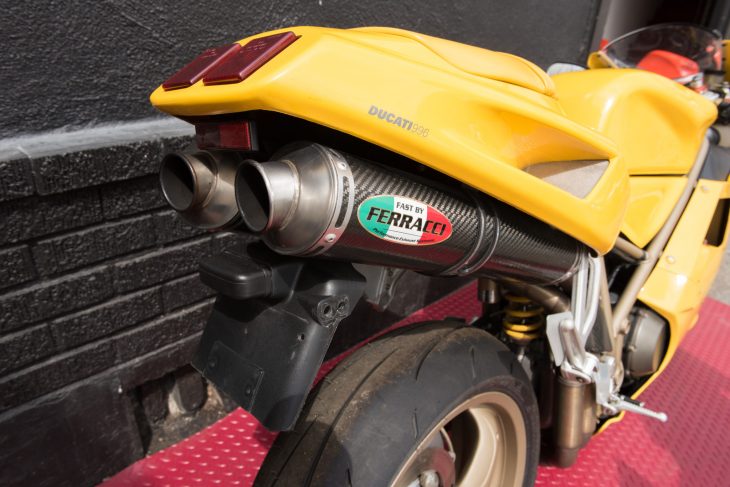 This example has under 13,000 miles on it and has been well-maintained. There are a few minor blemishes, as described, and it looks like the battery vent tube came loose at some point and a bit of acid damaged the clutch cover, but it's mostly hidden behind the bodywork. As I've said before, very few bikes look good in yellow, but the Tamburini superbikes somehow pull it off, in spite of the relatively unbroken slabs of bodywork. To me, that's always been the genius of this design: those side panels are huge and basically flat, barring a few small vents and bulges, and yet the bike still appears lithe and elegant.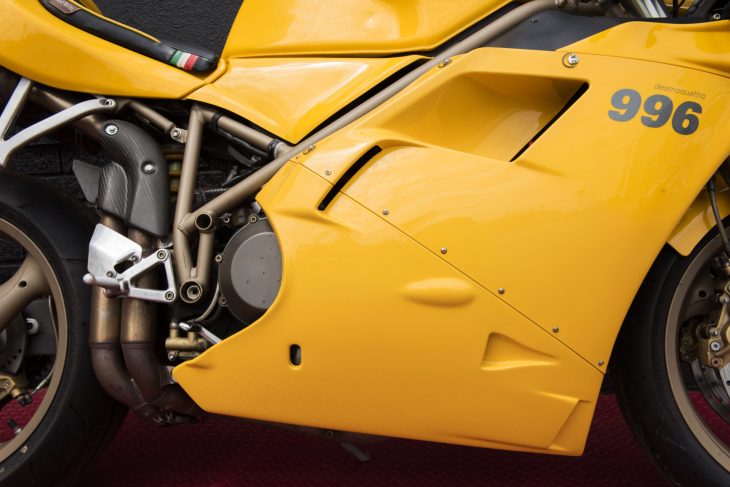 From the Seller: 2000 Ducati 996 Biposto for Sale
Fully Serviced & Ready to Go! Amazing Condition!

Very few motorcycles look good in yellow, but the Ducati 996 is one of them! Pure Italian style and beautiful in person, this example is one of the cleanest we've come across.

Maintenance is absolutely critical for four-valve Ducatis, and this 996 has had a complete service: belts, fluids, tires… It's literally perfect mechanically and is ready to go. As far as the body is concerned, it is in amazing condition indeed, with only 12,741 miles on the clock. Many of these 996s have a little hazing or discoloration in the headlights, but not this one: they're crystal clear, just like new. The motor was tuned by a well-known Ducati expert, and more info is available to interested buyers. Tires are brand-new and still have the nipples, so you're good there too!

There is one mark on the back of the tank, perhaps caused by some leathers or a jacket rubbing. But it's a raised mark, so I'm thinking we can polish it out. I took some Mothers Cleaner to it, but it still needs a little more work. The clutch cover shows some very minor stains, as you can see from the one picture, but most people replace them anyway to expose the dry clutch and help it run cooler.

The bike is fitted with a set of carbon fiber Fast by Ferracci cans and a Corbin seat which is a must-have, as the original seats may as well have been made of wood… They are brutal.

Want to see her in person first? Fly into LAX, we'll come get you as we're only about 15 minutes from the airport.
The asking price is $7,390 and, although you can find examples of the 996 for as low as $4,500 you could very easily end up spending the difference to make it right. I've seen this bike in person and it is exactly as described: it's not technically perfect, but it is tastefully-modified, very clean, well-maintained, and ready to go. Basically, it's what you'd expect from a bike that's been owned since new by a well-heeled collector who regularly rides his bikes.
-tad