1993 Honda NR750
This bike is the result of maybe the best interpretation of racing rules of all time.  Flash back to the 70's and Honda's return to Grand Prix racing.  You are a four stroke company but racing at the time is dominated by two strokes.  How do you compete with a four stroke, when cylinder to cylinder a four just doesn't match up?  Well, with a stroke of genius you come with  the idea of oval pistons to effectively give you more cylinders without actually having more cylinders.  I'd love know how this idea came about.  Was it an idea out of the blue or something that had been considered before?  The idea resulted in the NR500  and later the  NR750 endurance bikes.  The road bike would have to wait a few years.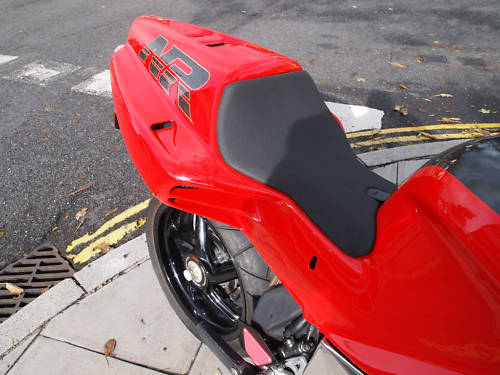 In 1993 the NR was released as a bold statement of Honda technology.  This again set's the NR apart.  It wasn't built to really be the best bike on the track.  It was built to showcase what Honda engineers can do.  What other company has built a limited edition bike to showcase what its' engineers can do (and don't say Bimota)?  Only 300 were built and they were  tagged with the stratospheric price of $50,000.  For party conversation remember this  bike is officially the Honda NR, not an NR750.
Lets have a look:
Details: 
 HERE WE GO AGAIN THE SECOND ONE WE HAVE HAD ) This has got to be one of the Worlds most desirable Honda Classic Superbikes to own and this particular example is a must have for the serious bike fanatic or collector, We have just sold one exactly the same as this to a chap from overseas for a very very simular value and very simular condition,( IMMACULATE ) This machine was produced by Honda to show there fantastic engineering skills and has the famous V4 32 valve oval piston engine, Carbon Fibre Composite bodywork and titanium-tinted screen, The engine ticks over with the same V-four rumble as an RC45, but open the NR up…different story. Four oval pistons deliver what the rider and then the throttle demands: a noise seeps from deep inside the bike like someone cutting a bass drum in half with a chainsaw, but forget the noise, riding it is even better, the reach to the bars holds the body in a near perfect riding position – you dont hold onto the NR, it holds you to leave the upper body totally free of tension, You get this dream like feeling, and can move to any position on the bike with no effort. Its sublime.
A visual presentation of the Honda brochure, there's more than just oval pistons:

And some audio (not from the bike for sale):

Price tag you ask?  115,000 British Pounds or  roughly $185,000  depressed dollars.  It's neat, it's exotic, it's ultra rare and it's expensive!!!!  This is another one out of my league.  Anyone have a friend of a friend who has bought one?  Are they selling in this range?  I would assume this would be one of the most collectible Honda's out there but from just a gut reaction that price seems high.  Even if you aren't breaking open the piggy bank be sure to check out the .
Would you pay 115,000 pounds for this one?

This is why you keep your girlfriend on the CBR600.

IK