Warning!
This post is in our archives. Links in this post have been updated to point to similar bikes available to bid on eBay.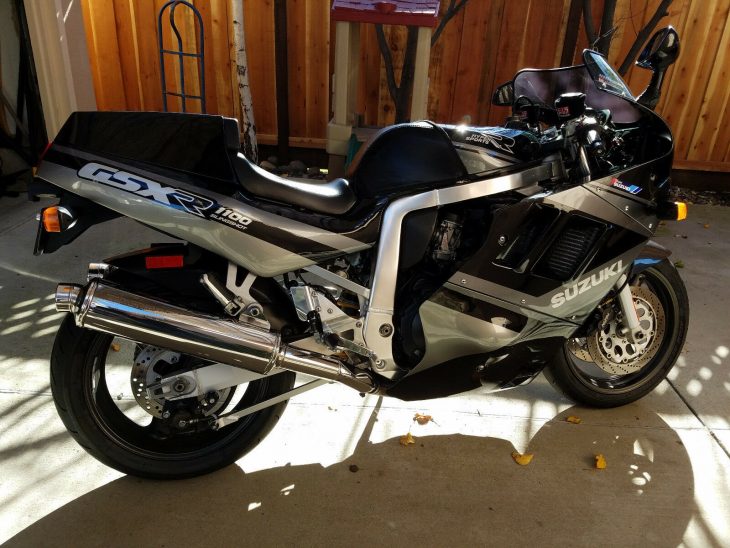 By the late 1990s, the Suzuki GSX-R1100 was seen as a bloated sport-tourer that had lost its way as a serious sportbike. It had been eclipsed by the power and lithe chassis of a new breed of 1000s, which looked more like 600s than liter bikes. But in 1989, the Gixxer 1100 was still very much the king of the streets, and enjoyed a fearsome reputation as a focused hot rod, with a massive air-oil cooled four pot stuffed into a modified 750 frame. With Suzuki's signature "Slingshot" carb setup getting gas and air where they needed to be, the GSX-R1100 had quite a muscle to flex.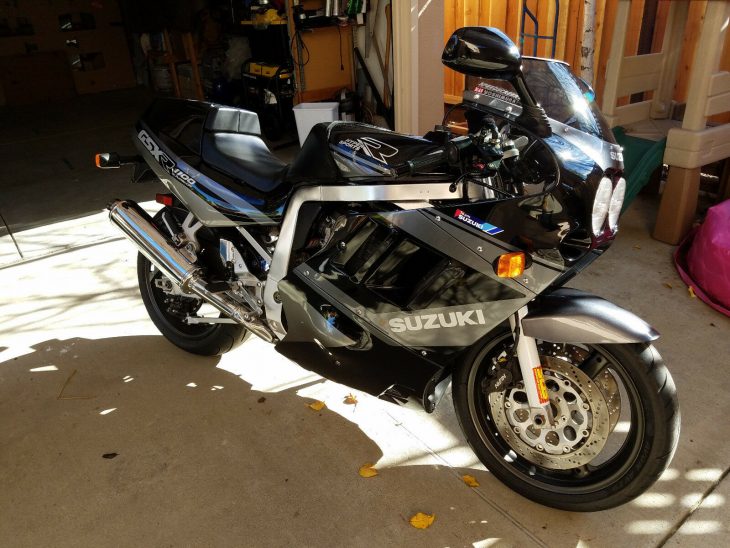 The bikes' hairy reputation was solidified in '89, when Isle of Man racer Phil Mellor lost his life aboard a Gixxer at Doran's Bend. A second crash by Jamie Whitham, also on a Gixxer, led the organizers to ban the 1100cc machines' use for a few years.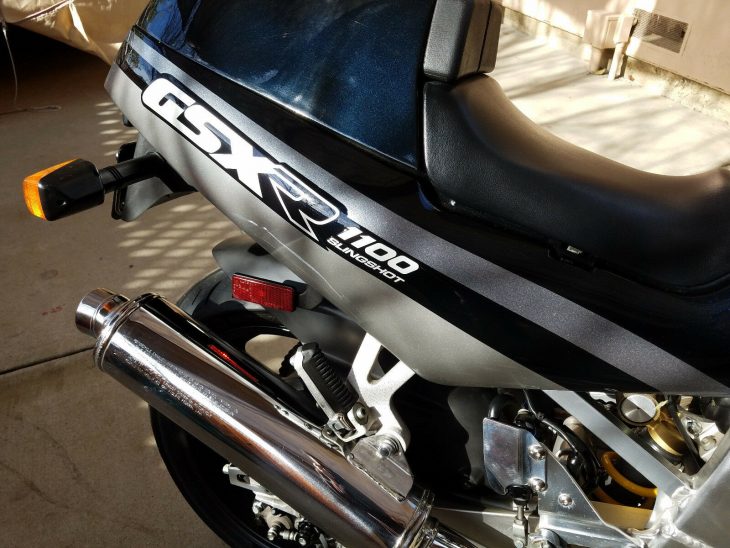 But in spite of their reputation, they remain the finest example of the 1980s superbike arms race. They carry all the tech you could hang wheels off of 30 years ago, and are still great every day mounts now. This 1989 Suzuki GSX-R1100 has been taken to the next level, both cosmetically and functionally. The seller has been fastidious to the point of being anal about making sure the bike is without blemishes, and the few it does have have been addressed. Added to that, he went to the trouble to fit a 180-section rear wheel, to improve handling and open up modern tire selections. He also collected nearly another bike's worth of spares, should anything befall this beautiful beast.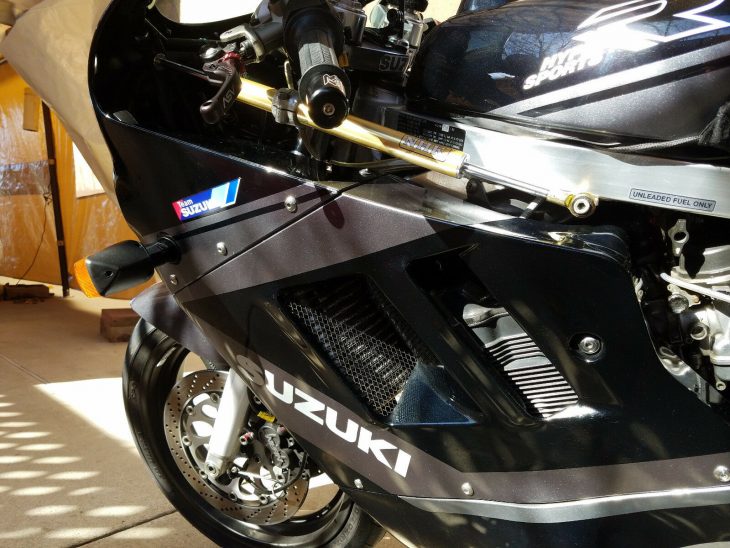 From the eBay listing:
Selling because I have a 3 year old and I don't ride much anymore.

You're bidding on a hard to find, low mileage (14K) collectors bike, the 1989 GSXR 1100 in black and grey. Meanest looking of them all.

Looked for some time for this model in this color, found one locally but it needed a few updates. Overall, the condition of the bike is considered "mint" by some, but after 40 years it did need some upgrades.

I went ahead and started with replacing the rear shock with a new 2007 Suzuki model, with almost no miles on it to replace the worn out old one. I then replaced the skinny rear wheel with the appropriate 5.5″ wheel (front and rear painted to match) and 180 tire size (requires mounting brake arm to rear caliper on outside). The bike has upgraded kevlar brake lines and new SBS pads, and new cross drilled rotors (not the smooth original style). Front fork tubes are not leaking but could use oil and spring upgrade, just too soft for my liking.

I then upgraded the ignition with a VH ignition advancer, Dyna Coil pack, and racing plugs/plug wires. Bike got new oil filter/oil and I keep tabs on oil condition/levels. I also replaced the air filter with a drop in UNI. Carbs were removed, and totally disassemble and cleaned, new orings and float levels set to spec (does start every time without much hesitation on choke) I will probably upload a video of it starting/running.

Battery was replaced with 6lb Ballistic Battery Lithium $$
Chain was replaced when rear wheel conversion was done.

I then changed out the stock front brake unit with a brembo radial NISSAN sand ASV adjustable lever. Also changed out the clutch unit with a radial Brembo with ASV lever (adjustable) and stainless line. Just this week i noticed the stock steering dampner was weeping, so I ordered a brand new NJK adjustable damper ($200) to make sure that was ok (in 4th pic).

Tires are newer with low miles and again are larger size rear. Bike corners very well.
Rear seat cowl is hard to find with the rubber butt pad in good shape (mine is excellent). Also have rear seat. Seats are like new condition as is the tank bra (NOS). One mirror has loose play in it, might be adjusted.

Exhaust is stock and rust free, chrome is very shiny with no rust. I prefered to keep the bike stockish looking and quieter for personal reasons, and I enjoy the stock exhaust on the road.

Gas tank was removed, new petcock and filters, and it was sealed against rust. I've seen way too many of these bikes look good on the outside but rusting inside, and that makes big problems.

Other little things: Bar ends replaced with custom logo, and it has rear chock stand spools added.

Paint is a 9/10

No chips in front fairing.
Paint has a small touch up on the right lower where they always get scrapes (about penny size). Paint as you see in pictures is gorgeous, no sun faded graphics or paint, the black blue pearl is deep, lots of deep gloss and microfiber towels used only to polish. Just a small bit of clear coat on the tank under the tank bra has shown a bit of wear, otherwise the tank shows like new. Graphics are in amazing condition, tank graphics "R" has a bit of patina (discoloration in the letter under the clear) that doesn't take away from its value. Rear plastic cowls are near mint and have a rare "Slingshot" logo on the right side. Rear seat cowl has a sticker on top (don't know if its cleared over or not, i would just leave on). Insides of the fairings are clean, no grime, no gunk…kept up with the rest of the nooks and crannies on the bike. Aluminum parts are not pitted at all.

Lenses on the lights are free of damage, clear, and working, as well as horn.

Pictures speak for themselves. The engine is spotless, with no leaks or paint coming off. The frame is all original and never polished or damaged etc. Her owners took good care of this bike.

This auction will include an assortment of replacement fairings I bought JIC.

I have a complete upper cowl (super hard to find) with minor work can be used as a perfect replacement.
I have a mint condition left mid, and right rear cowl.
I have a pair of original mirrors which need paint matching (super hard to get)
I have a spare (near mint) gas tank
I have full tank decal set (OEM) with the "Hyper Sport" R logo
I have spare wheels and some original parts taken off the bike.
Stock tool set and manual in rear seat area.
Factory repair manual

Basically, I wanted to future proof the bike.

I don't get to ride it as much as I want, so it has to go to fund other child related things now. Will be sad to see her leave, hope someone mature appreciates and will take care of it and not mod it out into just another chrome 1100. Overall a solid bike, stunning in person, and fun to ride with the newer parts added.

Keep in mind reserve price includes all the extra's package and the scarcity of this models color/condition.

**I will post a Youtube video of bike on a January day, cold start** I may add pics or info at any time here as well.

I will accept full payment USPS money order only, and only after cashed will bike ship. Check my seller feedback, i've sold other vehicles and stuff with excellent feedback. No liens, or salvage on this bike, clear CA title.

Please have funds IMMEDIATELY available and ready to send within 3 days of your winning bid.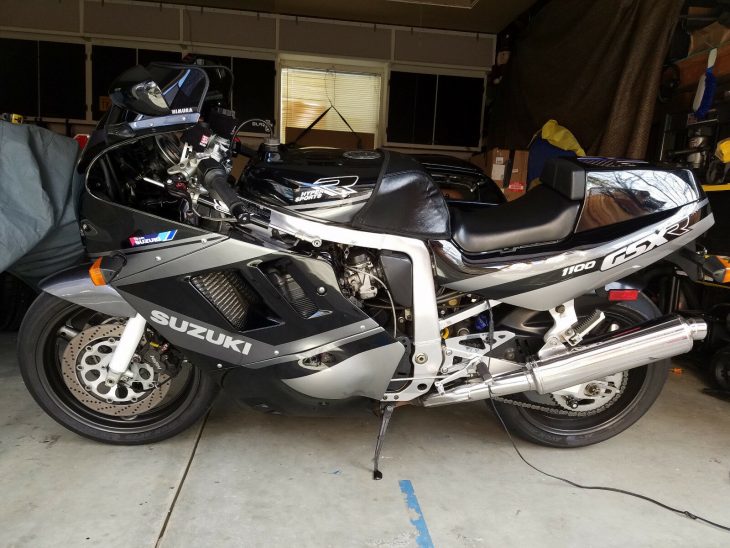 The reserve hasn't been met yet, but we don't expect this one to go cheap, especially given its condition and the care the most recent owner has taken with it.