2009 Aprilia RS125 Titled and ready to go!
Location: Harrisburg, Pennsylvania
Mileage: 175
Price: $6,500.00
So, I've become a slacker as of late and to make matters worse I've been hoarding a few bikes for myself along the way. Some I hoard in hopes of winning the lottery and others I hoard… well in case a windfall comes my way via a distant relative. NOT!
Anyways, enough of my day dreaming. This RS125 brings the goods and the first thing is it has a title :), but perhaps the best thing is this RS125 has set many speed records. I know what you're thinking in that a 125 can't be that fast, but when you consider it has a whopping 34hp and has pulled to 100mph I'd say that is pretty impressive. Doug (not me) tells us that he has invested countless hours and an additional $2,500 dollars in his RS125. As everyone knows speed doesn't come cheap. Cheap speed comes from losing weight, but when you start off with a 280# bike it's hard… okay, almost impossible to shed any considerable weight. I'd say your losing ounces instead of pounds.
Have a look at a this little bike that "can and has" with 11 speed records to it's credit.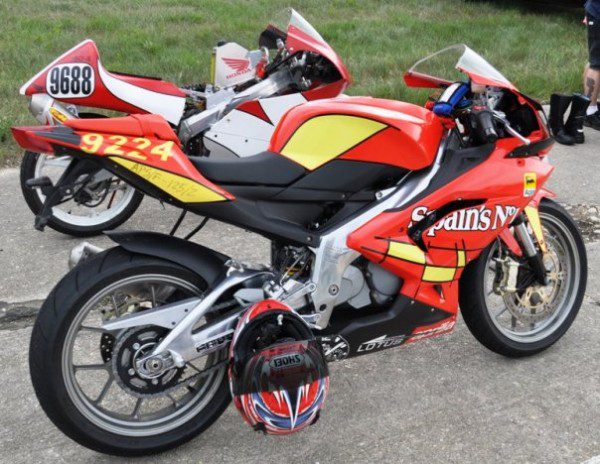 From the seller:
2009 Aprilia rs125
Street titled in PA
Arrow exhaust
34mm Carb
V Force reeds

Bike will be available at the end of October.

Bike has had proper break in on road and Dyno

Bike presently holds 11 land speed records

Delivery may be an option

Now over 8000.00 invested in the bike and parts. Excluding labor, title headaches and dyno time.

This bike has every upgrade you would want, without going overboard and affecting reliability
With a base price of $5,500, $2,500 in parts and a major headache at the BMV out of the way; $6,500 sounds like a super sweet deal.
If you're a fan of small displacement bikes and looking for a well sorted, low mileage Ape hit up Doug at
tekebird@yahoo.com
Good luck with the sale!
Cheers!
dd