There is no denying that February was a bit of a yawn when it came to rare and interesting sport bikes for sale.  I hope this is a sign of things to come.  I knew as soon as I saw that frame that this wasn't your average Yamaha YZF or OW.  The seller has an excellent description of the bike so I'll let him tell the story the rest of the way.  Enjoy the welds!
NE OF APPROX 50 ALLOY HAND FABRICATED FRAME/SWINGING ARMS MANUFACTURED BETWEEN 1987-88.JUST A SWINGING ARM TODAY FROM HARRIS WOULD SET YOU BACK £3500.

THIS PARTICULAR  BIKE WAS FACTORY BUILT  FROM NEW BY HARRIS THEMSELVES.  WITH ALL THE BEST PARTS OF THE DAY AND IS COMPLETELY ORIGINAL BAR A FEW NEW NUTS BOLTS I BELIEVE .

I HAVE OWNED THIS BIKE SINCE 2006 HAVING PURCHASED IT FROM STEVE KENDRICK AT K2 MOTORBIKES IN STOKE ON TRENT .SADLY STEVE  PASSED AWAY SUDDENLY LATE LAST YEAR .IT WAS HIS PERSONAL BIKE AND THE ONLY ONE HE REGRETTED EVER SELLING. THE BIKE HAS SAT IN MY GARAGE SINCE 2006 AND IT WAS ONLY IN THE LAST TWO MONTHS I HAVE FOUND THE TIME TO SPEND SOME TIME RE-COMMISSIONING IT.

HARRIS AND TEAM MCN (HOWARD LEES RACING IF I REMEMBER CORRECTLY) SPONSERED BY P@O FERRIES  ENTERED A SIMILAR SPEC BIKE IN THE 1988 WORLD ENDURANCE RACE SERIES OBVIOUSLY WITH A 750 ENGINE. RACED BY PAUL "ANGRY ANT" LEWIS AND MATT OXLEY.MY BIKE MUST HAVE BEEN BUILT A YEAR LATER IN 1989 ASITS FORKS ARE STAMPED" OWO1 "HAS A TUNED 1040 FZR  3GM EXUP ENGINE .DYNO SHEET FOR 138BHP@REARWHEEL. 76LB FT TORQUE. ENGINE VAPOUR BLASTED AND SPRAYED MATT GREY.ALL NEW STAINLESS ALLEN HEADED BOLTS THROUGHOUT BIKE.
HARRIS BILLET YOKES

FRONT SUSPENSION USD WHITE POWER ROMA SUPERBIKE FORKS STAMPED "OWO1" REBUILT BY K -TEC

REAR SHOCK WHITE POWER WITH REMOTE RESERVOIR .STILL  NEEDS NEW OIL AND REGASSING AS I STRIPPED IT TO RE FURB SPRING AND FIT NEW BRAIDED HOSE .(WILL SEND TO K TECH TO SERVICE AND RE-GAS)

REAR SUSPENSION LINKAGES ARE ROSE JOINTED AND FULLY ADJUSTABLE FOR RIDE HEIGHT

EARLY STYLE AP FRONT 4 POT CALIPERS WITH AP FLOATING DISCS. AP BRAKE/CLUTCH MASTER CYLINDER/BRAKE LEVERS.BRAIDED HOSES THROUGHOUT

MAGNESIUM TECHNOMAGNESIO 17″ FRONT WHEEL 3.2 KG(BARE WITHOUT BEARINGS)REFURBISHED

MAGNESIUM TECHNOMAGNESIO 18″ REAR WHEEL 3.6 KG (NOT FITTED)REFURBISHED

HAD 17″ FIREBLADE REAR FITTED WHEN I BOUGHT THE BIKE OBVIOUSLY TO ALLOW MODERN RUBBER. BIKE HAS PREVIOUSLY BEEN RACED IN ITS LIFE AS EVERYTHING IS LOCKWIRED .BUT I HAVE NO

NEW BEARING FITTED TO WHEELS

ORIGINAL ALLOY ENDURANCE TANK WITH HARRIS RACE FILLER AND GLASS FIBRE TANK COVER

ORIGINAL HARRIS RACE FAIRING FITTED (BRAND NEW  OLD STOCK ) MADE IN GLASSFIBRE WEAVE NOT STRAND. SEE UNPAINTED FAIRING ON BIKE.ALSO BRAND NEW SCREEN

ORIGINAL SEAT UNIT

ALSO COMES WITH YZF750 FAIRING PAINTED IN RED/BLACK.
IN A BRIEF CONVERSATION WITH STEVE HARRIS LAST YEAR HE SAYS THIS BIKE WAS PROBABLY BUILT FOR THE AMERICAN ARTIST PHIL HALE.  HE NEVER REGISTERED IT .IT WASN,T  UNTIL 1991 THAT IT WAS REGISTERED AND IS ON A Q PLATE.

I,VE BEEN TOLD ITS POSSIBLE  TO GET  AN AGE RELATED PLATE ISSUED . I THINK ITS BETTER LEFT ON   A "Q" PLATE IF ITS GOING TO BE USED ON THE ROAD AS THE  MOT REGULATIONS ARE PRE 1972 . IT HAS THE ORIGINAL HARRIS 4-1 RACE PIPE(BLASTED AND PAINTED) WITH A PHASE ONE STRAIGHT THROUGH END CAN

BRAND NEW ORIGINAL SPEC  OHLINS DAMPER AND HARRIS FORK MOUNTING BRACKET.

I ALSO HAVE A FULLY STRIPPED AND REBUILT ZERO MILES 1040 RU ENGINE WITH BALANCED CRANK/RODS .CYLINDER HEAD PORTED NEW MAINS ETC RESHIMMED VALVES .ALL THIS WORK WAS DONE BY YAMAHA ENGINE SPECIALIST PETE BEALE. WITH  INVOICE FOR £1035.00. EXCLUDING 1040 KIT WHICH WAS SOURCED SEPARATLY

ALSO HAVE KEIHIN 43MM FLATSIDE CARBS WITH TPS.SPACED FOR FZR.NOT ON BIKE (JUST HAD THEM ULTRASONICALLY CLEANED TOGETHER WITH CV CARBS PRESENTLY ON BIKE

BIKE HAS JUST UNDERGONE A 3 MONTH COMPLETE STRIP DOWN /INSPECTION.RE-POLISHING FRAME /  /NEW BEARINGS .STAINLESS ALLEN HEADED BOLTS .ELECTRICAL LOOM  ETC

BIKE WAS LAST MOT,D IN 2006 ON A DAY TIME MOT

I HAVE JUST FINISHED RE-MAKING THE RACE WIRING LOOM BOUND IN CLOTH TAPE SO IT IS NOW DONE PROPERLY.

I ALSO HAVE A BRAND NEW GENUINE YAMAHA FZR1000 LOOM AND SWITCHGEAR IF SOMEONE WANTS TO FIT .INDICATORS ETC COST £250

ALSO ORIGINAL NEW TWINHEADLIGHTS AS USED BY THE RACE TEAM . BOUGHT FROM HARRIS £100

BIKE NEEDS PAINTING IN EITHER TEAM MCN /HARRIS/P@O COLOURS OR THE COLOURS OF THE SPONSER "TONIC SHAMPOO" (ACTUALLY LOOKS GOOD AS ITS JUST BLACK AND WHITE) WHEN THEY DID THE SUZUKA 8 HOURS RACE IN JAPAN IN 1988.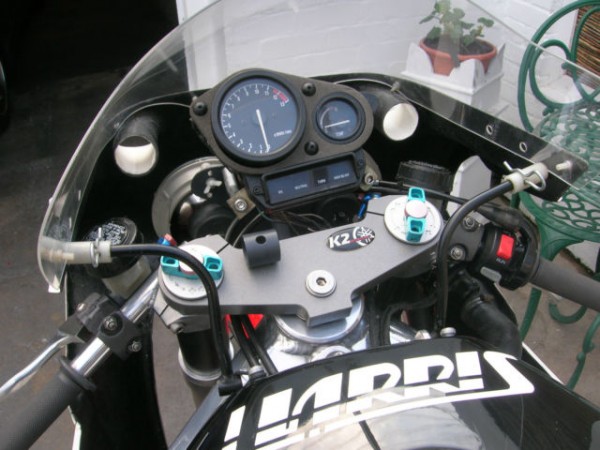 I agree with the seller, it deserves race replica paint.  The asking price is steep at 20,000 GBP but the seller is open to offers and possible swaps.
Ian