Rare as an air-cooled Moto Guzzi Le Mans is these days, a square-head Mark III is not often among them.  And you wouldn't be faulted for expecting orangey-red or black, but this example was re-done in a very BMW-ish grey metallic.  The overall condition, trim Mk.III fairings and black wheels mask the age of this well cared-for Guzzi.
The Le Mans has had such a long run that every example can be a history lesson.  The Mk.III was a substantial revision, angular from cylinder heads to fairings, with slight changes to engine and chassis geometry.  What weren't changed were the Le Mans paradigms – shaft drive, linked brakes, clip-ons, stable handling, and generous torque.  Gas rear shocks and coupled air forks were a notable addition, as were 18-inch wheels  front and rear.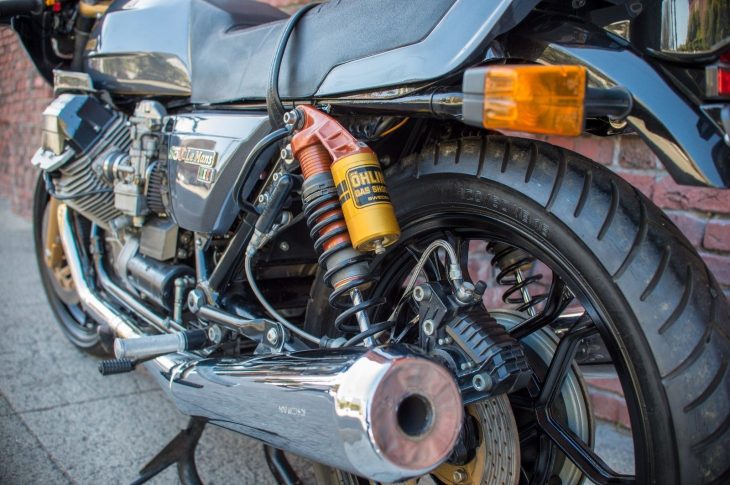 Owned by a BMW wrench and evident mega-fan, this 850 Le Mans was treated to many performance enhancements and charcoal urban camouflage – looking very good for 30, thank you.  Original parts to ( gasp ! ) return it to stock are also included.  From the eBay auction:
It has been treated lovingly, always stored in a heated dry environment. It has been owned by a BMW Motorrad Master Technician (myself) since 1989. It was ridden briefly a few days ago to take the photos you are viewing. It definitely needs to get out and stretch its legs a bit but it has been registered as non-op here in California (it is fully insured however) and it needs tires as the Metzelers mounted on it are vintage as well.

It has been treated to the best, most desirable upgrades in the time I have owned it. Almost all of the upgrades were carried out in 1990 and 1991. The upgrades include RaceCo (Brooklyn, NY, RIP)  helical cut gear-driven camshaft, Ohlins piggyback shock absorbers, TeleFix adjustable handlebars (NLA), Agostini alloy rearset footrests (NLA), de-linked brakes with custom Kosman brake lines, K & N individual air filters, brand new Dyna ignition (with good used spare), new Lucas coils, and TeleFix fork brace. It includes one Albert sport bar end mirror that is shown in the photos. It also received new rings, a full de-carb and valve guide seals a few years back. I am including all of the original stock parts that I hung onto including the airbox, Marzocchi shocks, footrests, coils, cam sprockets, handlebars, etc. See photos for details. The photos are part of the description and I do not state that everything is included to return it to stock trim. If you don't see it, it is not included.

The paintwork was done by the legendary Mike Stolarz at Bavarian Cycle Works in 1990. It is as gorgeous as the day it was completed. It is charcoal metallic and silver metallic with hand painted gold pinstripes. The decals and pinstriping were clear coated with the rest of the paint. It contributed to winning a trophy at the Corona Del Mar bike show despite having been ridden all the way from San Francisco the day before and competing without the benefit of a wash!
Even in the mid-eighties the Guzzi's were idiosyncratic, using their own measures of an exciting ride rather than the yardstick of the stopwatch and race results.  The Mk. III was replaced for a few years by the 948cc CX-100, while the company completed development of noise and emissions-compliant airbox and carburetors.  The early-80's reintroduction was a homecoming for fans of the model, and continued almost for the rest of the decade.  This Mk. III looks to have received the star treatment right from the very beginning…
-donn