Warning!
This post is in our archives. Links in this post have been updated to point to similar bikes available to bid on eBay.
With the general level of competence from modern sportbikes, along with rules that don't seem to favor limited-production homologation bikes, it's easy to forget just how special some of them are. Bikes like the Yamaha OW01 might have looked nearly identical to the regular production machines from ten feet, but were often hand-built to a much higher quality, with high-performance engine internals, hand-welded frames, and other small changes that were intended to help the bikes perform in production-based racing clases. Ducati's 749R is one such machine, and its superficial similarity to the regular production 749 and 749S belies just how much of a hot rod it was.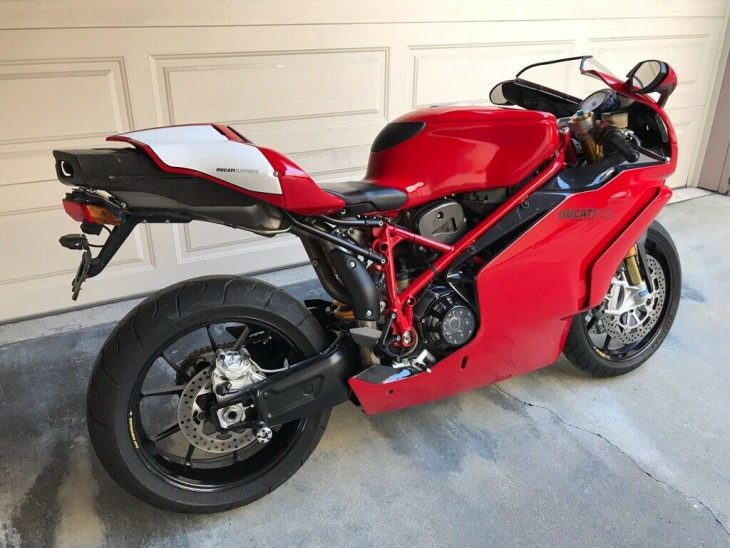 Not to say that the 749S wasn't a good motorcycle. It was, and carried on Ducati's less is more trend that started with their sweet-handling 748 that had just the right amount of power and superior agility, compared to the bigger 916/996/998. Much of that was down to the narrower 180-section rear tire, but it was a bit lighter as well, and the 916's midrange torque made the bike faster than it looked on paper and race versions like the SPS could be a bit overwhelming.
Why was the 749R so trick? Well it was out of necessity: the 999 competed in various Superbike championships that generally allowed a degree of latitude in modifying the road platform for racing. The smaller 749 was destined for World Supersport against 600cc inline fours. Intended as a much more entry-level class, the rules were very strict to keep costs carefully controlled and allowed very limited modifications: even OEM wheels were required!
Basically, in WSS, if you wanted it on your racebike, you pretty much needed it on your roadbike. And to compete in terms of power output with a grid full of screaming fours, Ducati had to throw the whole catalog of performance updates at the 749R. Built between 2003 and 2006, the 749R had bigger valves made of titanium, high-compression pistons, a lightweight crank, and magnesium cam covers. Bore was up from 90 to 94mm and stroke was down to 56 from 71mm for a total of 749.5cc, with power climbing from 108hp to an eye-opening 121hp, although it's obviously going to cost a bit more to service.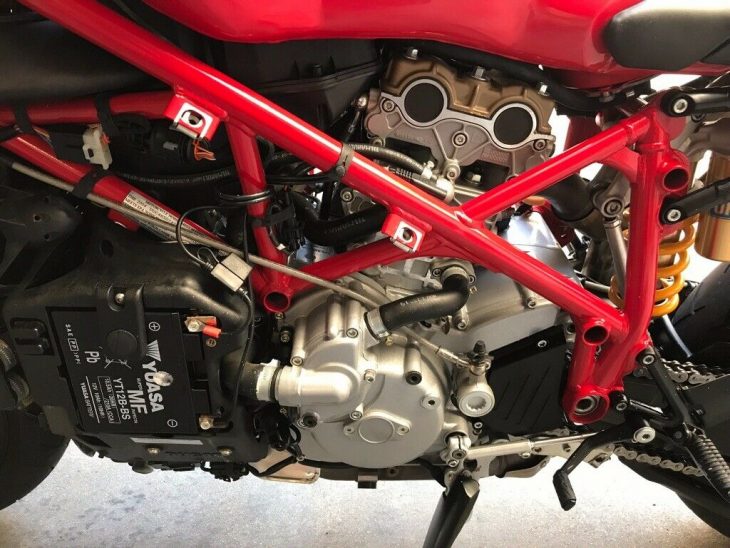 As you'd expect, suspension was top of the line Öhlins at both ends, and radial Brembo brakes offered the best available stopping power and feel. A slipper clutch was included for rapid downshifts free of drama and the bike uses a double-sided swingarm patterned after the World Superbike 999's stiff, lightweight unit. Other details included a set of lightweight Marchesini wheels, an adjustable steering head, and carbon-fiber bodywork on the early bikes. All were solo-seat models, and so had adjustable ergonomics. But the R had a smaller range of adjustments, as the larger-diameter race exhaust took up some of the available space and, as previously mentioned, rules specified very minimal changes to the roadbikes, so the roadbike subframe needed to match the racebike's.
From the original eBay listing: 2004 Ducati 749R for Sale
This is your chance to have one of the ultra limited collectible Ducati Superbikes for a fraction of what it cost new.
The bike is a 2004 Ducati 749R. Only 2348 miles
Almost all original including the stock tires. If you want to ride the bike you will need to replace the tires.
I just had the belts and fluids changed from a Ducati Master Tech. Bike has a new battery. Bike hasn't been used at all since service was done. I only changed everything to make sure nothing would be needed other than tires if someone wanted to ride bike.
One small blemish on left lower fairing that has been touched up so really hard to see in photos but is there. Could easily be repaired and bike would show nearly perfect. Rear swing arm has small flaws from rear stand rubbing on black paint. The seat is doing the normal thing where the cover sticks to the base and looks a little weird. Normal on this generation of Superbikes.
Bike has no owners manual.
Has red key and one black key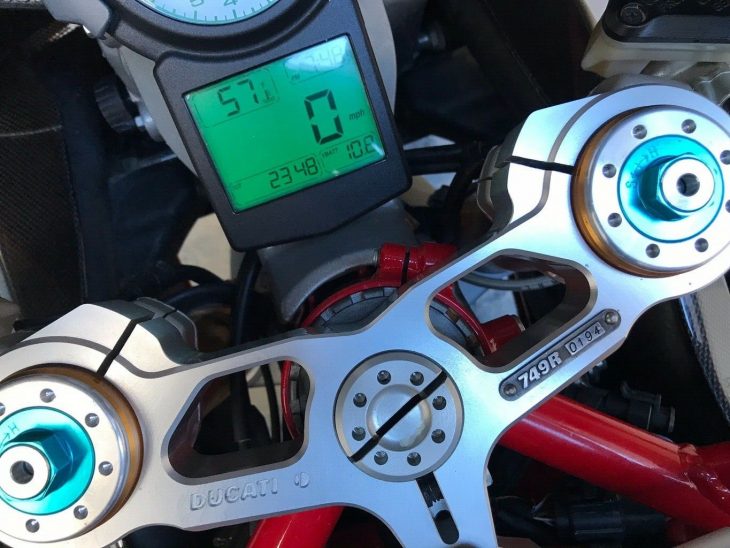 There's an $8,500 starting bid with no takers yet and plenty of time left on the auction. The 749/999 may be the least desirable Ducati superbikes, but they're still Ducati superbikes, with all the performance, heritage, and style you would expect, and the 749R is one of the most collectible versions. This example looks bone-stock and very clean, with less than 2,400 miles on it. These were pretty trick bikes, straight from the factory, and would probably cost a small fortune to duplicate if you planned to build your own, so why not just pick this up, and save yourself the trouble?
-tad