"It's only new once" is pretty axiomatic in the collector car and bike worlds. Meaning that a slightly imperfect, but time-capsule machine with a bit of wear and tear is generally more desirable than a perfectly restored, better-than-new example to many collectors. Original machines have flaws: they're often mass-produced, or have little cosmetic flaws from the factory, but they accurately reflect the bike as it would have been at the time it was running around, terrorizing the backroads. This 1986 Suzuki RG500Γ "Gamma" is claimed to have been restored to "as-new" condition. Personally, I'd actually prefer a bike that improves a bit upon the original, adds in a few modern parts for the sake of reliability and performance at the cost of some period-correctness. But then I'm not a well-heeled motorcycle enthusiast.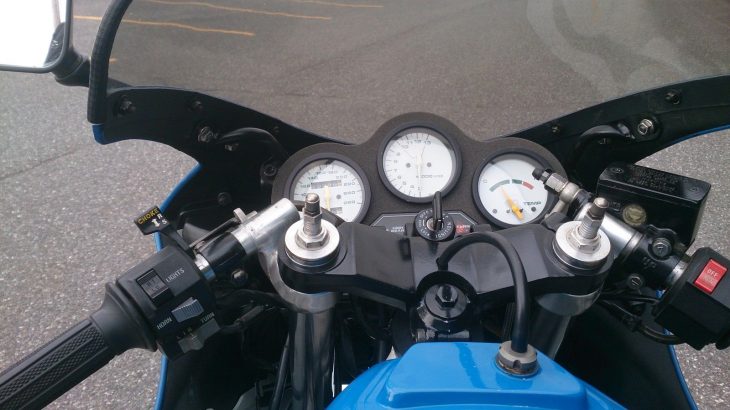 If you're not familiar with Suzuki's Gamma, hello and welcome to RareSportBikesforSale! The bike was Suzuki's very trick race-replica, competing in a class of two against Yamaha's RZ500. Both used four-cylinder, two-stroke powerplants exclusive to their respective models and shared with no other bikes. In the Suzuki's case, it was a water-cooled 500cc square-four with a pair of cranks versus the Yamaha's V4, also with two crankshafts. The RG500 made in the neighborhood of 100hp and weighed in at around 400lbs dry.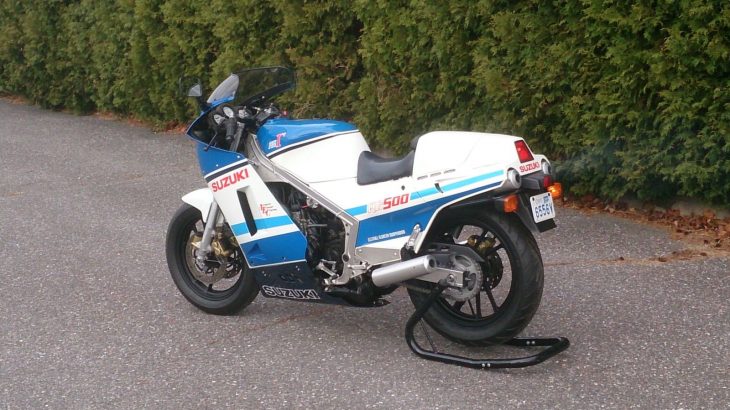 Not very impressive today but it was considered pretty quick in 1986. But the numbers don't tell the whole story, and straight-line performance wasn't really the point of this race-replica: that highly-strung engine provided an addictive hit when it came "on the pipe," while cutting-edge handling rewarded skilled riders. Of the two, the Suzuki was considered far more "hard core" and is the more desirable choice today, although both are very collectible motorcycles that evoke a lost era of two-stroke performance.
From the original eBay listing: 1986 Suzuki RG500Γ for Sale
Totally restored to new machine it is a great bike
I have all the bills and documents for what was done for this rebuild
Bike comes with a service manual and a very rare microfiche of all parts for the Gamma
This bike has 2 seats a mono and double, original keys
New tires and bearings and many more original parts from Suzuki
Bike has been totally re-calibrated to factory Suzuki spec by Pulsion Suzuki call ask for Mike on this bike
Location is in Drummonville Quebec Canada
Will miss it reason for sale moving to Africa
The Starting Bid and the Buy It Now on this bike are both $12,500 with no takers yet. I'd prefer some higher-resolution photos that show the bike off in all its glory, but from what I can tell, it looks pretty clean, so I'm not sure what's causing bidders to be gun-shy. Maybe it's the lack of detail in the listing? The bike's inherent Canadian-ness? I'm sure our readers will have some ideas… "Restored" can have a few different meanings in eBay Land so it might be worth it to email the seller for a few more details before plunking down your cash, but for those of us just dreaming this should serve as inspiration.
-tad