Warning!
This post is in our archives. Links in this post have been updated to point to similar bikes available to bid on eBay.
Every post will be sent right to your inbox every morning when new posts are made. We will never sell our list or spam you. Plus you can click links to bid or buy right from the email and skip the site entirely. Subscribe to Rare SportBikes For Sale today!
Location: St. Augustine, Florida
Mileage: 14,641
Price: Auction, currently $6,400 with no reserve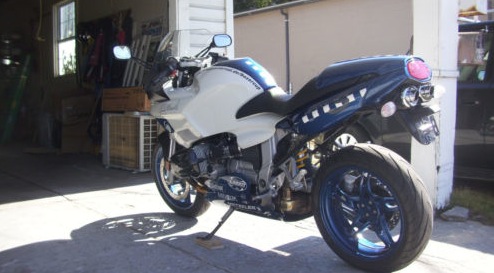 Here's a chance to take home a sportbike that is certainly different than the conventional sportbike known to many. First, BMW builds some killer bikes, but it wasn't until the recent S1000RR that they got into the in-line four game, a format many are familiar with. And they knocked that one out of the park. The HP2 Sport is a killer machine, and similar to the R1100S, features the boxer motor too. To go even further, this bike also has a shaft drive and features BMW's telelever front suspension. It's a different way to go for sure. But in a world where much is the same, different is a nice break.
Here's what the seller has to say-
If you are waiting for the right Boxer Cup Replika to come along..this may be the one.

This stunning 2004 Boxer Cup is in totally stock condition.  It is in the classic configuration of no ABS or heated grips, a powerlet on the left side is the extent of the options added.

This motorcycle is offered with no reserve price.

It has 14,641 miles on it and has never been down or abused in any way.

No aftermarket or performance parts have been added.

It had it's 600 mile and 12,000 mile check done by the dealer and everything related to those services is documented.

The dealer removed the cannister and performed a recall item (the number of the recall is noted on the repair order).

At 14,000 miles I changed all the fluids, synthetic all around, with new crush washers and a Bosch Oil filter.

This bike runs perfect.  Rock solid idle, great performance for it's 98hp, quick start even in cold weather.  It had a new battery about 5,000 miles ago and a set of Pilot Road 2's were put on at 10,645.

All the Boxer Cup stuff comes with it.  There is the die cast model (never unboxed) the lapel pin, the adhesive backed pin for the triple tree, the tricky cable type key ring, the DVD, race calender, certificates of authenticity, manuels, etc.

All the tools are all there, never used as far as I can tell,  the tire repair kit is intact and never used or opened.

This beautiful BMW is #289 of 300 made in 2004.

There are a few stone chips on the front of the belly pan, a scratch near the left hand suspension tube (I've got a picture of that) and a place on the upper right edge of the windshield that a parking sticker was on and it appears to have marred the plastic forever (there is a picture of that as well, look at the bicycle through the windscreen and you will see it is slightly blurred).

This bike leaks not one drop of anything, has always been stored indoors (and looks it) has no descernable oil consumption and averages about 42 miles per gallon.

I believe you would be challanged to find a 'Cup like this anywhere on the market.

Winning bidder will be responsible for pick up or shipping (I would be pleased to help) .

This bike is a perfect "fly and ride" candidate, condition is such that a cross country trip would be no issue at all.

Also, Bike week is coming up in Daytona so you could drive down, do bike week, and take it home.

The winning bidder must post a non refundable $500 deposit within 24 hours of the closing bid. 

I have clear Florida title.  This bike is 100% ready to go.
And more photos for you-
The seller highlights the maintenance and care for the bike, which all looks pretty solid. BMW's are known for their outstanding build quality and can go to the 100,000 mile mark. The seller highlights some small cosmetic issues, but nothing major. There's no reserve on the auction so this thing is looking to move.
These go in the $8k to $10k range, so you may be able to get a great deal here. If you are looking for something different and still killer, then make the jump!
-RN