Not as popular as red or black superbikes, Ducati's yellow looks great with black, grey, or carbon accessories, and is a dead ringer for Lamborghini's – sunbeam yellow –.  Today's 1098 has more miles than usual, recent valve clearance inspection, and just a few aftermarket upgrades.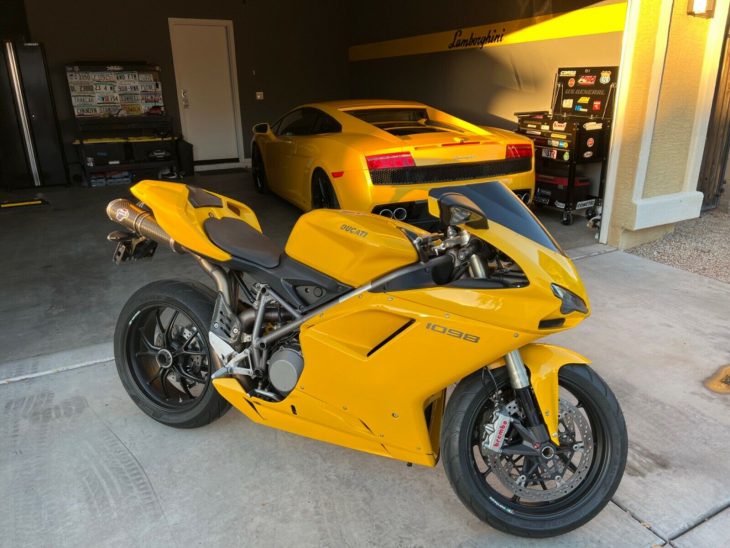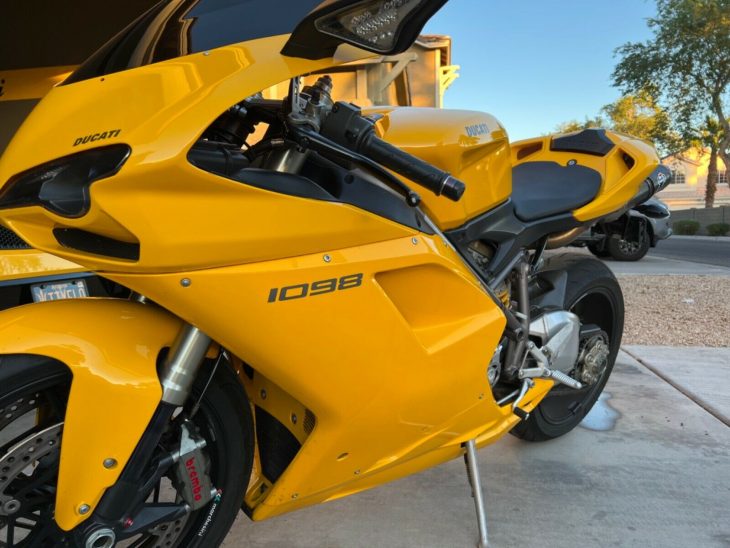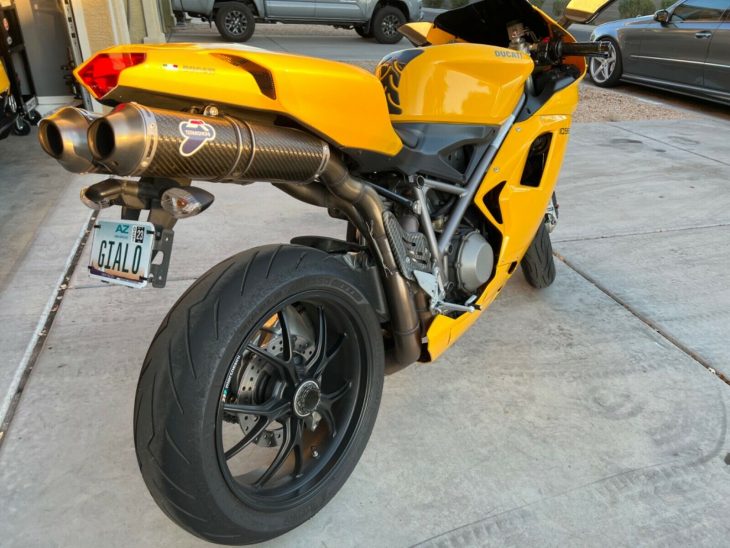 Outwardly, the 1098 looks like more of an evolution of the 998, with its lower side-by-side headlights and individual underseat mufflers.  Even deep down, the EVO 1098 engine made long strides from the 999, with the revised testastretta heads came extended valve service intervals, a big improvement in the cooling system, and beaucoup power at 160hp.  Showa dampers were on the non-S, along with the WSBK-derived single sided swingarm.  Brembo monobloc calipers were a first for the 1098, and though there is a factory data analyzing dash, the 1098 pre-dates the multiple electronic nannies that were just over the horizon.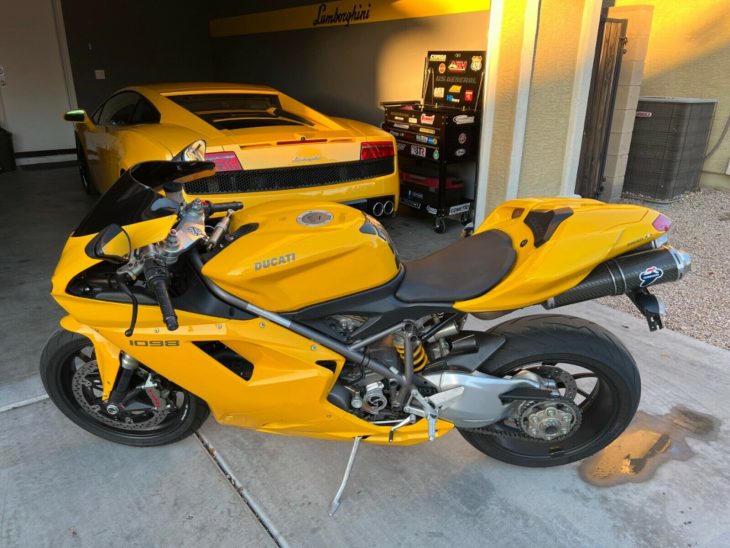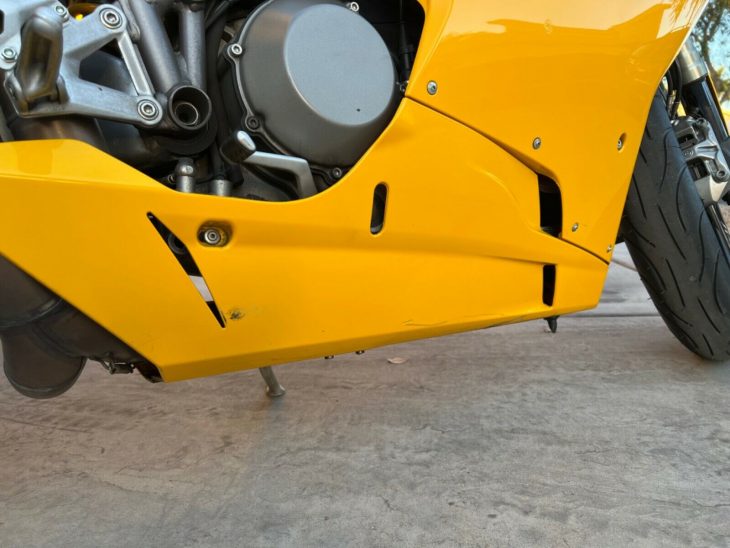 With the tell-tale puddle on the driveway, this 1098 might have been in the back of the garage for a bit before washing.  Seems like this might be the third owner, and had maintenance earlier on.  Either way it is a nice piece of kit, as they say, well equipped from the factory, and upgraded with the Termignoni exhaust.  The lowers could be re-painted and/or wrapped with not much trouble.  The smaller front sprocket isn't a bad compromise for the street.  Notes from the eBay auction:
The bike is in good mechanical shape and does not have any leaks or smoking. The bike fires up first try every time, and has had some recent bigger maintenance including belt tensioning and valves checked. Additionally, it's modded perfectly with a full Termi exhaust, the corresponding Race ECU, and a 14t front sprocket so the gearing isn't insanely long. 

The bike is a beautiful piece of Italian engineering and a huge value compared to today's electronic superbikes. However, the exterior condition on this bike is not perfect, this would be a great canyon carver or track bike. The front fairing has a chip above the right headlight which has been touched up. The front fender has some rock chips. The middle pieces of the fairing on both sides show some wear which has been touched up. The lower piece of the fairing on the right side has some scratches which have been touched up. The good news is, it still looks amazing from a few feet away and there is no concern about dropping it or scratching it up using it!

This bike is 100% turn key ready. I would not hesitate to ride it 1000 miles tomorrow if I wanted to.

Modifications:

Full 70mm Termignoni Exhaust

Ducati/Termignoni Race ECU

14t Front Sprocket

Dark Smoke Double Bubble Windscreen

6k LED Headlight Bulbs

Maintenance:

Previous Owner: Ducati Certified Tech

Previous Owner: Enthusiast

April 2021 – 13,000 Miles

Belts Tensioned

Checked Valves (In Spec)

Oil and Filter

Front Fork Seals

New Rear Tire

September 2021 – 13,300 Miles
Partly because WSBK was changing their formulas lickety-split, the 1098 was soon replaced by the 1198, even less suited to mere mortal road riding.  Rather than a limited edition showpiece, a 1098 with a few memories might be a better choice for a more regular rider.  The ask for this one might put it into a garage without a matching Gallardo.
-donn